NA3HL alumni presence significant on NAHL rosters
September 16, 2016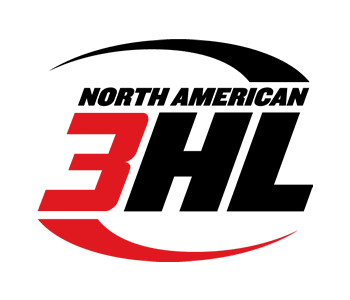 As the North American Hockey League (NAHL) released its September 1st 25-man rosters to begin the 2016-17 season, the advancement of NA3HL players to the league is even more evident than ever before. A total of 52 NA3HL alumni are listed on 2016-17 NAHL rosters to start the season. In addition, 60% of players with Tier III junior experience in the NAHL are NA3HL alumni.
This continues the recent upward trend of advancement by NA3HL players to the NAHL. A total of 32 players who played in the NA3HL this past season were either tendered or drafted by NAHL teams and in addition, over 40 players from the NA3HL were called up to play in the NAHL during the 2015-16 season. No other Tier III junior league had more movement to the NAHL.
In addition, five current NAHL head coaches are also coaching alums of the NA3HL. Aston Rebels head coach Joe Coombs previously coached in the NA3HL (when is was the CSHL) for the Dubuque Thunderbirds. Kenai River Brown Bears head coach Jeff Worlton previously coached in the NA3HL for the Breezy Point North Stars and Flint Jr. Generals. Coulee Region Chill head coach Ryan Egan coached the previous two seasons in the NA3HL for the La Crosse Freeze. Northeast Generals NAHL head coach Bryan Erikson coached the Generals last season when they were in the NA3EHL and new Shreveport Mudbugs head coach Karlis Zirnis was the head coach for the NA3HL's Nashville Jr. Predators for the past three seasons.
The NA3HL serves as the top training ground in the country by providing the best coaching, exposure and developmental vehicles available for student-athletes in Tier III junior hockey. The NA3HL is organizationally managed by the NAHL, which includes the same benefits that those in the NAHL enjoy, including partnership with equipment partners, unmatched daily news and player recognition, live online broadcasts and league-wide events.
Amarillo Bulls
Jonathan Dagnal, Cleveland Jr. Lumberjacks, 2014-15
Jeff Solow, North Iowa Bulls, 2015-16
Carter Wooley, Metro Jets, 2015-16
Austin Bruins
Lucas Carroll, Granite City Lumberjacks, 2015-16
Robert Goor, Twin City Steel/Granite City Lumberjacks, 2012-16
Travis Kothenbeutel, Granite City Lumberjacks, 2013-15
Michael Piehler, Granite City Lumberjacks, 2012-16
Will Reedy, Wisconsin Whalers, 2015-16
Toby Sengvongxay, La Crosse Freeze, 2015-16
Bismarck Bobcats
Nicholas McKeeby, Twin City Steel, 2015-16
Alex Bowe, Alexandria Blizzard, 2015-16
Christian Canavati, Alexandria Blizzard, 2014-15
Tosten Mann, Alexandria Blizzard, 2015-16
Zachary Mitchell, St. Louis Jr. Blues, 2015-16
Corpus Christi Ice Rays
Marshall Barnes, North Iowa Bulls, 2015-16
Andrew McGlynn, St. Louis Jr. Blues, 2013-15
Tyler Ebner, La Crosse Freeze, 2012-13
Taylor Trapp, La Crosse Freeze, 2014-16
Samuel Wenner, La Crosse Freeze, 2015-16
Colton Wolter, La Crosse Freeze, 2015-16
Fairbanks Ice Dogs
Colton Fletcher, Great Falls Americans, 2013-16
Janesville Jets
Adam Roeder, St. Louis Jr. Blues, 2013-14
Kenai River Brown Bears
Conner Nilson, Alexandria Blizzard, 2014-16
Christian Sazottera, Breezy Point North Stars, 2015-16
Lone Star Brahmas
Blake Evennou, Glacier Nationals, 2014-15
Frankie Trazzera, Atlanta Capitals, 2015-16
Minnesota Wilderness
Nick Altmann, Alexandria Blizzard, 2015-16
Wade Wylie, Great Falls Americans, 2014-16
Minot Minotauros
Spencer Zwiener, Granite City Lumberjacks, 2014-16
Northeast Generals
Justin Allen, Roc City Royals, 2015-16
Brian Glover, New England Stars, 2014-16
Luc Krueser, Twin City Steel, 2015-16
Alex O'Dowd, Northeast Generals, 2015-16
Devin Panzeca, Great Falls Americans/Bozeman Ice Dogs, 2014-15
Kevin Perry, Northeast Generals, 2015-16
Luke Perunovich, Luke, Twin City Steel, 2015-16
Devin Pierce, Texas Jr. Brahmas, 2013-15
Bennett Witta, Twin City Steel, 2014-16
Shreveport Mudbugs
Trent Kulczyk, Nashville Jr. Predators, 2014-16
Frankie Melton, St. Louis Jr. Blues, 2014-16
Cooper Seedott, Point Mallard Ducks, 2014-15
Springfield Jr. Blues
Joseph Nolan, St. Louis Jr. Blues, 2015-16
Ricards Bernhards, Great Falls Americans, 2015-16
Topeka Roadrunners
Zachary Heiser, Billings Bulls, 2015-16
Michael Latorella, Metro Jets, 2015-16
Arturas Laukaitis, Atlanta Capitals, 2015-16
Nigel Nelson, Granite City Lumberjacks, 2015-16
Philip Pugliese, Atlanta Capitals, 2015-16
Wichita Falls Wildcats
Isaac Kobiena, Granite City Lumberjacks, 2015-16
Evan Moyse, Wisconsin Whalers, 2014-16
Marc Schwartz, Metro Jets/Michigan Mountain Cats, 2013-16
Wilkes-Barre/Scranton Knights
Curtis Carlson, Southern Tier Xpress/West Michigan Wolves, 2014-16