Saturday Scores: Freeze complete sweep of Whalers
September 18, 2016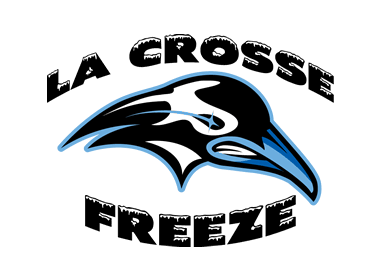 La Crosse Freeze 6 vs. Wisconsin Whalers 1-Although Wisconsin drew first, La Crosse scored six unanswered goals, giving them a 6-1 win over the Whalers. JP Eykyn, Sam Dabrowski, Dylan Goggin, Kevin Bryant, Zachary Johnson, and Ben Ziegelbein each netted one for La Crosse. For Wisconsin, Connor Bosaccy scored the lone goal. Goaltender Andrew Wagner stopped 28 shots on the Freeze net, and Justin Nelson made 23 saves for the Whalers.
New England Stars 2 vs. Jersey Shore Wildcats 1-Goals were hard to come by between these two teams, but one is all it takes to win, and the New England Stars defeated the reigning NA3EHL Champion Jersey Shore Wildcats 2-1. Derek Lovejoy and Aidan Conlon were the scorers for the Stars, while Viktor Vasilev was the lone scorer for the Wildcats. Dom Lamanno stopped 23 of 24 shots on the New England net, and Rio Virgoe made 45 saves for Jersey Shore.
Southern Tier Express 6 vs. West Michigan 4-After an even two periods, two late goals from the Express powered them to a win, 6-4, over the Wolves. Scorers for Southern Tier include Tristan Mock, Cameron Trejchel (2), Hunter Kepple, Jacob St. Andre, and Luke Grossman. Dakota Ulmer, Justin Bloomfield (2), and Trevor Temple. Harrison Vangellow stopped 29 shots for the Express, and Brian Thomas made 35 saves for the Wolves.
Toledo Cherokee 3 vs. Wooster Oilers 1-Three unanswered goals for the Cherokee in the second half of the game was enough for them to earn a 3-1 win over the Oilers. Anthony Weinrich, Brock Grandbois, Ricky Kwapich each netted one for Toledo, while Carmon Teel scored the lone goal for the Oilers. In net, Adrain Morales made 35 saves for Toledo, and Andre Benoit stopped 36 shots for the Oilers.
L/A Fighting Spirit 3 vs. Skylands Kings 1-A pair of goals from Dylan Vrees propelled the Fighting Spirit to a 3-1 victory over the Kings. In addition to Vrees (2), Kyle Secor also netted one for Lewiston/Auburn. Jan Broz scored the lone goal for Skyland. In net, Zack Barry made 18 saves for the Spirit, while Mathias Ytterng stopped 25 shots for the Kings.
Metro Jets 6 vs. Cincinnati Thunder 2-Four unanswered goals in the beginning of the game created a deficit that the Thunder just couldn't overcome, and the Jets finished with a 6-2 win. Cam Schwartz scored a hat trick for the Jets, and Dylan Naumovski, Jake Gleason, and Chas Diselrath each netted one. For the Thunder, Bradley Begeman and Andre Vanlew scored a goal each. Between the pipes, Andrew Kormos collected 13 saves for the Jets, and Tyler Geloneck stopped 44 of 50 shots for the Thunder.
Point Mallard Ducks 3 vs. Evansville Thunderbolts 2-The Thunderbolts and the Ducks were evenly matched, but in the end an early goal from Jake Cox led the Ducks to a 3-2 win. Other scorers for Point Mallard include John Meakins and Cameron Hamblett. Both thunderbolt goals came via Brandon Rozema. Ducks goaltender Joey Bernardini made 23 saves, while James Fry stopped 34 shots for the Thunderbolts.
Lockport Express 4 vs. Roc City Royals 2-A pair of goals in the first period gave the Express an early lead that the Royals couldn't come back from, and in the end the Lockport Express won 4-2 over the Roc City Royals. Dominic Senese, Aaron Shahin, Andrew Logar, and Luca Mazzo each netted one for the Express. Brandon Corey and Peter Izzo each scored once for the Royals. Sam Fitzpatrick saved 42 shots for Lockport, while Ian Stahl stopped 22 out of 26 for Roc City.
Binghamton Junior Senators 3 vs. Pittsburgh Vengeance 2-Both teams were evenly matched, but an early goal from the Senators was enough to secure a 3-2 win over the Vengeance. Senators goals came via Zacharia Ouladelhadjahmed, and Dominik Bogdziul, who scored twice. For Pittsburgh, Dominic Glavach and Anthony Szurlej each scored once. Salvatore Lauretta stopped 41 shots for Binghamton, while Jacob Hough made 24 saves for Pittsburgh.
Syracuse Stampede 8 vs. Maine Wild 3-An early Stampede lead created a hole the Wild just couldn't dig out of, and the Stampede earned an 8-3 win. Nate Walker scored four goals for Syracuse, while Hunter Soden netted two, and Nick Sanborn and Taner Byrd each scored once. For Maine, Evgeni Semeniuk, Ryan Gilboy, and Dean Pratt each scored once. In net, Ryan Schiede saved 36 shots for Syracuse, while Brandon Daigle stopped 37 shots for the Wild.
Peoria Mustangs 14 vs. Chicago Bulldogs 1-With seven goals in the first two periods, the Mustangs put on a strong offensive show, and it earned them a 14-1 win over the Chicago Bulldogs. Goals for Peoria came via Austin Wisely (2), Brennen Begner, Jack Healy, Anthony Iacullo, Braden Stewart (3), Peter Miller, Andrej Buchko (3), Tyler Kuhn, and Zach Cox. For the Bulldogs, Sean Sullivan scored the lone goal late in the third period. Between the pipes, Corbin Moore made 14 saves for the Mustangs, and Ryall Purdy stopped 52 shots for the Bulldogs.
Long Beach Sharks 6 vs. Cape Cod Islanders 2-Although the Islanders attempted to make a comeback late in the third, it was not enough and the Sharks came out on top with a 6-2 win. Keegan Brick, Ricky Regala (2), Oskar Lindberg (2) and Zach Ruley got on the scoresheet for the Sharks. Joe Brennan and James Brosnan each scored one for Cape Cod. In net, Kyle Van Wagner made 29 saves for Long Beach, Anton Zemba made 32 saves for Cape Cod.
Nashville Jr. Predators 7 vs. St. Louis Jr. Blues 4-The game was very evenly matched, but in the end the Predators proved themselves a force to be reckoned with, and earned a 7-4 win over the Blues. For Nashville, Dakota Wilson, Logan Orem, Michael Redmon, Baylor Hudson, Weiland Parrish, Samual Dorfman, and Niks Kalnberzins each scored one goal. For St. Louis, Ivan Galaguzov, Samuel Maddox, and Daniel Dunaway (2) all got on the scoreboard. Nashville goaltender Ricky Gonzalez made 20 saves, while St. Louis goaltender Zach Young made 27.
Willmar WarHawks 2 vs. Rochester Ice Hawks 0-The WarHawks and the Ice Hawks were within one goal for the entire game, but a late goal from Willmar's Zach Martin helped the WarHawks land a 2-0 win over the Ice Hawks. Riley Tigrett also scored for Willmar. Elliot Gerth made 9 saves for the WarHawks, while Rochester's Sawyer Schmidt stopped 38.
Granite City Lumberjacks 4 vs. New Ulm Steel 3-The Lumberjacks started the game strong, establishing a three goal lead, securing a 4-3 win over the New Ulm Steel. Ben Huago, Zach Sitarz, Jack Waiter, and Ryan Smith all scored one goal for the Lumberjacks. Jared Erickson scored twice for the Steel, and Dylan Leivermann landed one goal. In net, Granite City goalie mac Berglove stopped 27 shots, and Jon Albers made 20 saves for New Ulm.
Louisiana Drillers 7 vs. Euless Jr. Stars 3-The Louisiana Drillers carried out a 7-3 win over the Jr. Stars after scoring four unanswered goals. Tucker Alspaugh, Brayden Hutchinson, Brandon Vukasin, Jacob Istre, Kolton Huff, Nikita Anistratenko, and Blake Elliot were among the goal scorers for the Drillers. From the Jr. Stars, Tristan Wilson, Thomas Delaney, and Gabe Gauer each netted one. On defense, Santeri Seppinen made 35 saves for the Drillers, and Thomas Bailey stopped 22 for Euless.
Great Falls Americans 5 vs. Glacier Nationals 0-Great Falls came out strong offensively, and the Nationals could not overcome, propelling the Americans to a 5-0 finish over the Nationals. Kody Thomas, Danny O'Donnell, Matt Janke, Sandis Mezharaups, and Dustin Truex each scored one for the Americans.