Sunday Wrap-Up: Binghamton, Lockport sweep to stay unbeaten
September 19, 2016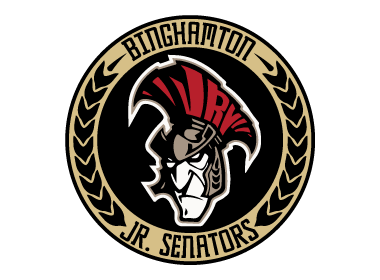 Syracuse Stampede 4 vs. Maine Wild 0-Goaltender Sten Martin and the Syracuse Stampede blanked the Maine Wild in a 4-0 win. Matt Allen (2), Rocco DeRollo, and Nate Walker all scored for Syracuse. Martin made 28 saves for the Stampede, while Brayden McGary stopped 30 shots on the Wild net.
Euless Jr. Stars 6 vs. Louisiana Drillers 2-Behind after the first, the Jr. Stars scored five unanswered goals to carry them to a 6-2 win over the Drillers. Kayne Fedor (2), Tristan Wilson, Gabe Gauer, Thomas Delaney and Bryce Harrison were the scorers for Euless. Kolton Huff and Davis Van Gemerden each netted one for Louisiana. Goaltender Austin Knoebel made 28 saves for the Jr. Stars, and Santeri Seppinen stopped 30 shots on the Drillers net.
Binghamton Jr. Senators 2 vs. Pittsburgh Vengeance 1-Only one goal was scored in each period of play between Binghamton and Pittsburgh, and Binghamton secured a 2-1 in over Pittsburgh. Ryan Flanagan and Armaan Thiara each scored once for the Senators, while Perry Shiring scored the lone goal for the Vengeance. Between the pipes, Steven Schmitt made 40 saves for the Senators, and Nikoloas Manousos stopped 22 shots on the Vengeance net.
New England Stars 4 vs. Jersey Shore Wildcats 3 (OT)-Sixty minutes of play wasn't enough to settle the score between the Stars and Wildcats, but Brandon Hammer of the Stars scored with 1:17 left in OT to give them the win. Other New England scorers include Michael Lempiainen, John Krapian, and Nick Johnson. Jersey Shore goals were scored by John Minnich, Dylan Plsek, and Nikita Penzov. Greg Moon made 28 saves for the Stars, and Rio Virgoe stopped 21 shots on the Wildcats net.
Metro Jets 5 vs. Cincinnati Thunder 2-The Jets held on to an early lead for the entirety of the game, finishing 5-2 over the Thunder. Graham Day, Griffin Sawyer (2), Evan Newel, and Louis Boudon earned points for Metro. Cameron Sangster and Trevor Veneklase put up goals for Cincinnati. Brian Tallieu made 19 saves on 21 shots for the Jets, and Ryan Kostelnik made 38 saves for the Thunder.
Peoria Mustangs 13 vs. Chicago Bulldogs 2-Even though the Bulldogs drew first by scoring two quick goals in the first, the Mustangs retaliated with 13 unanswered goals, giving them a 13-2 win over Chicago. Zach Cox (4), Braden Stewart (2), Brennen Begner, Thomas Kolaz, Austin Wisely (2), and Anthony Iacullo (3) racked up the points for Peoria. For Chicago, Bryce Freel and Matt Sharpe each netted one. In net, JT Kossakowski stopped 19 shots on the Mustangs, while Joe TImmerman made 72 saves for the Bulldogs.
Lockport Express 7 vs. Roc City Royals 6 (SO)-Three periods of regulation and overtime were not enough to settle things between Lockport and Roc City. It was a shootout goal from Brandon Schweickert that decided things, giving Lockport the 7-6 (SO) win over Roc City. Other scorers for the Express were Luca Mazzo, Andrew Logar (2), Dominic Senese (2), and Aaron Shahin. For the Royals, Aidan Conolly, Bryan Moscicki, Cameron Clark, Brandon Corey, Peter Izzo, and Henrik Toivianen each scored once. Goaltener Adam Partridge made 52 saves for Lockport, while Freddy Peters stopped 23 shots on the Roc City net.
L/A Fighting Spirit 4 vs. Skylands Kings 1-A hat trick from Felix Nyqvist of the Fighting Spirit helped them secure a 4-1 win over the Skylands Kings. Clayton Thomas also scored for the Fighting Spirit, while Eric Vanderhoff scored the lone goal for the Kings. Michael Errico made 18 saves for Lewiston Auburn, and Evan Barghout stopped 40 shots on the Skylands net.
St. Louis Jr. Blues 4 vs. Nashville Jr. Predators 1-A pair of goals from Nick Balestra in the first period gave the Jr. Blues an early lead, eventually securing a 4-1 win over Nashville. Daniel Dunaway and Ivan Galaguzov also netted one each for St. Louis, while Kieran Ogle scored the only goal for the Jr. Predators. Jr. Blues goaltender Kevin Lake collected 22 saves on the night, while Mason Koster stopped 18 shots on the Jr. Predators net.
Cape Cod Islanders 3 vs. East Coast Minutemen 2-Both the Islanders and Minutemen were evenly matched, but in the end Jack Conway landed the game winner, giving the 3-2 win to Cape Cod. Nash Braun and Thomas Tobey also scored for the Islanders. Jake Lilledahl and Nick Badgett notched one goal each for East Coast. Islanders goalie Anton Zemba made 40 saves, and Dom Montecalvo stopped 43 shots for the Minutemen.