Saturday Scores: Lumberjacks stay perfect with sweep
September 25, 2016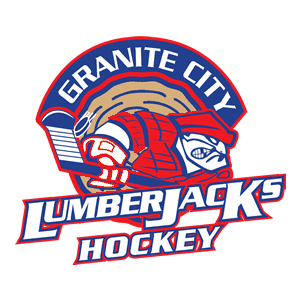 Granite City Lumberjacks 8 vs. Rochester Ice Hawks 1-A commanding third period for the Lumberjacks earned them a 8-1 win over Rochester. Matthew Moran, Casey Esselman, Jack Walter, Matthew Sprink (2), Owen Sikich (2), and Keenan Lund put up points for Granite City, while Matthew Bembenek scored the lone goal for the Ice Hawks. Mac Berglove stopped 11 out of 12 shots for the Lumberjacks, and Drew Schenkenberg and Tyler Thompson made 44 and 6 saves, respectively, for Rochester.
West Michigan Wolves 2 vs. Wooster Oilers 1-This match almost made it to over time, but a goal from West Michigan's Dakota Ulmer at 19:55 of the third put them up one, resulting in a 2-1 win over the Wooster Oilers. Nicholas Guy also netted one for West Michigan, and Evan Tasker scored once for the Oilers. Wolve's goaltender Alex Wilder stopped 28 shots, and Creighton Furber made 36 saves in front of Wooster's net.
Euless Jr. Stars 5 vs. Texas Jr. Brahmas 2-Three early goals from the Junior Stars gave them an advantage that the Junior Brahmas just couldn't come back from, and Euless won, 5-2, over Texas. Nick Sheridan, Tristan Wilson, William Rooney (2), and Thomas Delaney put up points for the Jr. Stars. Tyler Schulz and Vincent Dekumbis scored goals for the Jr. Brahmas. Between the pipes, Austin Knoebel made 33 saves for the Euless Jr. Stars, and Samuel Solomon stopped 16 shots for the Texas Jr. Brahmas.
New England Stars 4 vs. Long Beach Sharks 2-The Sharks put up a fight in the third, but in the end it wasn't enough to combat the Stars' four early goals, and the New England Stars won 4-2 over the Long Beach Sharks. Ryan Paul, Ryan Gauvin, Brandon Hammner, and Peter Menzies each netted a goal for the Stars, and Keegan Brick and Tyler Boon scored in the third for the Sharks. Sage Broda stopped 32 shots on the Stars' net, and Kyle Van Wagner made 31 saves for Long Beach.
Louisiana Drillers 4 vs. College Station Spirit 3-Even though the game was tight through all three periods, Louisiana maintained the lead the whole time, earning them a 4-3 win over College Station. Brayden Hutchinson and Kolton Huff each scored a pair of goals for the Drillers, while Spirit goals came from Kyle Kester, Jackson Greer, and R.C. Randall. Louisiana goaltender Zack Mayhugh made 21 saves on the night, while Nick Hart made 47 saves for College Station.
Binghamton Jr. Senators 4 vs Cape Cod Islanders 3 (OT)-A pair of goals from Binghamton forward Ryan Flanagan late in the game, including one in OT, led the Jr. Senators to a 4-3 overtime win over the Cape Cod Islanders. Conor Landrigan and Tyler Uravage also scored for Binghamton, while Chuck Costello, Nick Marston, and Chris Conlin each netted one for the Islanders. Steven Schmitt made 32 saves for the Senators, and Anton Zemba made 44 saves for the Cape Cod Islanders.
L/A Fighting Spirit 6 vs. East Coast Minutemen 2-East Coast earned an early lead over the Fighting Spirit, but ultimately the Spirit gained control and finished the game 6-2 over the Minutemen. Patrick Romano, Patrick Halpin, Matt Siegel, Clayton Thomas, Walker Hamilton, and JP Chauvin each netted one for Lewiston. Eric Steeves and Matt O'Rourke scored for Minutemen. Chris Schmitt made 22 saves for the Fighting Spirit, and Dom Montecalvo stopped 69 shots for the Minutemen.
Northeast Generals 4 vs. Syracuse Stampede 3-The Stampede made a solid comeback attempt late in the third, but it wasn't enough and eventually the Generals pulled out a 4-3 win over the Stampede. Paul McDonald, Landon Hasenfuss, and Conor Harrington (2) all scored for Northeast, while Brett Lowe, Matt Allen, and Nick Sanborn each netted a goal for Syracuse. In net, Jacob Zomick made 29 saves for the Generals, while Ryan Scheide and Martin Sten made 18 and 15 saves respectively for the Stampede.
Metro Jets 7 vs. Pittsburgh Vengeance 1-A strong showing in the first period from the Jets propelled them to a 7-1 win over the Vengeance. Griffin Sawyer, Mathias Tellstrom (2), Chas Distelrath (2), Cam Schwartz, and Trevor Momot all earned points for Metro. Nicholas Lyon scored the lone goal for Pittsburgh. Jake Gwillim made 15 saves for the Metro Jets, and Joel De Simone stopped 32 shots on the Vengeance net.
Atlanta Capitals 4 vs. Point Mallard Ducks 1-The Ducks may have drawn first blood, but four unanswered goals from the Thrashers gave Atlanta the win, 4-1 over Point Mallard. Adam Vannelli, Anton Minaev (2), and Tristen Poliseno scored for Atlanta, while Ian Precht scored the lone goal for Point Mallard. Capitals goalie Nolan Bivolcic stopped 33 shots, while Sam Gartner made 35 saves for the Ducks.
St. Louis Jr. Blues 5 vs. North Iowa Bulls 2-The St Louis Jr. Blues maintained a steady lead throught the match, resulting in a 5-2 win over the Bulls. Samuel Maddox, Ivan Malaguzov, Daniel Dunaway, Nick Balestra and Tomas Loeffelman each scored once for the Jr. Blues, while Caylen Dyni and Kohei Sata each netted one for North Iowa. In net, Hunter Smith made 23 saves for St. Louis, while Brady Meyers stopped 28 shots on the Bull's net.
La Crosse Freeze 6 vs. Alexandria Blizzard 5-A high scoring first period set the stage for the game, and a late third period goal from La Crosse's Tyler Briley decided the game – giving the 6-5 win to the La Crosse Freeze. Adam Hazlett, Kadin Machusak, Hunter Dolan, Patrick Gazich, and Kevin Bryant also each scored once for the Freeze. For Alexandria, Emil Lindfors (2), Riley Meyer, Brenden Payne, and Caleb Anderson all made it on the scoreboard. Defensively, Andrew Wagner and Jacob Silverstein stopped 1 and 32 shots, respectively for La Crosse. Dennis Tsaruk made 18 saves for Alexandria.
Nashville Jr. Predators 5 vs. Peoria Mustangs 3-Although the second period was most exciting scoring-wise, Nashville goals in the first and third gave them the edge to win,5-3, over the Mustangs. Weiland Parrish (2), Logan Orem (2), and Dylan Schmidt all landed shots for the Jr. Predators, while Austin Wisely, Jack Healy, and Thomas Kolaz all netted goals for Peoria.
Roc City Royals 7 vs. Skylands Kings 3-Four goals in the first gave Roc City the lead, and they held out for the entirety, giving them a 7-3 win over Skylands. Daniel Trionfro, Zach Buchholz, Peter Izzo (3), Henrik Toiviainen, and Brandon Corey all scored points for the Royals. For the Kings, Eric Vanderhoff, Steven Ford, and Davids Rozitis all scored for the Kings. In net, Freddy Peters and Nicholas Sesock each made 23 saves for the Royals, while Evan Barghout and Jared Apfelbaum made 20 and 12 saves, respectively, for the Kings.
Breezy Point North Stars 5 vs. Wisconsin Whalers 3-Tied after two, a strong third period from the North Stars earned them a 5-3 win over the Whalers. Trystin Sabina (2), Tyler Larwood, Nikolas Boyer, and Steven Kukla all scored for Breezy Point, while Jordan Hylbert (2) and Jordan Foster scored for Wisconsin. Sam Moberg stopped 23 shots on the North Star net, while Justin Nelson made 30 saves for Wisconsin.
Jersey Shore Wildcats 3 vs. Lockport Express 1-Tied after one, a solitary goal in each of the following periods earned the Wildcats a 3-1 win over the Express. Viktor Vasilev (2) and Travis Nemeth scored for Jersey Shore, and Aaron Shahin scored the lone goal for Lockport. Ryan Cote made 28 saves for Jersey Shore, and Casey Wall made 40 stops for the Express.
Bozeman Icedogs 5 vs. Helena Bighorns 1-Bozeman has 5 unanswered goals in the first and second, earning them the 5-1 win over the Helena Bighorns. Steven Nisbet, Casey Gobel, Kyle Amundson, Austin Charnholm, and jacoby Warner each scored one for the Icedogs, while Adam Apangalook scored the lone goal for Helena. In net, Luke Olson stopped 44 shots on the Bozeman net, while Jeremiah Clark and Nicholas Battaglia split time protecting the Bighorn net – racking up 36 and 17 saves respectively.
Gillette Wild 13 vs. Glacier Nationals 2-The Wild established an early lead and gave the Nationals no chance to return, earning a 13-2 win. Nick Stockert (3), Dallas Paxton, Kyle Truax, Tyler Tennant, Hunter Feagins, Colt Johnson (2), Riley Holwegner, Cade Boreing (2), and Connor Moore all earned points for Gillette, while Gavin Cline scored both goals for the Nationals. In net, Robbie Brennan made 28 saves for the Wild, and Travis Green made 20 saves for the Nationals.
Great Falls Americans 7 vs. Billings Bulls 2-Five unanswered goals early in the game gave Great Falls the advantage, eventually earning them the 7-2 win over the Bulls. Sandis Mezharaups, Tanner Congdon (2), Tegan Harrington (2), Adam Vandenbos, and Hayden Moistner all scored points for the Americans. Keith Gustin and Bryan Miller each netted one for the Bulls. In net, Nick Nast made 29 saves for Great Falls, and Simo Huhtanen stopped 43 for Billings.
Yellowstone Quake 5 vs. Missoula Jr. Bruins 2-The Junior Bruins established an early lead, but the Quake scored an unanswered five goals, giving them the 5-2 win. Tony Dahlberg, Carter Johnson, Max Meyer, Matt Runyon, and Cole Stewart all racked up points for Yellowstone, while Josh Chamberlain scored both goals for Missoula. Julius Huset made 58 saves for the Quake, and Nick Ottenbacker stopped 15 shots for the Jr Bruins.