Sunday Wrap-Up: Jets stay undefeated with another sweep
September 26, 2016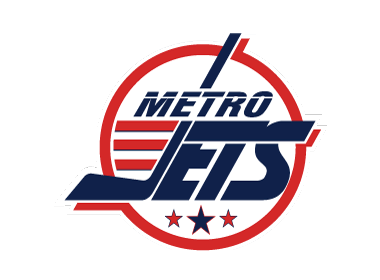 Metro Jets 8 vs. Pittsburgh Vengeance 2-The Jets established an early lead with four first period goals, and the Vengeance just couldn't come back, giving the Metro Jets a, 8-2 win over the Pittsburgh Vengeance. Evan Newel (3), Jake Gleason, Chase Sereno, Cam Schwartz, Dylan Naumovski, and Chas Distelrath all got on the board for Metro. For Pittsburgh, Dominic Glavach and James Unger were the goal scorers. Andrew Kormos stopped 17 shots on the Jets net, while Jacob Zab made 24 saves for Pittsburgh.
Binghamton Jr. Senators 5 vs. Cape Cod Islanders 1-The Jr. Senators proved dominate for the whole 60 minutes, eventually winning 5-1 over the Cape Cod Islanders. Ryan Reifler, Tyler Uravage, Conor Landrigan, Brad Becker, and Jeremy Wilber all scored for Binghamton, while James Brosnan scored the only goal for Cape Cod. In net, Salvatore Lauretta made 34 saves for the Senators, and Justin Servidori and Ryan Clifford stopped 12 and 25 shots on the Islanders net.
Northeast Generals 1 vs. Syracuse Stampede 0-Peter Ciccarelli made 27 saves for the Generals, earning a shutout and 1-0 win over the Syracuse Stampede. Landon Hasenfuss scored the lone goal for Northeast. Martin Sten made 39 saves in net for Syracuse.
Long Beach Sharks 9 vs. New England Stars 1-Five goals in the first period for the Long Beach Sharks put the Stars in a whole they couldn't dig out of, and the Sharks secured the win over New England, 9-1. Phil Garcia, Martins Vitolins (4), Alex Cerda, Oskar Lindberg (2), and Hal Gemignani all scored for Long Beach, and Brandon Hammner scored the lone goal for the Stars. Between the pipes, Kyle Van Wagner made 35 saves for Long Beach, while Greg Moon and Dom Lamanno made 21 and 5 saves, respectively, for the Stars.
Jersey Shore Wildcats 4 vs. Roc City Royals 2-Three unanswered goals for the Wildcats gave them the lead necessary to earn the win, 4-2, over the Royals. Michael Gulawsky, Nikita Penzov, viktor Vasilev, and Dinmukhamed Dzhangarashev each scored one for Jersey Shore, while Peter Izzo and Cameron Clark netted one each for Roc City. In net, Rio Virgoe made 28 saves for the Wildcats, and Ian Stahl stopped 46 shots for the Royals.
Evansville Thunderbolts 3 vs. Cincinnati Thunder 2-A pair of goals from Evansville's John Ames earned them a 3-2 victory over Cincinnati. John Grimm also netted one for the Thunderbolts, and James Frantz and Cameron Sangster scored one a piece for the Thunder. James Fry stopped 32 shots on the Thunderbolt net, and Tyler Geloneck made 33 saves for Cincinnati.
Alexandria Blizzard 4 vs. La Crosse Freeze 2-A pair of goals from Emil Lindfors of the Blizzard helped power them to a 4-2 win over the Freeze. Derek Dropik and Caleb Anderson also scored for Alexandria. JP Eykyn and Blake Nelson both scored for La Crosse. In net, Brey Effertz made 16 saves for the Blizzard, and Andrew Wagner stopped 28 for the Freeze.
Louisiana Drillers 7 vs. College Station Spirit 4-College Station drew first blood with a goal late in the first, but Louisiana ultimately played their way to a 7-4 win over the Spirit. Blake Elliot, Jacob Istre (3), Brandon Vukasin, Nikita Anistratenko, and Michael Ballard all scored for the Drillers. For College Station, Griffen Eatchel, Justin Underhill, and R.C. Randall each scored once for College Station. Driller's goaltender Tyler Smith stopped 31 shots, and Ryan O'Toole made 39 saves for the Spirit.
Peoria Mustangs 4 vs. Nashville Jr Predators 3 (OT)-Nashville established an early lead, but 2 late goals from Peoria forced an overtime, where the Mustangs' Anthony Iacullo scored for the win, 4-3. Iacullo also scored in the third for Peoria, as well as Austin Wisely and Rhett McDonald. Dylan Schmidt, Baylor Hudson, and Peter Cabala each scored for Nashville. In net, JT Kossakowski made 20 saves for the Mustangs, and Mason Koster stopped 31 shots for Nashville.