Friday Finals: Missoula picks up first NA3HL win
October 1, 2016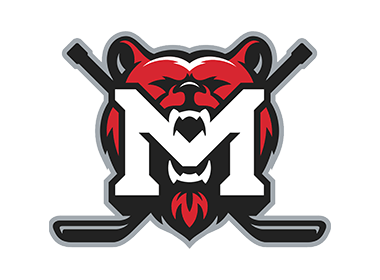 Missoula Junior Bruins 3 vs. Helena Bighorns 2-The Bighorns attempted a comeback after Missoula scored 3 in the first, but were unsuccessful, giving the Junior Bruins a 3-2 win over Helena. Zachary Colgrove, Misha Akatnov, and Justin Barnes each scored once for the Junior Bruins, and scorers for the Bighorns include Brendan Bessee and Kyle Hayter. Between the pipes, Tanner Loucks made 36 saves for Missoula, and Alex Kruger made 34 saves for Helena.
Jersey Shore Wildcats 9 vs. Skylands Kings 2-Jersey Shore drew first with a goal late in the first, but six goals in the third period is what powered them to a 9-2 win over the Kings. John Minnich, Travis Nemeth (2), Josh Mander, Dylan Plsek, Antonio Filippello (2), Dinmukhamed Dzhangarashev, and David Vaysberg all scored for the Wildcats. Edward Klein and Craig Garrigan scored one goal each for the Kings. In net, Zach Robbins made 32 saves for Jersey Shore, and Mathias Ytterng stopped 44 shots on the Skylands net.
Southern Tier Express 2 vs. Pittsburgh Vengeance 0-The Express shutout the Vengeance in a 2-0 win. Joseph Gerace and Matthew Crosby each scored for Southern Tier. Ryan Pascerella had a perfect save percentage on the night, stopping all 40 shots for the Express, while Joel De Simone made 43 saves for Pittsburgh.
Binghamton Jr. Senators 9 vs. Roc City Royals 3-Binghamton scored first, and they established a lead early on, and maintained it to secure a 9-3 win over the Royals. Dominik Bogdziul (3), Lucas Ethington (3), Ryan Flanagan (2), and Armaan Thiara all scored for Binghamton. Ryan Webster, Brandon Corey, and Peter Izzo each netted one for Roc City. Salvatore Lauretta stopped 21 of 24 shots on the Senators net, and Nicholas Sesock and Ian Stahl made 18 and 25 saves respectively.
Breezy Point North Stars 4 vs. New Ulm Steel 2-The teams were equal after two, but a late third period goal from Breezy Point's Cyril Nagurski earned the North Stars the win, 4-2, over New Ulm Steel. Tyler Larwood, Austin Langworthy, and Josh Laven also scored for the North Stars. Alex Egle and Jared Erickson scored for New Ulm. Breezy Point goalie Bronson Moore made 44 saves on the night, while Jon Albers stopped 21 shots on the Steel net.
Texas Jr. Brahmas 4 vs. College Station Spirit 0-The Brahmas shutout the Spirit in a 4-0 win. Dakota Davis, Nikolas McCallum, Vincent Dekumbis, and Melker Kroon each netted a goal for Texas. Tyler Myers stopped all 15 shots he faced for the Jr. Brahmas, and Nick Hart stopped 61 shots on the College Station net.
Wilmar WarHawks 3 vs. Granite City Lumberjacks 2 (OT)-Three periods of play were not enough to settle the score, and in the end, Dylan Gast of the WarHawks scored 4:56 into OT to give Wilmar the win, 3-2 (OT) to Granite City. ALec Skar and Jacob Dobberstein also scored for Wilmar. Braden Altena and Ryan Smith scored one a piece for Granite City. Defensively, Alex Weissenborn made 39 saves for Wilmar, and David Mulligan stopped 28 shots on the Lumberjacks net.
North Iowa Bulls 14 vs. Chicago Bulldogs 1-North Iowa established an early lead over Chicago, and carried it to the end, concluding with a 14-1 win over the Chicago Bulldogs. David (Mitch) Dolter, Kristian Kause, Kohei Sato (3), Brendan Studioso (2), Owen Larson (2), Mitch Parsons, Marshall Barnes, Sean Mallonee, Zach Hayes, and Josh Arnold all earned points for the Bulls, and Jack Henneman scored the lone goal for the Bulldogs. In net, Roman Malkov made 19 saves for North Iowa, and Jacob Dittmer and Josh Cannon stopped 37 and 3 shots, respectively, on the Bulldogs net.
Long Beach Sharks 6 vs. Northeast Generals 4-Two late third period goals for the Sharks brought them the win, 6-4, over the Generals. Zach Ruley, Oskar Lindberg, Martins Vitolins, Carmine Taffo, Martin Grinberg, and Ricky Regala all scored one for Long Beach. Connor Davis, Billy Hickey, Austin Braley, and Landon Hasenfuss were the scorers for Northeast. Long Beach goalie Kyle Van Wagner stopped 32 shots on the night, while Leo Lake made 27 saves for the Generals.
Gillette Wild 6 vs. Bozeman Icedogs 1-Four early unanswered goals gave the Wild an early lead, and eventually a win, over the Bozeman Icedogs. Derrick Scoggins, Nick Stockert, Riley Holwegner, Jack Oberg (2), and Brooks Mitzel each earned points for Gillette, and Steven Nisbet scored the lone goal for the Icedogs. In the crease, Lincoln Riley made 24 saves for Gillette, and Luke Olson and Charlie Smart stopped 15 and 12 shots on the Bozeman net.
Billings Bulls 7 vs. Glacier Nationals 2- There was no scoring in the first, but a busy third period lead Billings to a 7-2 win over the Nationals. Zach Heiser, Keith Gustin, Ludvig Omal (2), Dillon Steh, and Austin Lange (2) all put up points for the Bulls, while Hunter Mason scored both goals for Glacier. In net, Chayo Goodwin made 23 saves for Billings, while Travis Green stopped 42 shots on the Nationals net.
Yellowstone Quake 4 vs. Great Falls Americans 3 (OT)-Yellowstone earned a win in extra time against the Great Falls Americans, 4-3. Curt Greenbush scored twice, one being the overtime winner, and Max Meter and Tony Dahlberg also each netted one for the Quake. Quinn Stuebner, Danny O'Donnell, and Sandis Mezharaups were the scorers for the Americans. In net, Nick Ottenbacker made 33 saves for the Yellowstone Quake, and Nick Nast made 50 saves for Great Falls.