Saturday Scores: North Stars stay atop West with sweep
October 2, 2016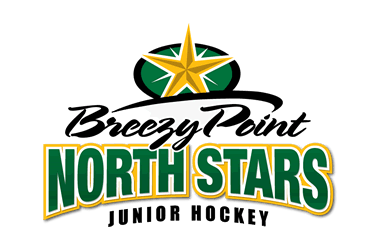 Breezy Point North Stars 3 vs. New Ulm Steel 1-There was no scoring in the first, but a pair of goals from Steven Kukla secured a 3-1 win over the New Ulm Steel for the Breezy Point North Stars. Josh Laven also scored for the North Stars, and Alec Moser netted the only goal for New Ulm. Bronson Moore made 38 saves for Breezy Point, while Jon Albers and Brady Boudreau made 26 and 4 saves, respectively, for the Steel.
Binghamton Junior Senators 7 vs. Lockport Express 1-Three goals in both the first and third periods gave the Junior Senators what they needed to win, 7-1 over the Express. Tyler Uravage (2), Ryan Flanagan, Brad Becker, Ryan Reifler (2), and Conor Landrigan all scored for Binghamton, while Andrew Iosar scored the lone goal for Lockport. Steven Schmitt stopped 25 shots for Binghamton, and Sam Fitzpatrick made 45 saves for Lockport.
Maine Wild 4 vs. East Coast Minutemen 2-The teams were tied after two periods, but two goals in the third gave the Wild the win, 4-2. Reagan Wintle, Kyle Sikora, Evgeni Semeniuk, and Lema Muradov were the scorers for Maine. Eric Steeves and Thomas Defelice scored one goal each for East Coast. In net, Brandon Daigle stopped 32 shots on the Wild net, and Dom Montecalvo made 53 saves for East Coast.
Euless Jr. Stars 5 vs. Louisiana Drillers 2-A strong, 4 goal period for the Jr. Stars powered them to a 5-2 win over the Drillers. Kayne Fedor (2), Nick Snyder, and Remy Kesling (2) all scored for Euless, while Mitch Dolese and Michael Ballard each netted one for Louisiana. Euless' goalie Austin Knoebel stopped 25 shots on net, while Santeri Seppinen made 27 saves for the Louisiana Drillers.
Pittsburgh Vengeance 2 vs. Southern Tier Express 1 (OT)-A pair of goals from Pittsburgh's Dominick Glavach, including one in OT, earned the Vengeance the win, 2-1 over Southern Tier. Luke Grossman scored the lone goal for the Express. In the crease, Joel De Simone made 24 saves for Pittsburgh, while Harrison Vangellow made 49 saves for Southern Tier.
Toledo Cherokee 5 vs. Cincinnati Thunder 3-Three unanswered goals late in the game led Toledo to a 5-3 win over Cincinnati. Giovanni Taormina (2), Dustin Foran, Ricky Kwapich,and Anthony Weinrich all scored for the Cherokee. Bradley Begeman, Cameron Sangster, and Cobin Sanborn netted goals for the Thunder. In net, Adrian Morales stopped 22 shots on the Cherokee net, and Tyler Geloneck made 31 saves for Cincinnati.
New England Stars 3 v. L/A Fighting Spirit 1-Two goals, one each of the last two periods, powered the Stars to a 3-1 win over the Fighting Spirit. Brandon Hammner, Aidan Conlon, and Derek Lovejoy all earned points for New England, and Kyle Secor scored the only goal for Lewiston/Auburn. Sage Broda stopped 19 shots on the Stars net, and Zack Barry made 24 saves for the Fighting Spirit.
Jersey Shore Wildcats 7 vs. Syracuse Stampede 3-Syracuse attempted a comeback, but the Wildcats held strong and eventually earned a 7-3 win over the Syracuse Stampede. Michael Gulawsky, Travis Nemeth, David Vaysberg (2), Dinmukhamed Dzhangarashev, and Victor Vasile (2) all racked up goals for the Wildcats. Matt Allen, Nate Walker, and Hunter Soden each scored once for Syracuse. In net, Ryan Cote stopped 29 shots on Jersey Shore's net, and Martin Sten made 34 saves for the Stampede.
Metro Jets 4 vs. West Michigan Wolves 2-West Michigan attempted a comeback, but it wasn't enough in the end and the Metro Jets secured a 4-2 win. Louis Boudon (2), Graham Day, and Dylan Naumovski all scored for the Jets. Collin Rewerts and Nathan Sudek each netted one for the Wolves. Jake Gwillim made 16 saves for the Metro Jets, and Sam Woznicki made 33 saves for the West Michigan Wolves.
Peoria Mustangs 5 vs. Evansville Thunderbolts 1-Peoria came out strong, scoring 5 unanswered goals against Evansville. Zach Cox, Braden Stewart, Andrej Buchko, Anthony Iacullo, and Thomas Kolaz each scored once for the Mustangs, and Jacob Hanebrink scored the lone goal for the Thunderbolts. Jaden Gardner made 18 saves for the Mustangs, and James Fry stopped 31 shots on the Evansville net.
Northeast Generals 4 vs. Long Beach Sharks 3 (SO)-Three periods of play were not enough to settle the score, but a goal in OT from the Generals secured a 4-3 win over the Long Beach Sharks. Ryan Newman, Stephen Toal, and Austin Braley scored in regulation for the Generals. Keegan Brick, Tyler Boon, and Zach Ruley each scored once for the Sharks. Shawn Peckman had the shootout winning goal. Peter Ciccarelli stopped 34 shots on the Generals net, while Kyle Van Wagner stopped 35 for Long Beach.
St Louis Jr Blues 8 vs. Rochester IceHawks 1-St Louis showed a strong offensive presence, winning 8-1 over the Rochester IceHawks. Nick Balestra (3), Jack Hutton, Trevor Wilhelm, Alex Werdmuller, Tomas Loeffelman, and Dylan Carrol all earned points for the Jr Blues, and Austyn Renn scored the lone goal for Rochester. Hunter Smith stopped 23 shots for St Louis, and Sawyer Schmidt stopped 41 shots on the IceHawks net.
North Iowa Bulls 7 vs. Chicago Bulldogs 1-Chicago scored first, but North Iowa responded with 7 unanswered goals, giving them the 7-1 win over the Bulldogs. Kohei Sato (2), Owen Larson (2), Kristian Kause, Marshall Tschida, and Marshall Barnes all scored for the Bulls. Jack Henneman scored once for the Bulldogs. In net, Josh Benson made 23 saves for North Iowa, and Jacob Dittmer stopped 40 shots on net for Chicago.
Granite City Lumberjacks 2 vs. Alexandria Blizzard 1-A goal halfway through the second made the difference and secured a 2-1 win for Granite City over Alexandria. Will Mix and Ryan Smith each scored one for the Lumberjacks, while Brett Meister scored for the Blizzard. In net, Mac Berglove made 28 saves for Granite City, and Brey Effertz stopped 20 shots for Alexandria.
Nashville Jr Predators 6 vs. Point Mallard Ducks 2-Three goals in both the first and third periods gave the Jr Predators the win, 6-2, over the POint Mallard Ducks. Logan Orem, Kieran Ogle, Alex Stalzer (2), Micahel Redmon, and Niks Kalnberzins all scored for Nashville. Elias Nilsson and Zachary Gilreath netted goals for Point Mallard. Ricky Gonzalez made 17 saves for the Jr Predators, and Sam Gartner made 16 saves for Point Mallard.
Gillette Wild 5 vs. Bozeman Icedogs 2-Gillette started off strong, establishing an early lead, and eventually the win, 5-2, over Bozeman. Brooks mitzel, Jack Oberg, Riley Holwegner, Nick Stockert, and Dallas Paxton scored one each for the Wild. Kyle Amundson and Steven Nisbet scored the pair of goals for the Icedogs. In net, Landon Anderson made 26 saves for the Gillette Wild, and Luke Olson made 30 saves for the Bozeman Icedogs.
Missoula Junior Bruins 4 vs. Helena Bighorns 3 (OT)-Although Helena established an early lead after the first, Missoula came back to win the game in OT with a goal from Wyatt Matthews. Josh Chamberlain, Austin Azzinarro, and Joseph Porco also scored for the Junior Bruins. John Heddle, Bradley Estrada, and Ben Kottmeier earned points for the Bighorns. Tanner Loucks made 54 saves for the Missoula Junior Bruins, while Alex Kruger stopped 37 shots for the Helena Bighorns.
Yellowstone Quake 5 vs. Great Falls Americans 2-The Yellowstone Quake scored four times in the third period, carrying them to a 5-2 win over the Great Falls Americans. Matt Runyon (2), Reed Kelly (2), and Hunter Ruschmeyer all scored for the Quake, while Tanner Congdon and Matt Janke earned points for the Americans. Yellowstone's Nick Ottenbacker made 25 saves on the night, while Michael Hughes stopped 36 shots for Great Falls.
Billings Bulls 8 vs. Glacier Nationals 3-The Billings Bulls established an early win over the Glacier Nationals, eventually securing the win, 8-3. Dillon Steh, Denis Kozev, Zach Heiser (2), Austin Lange, Kyle Mueller, Kenny Miller and Ludvig Omdal scored for the Bills, and Riggs Zeidler (2) and Gavin Cline earned goals for the Nationals. Simo Huhtanen stopped 18 shots on the Billings net, and Mikhail Pahrebets and Jonah Gower made 22 and 3 saves, respectively, for Glacier.