Sunday Wrap-Up: Binghamton completes three-win weekend
October 3, 2016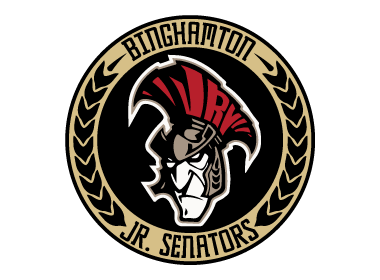 Binghamton Junior Senators 6 vs. Lockport Express 2-Three goals in both the first and third period for the Binghamton Junior Senators ensured a win, 6-2, over the Lockport Express. Brad Becker, Jeremy Wilber, Ryan Reifler (2), Armaan Thiara, and Dylan Gulick all scored for Binghamton, and Aaron Shahin and Dominic Senese earned points for Lockport. Salvatore Lauretta stopped 23 shots on the Junior Senators net, while Adam Partridge made 60 saves for the Express.
Jersey Shore Wildcats 5 vs. Syracuse Stampede 2-A strong offensive third period helped power the Jersey Shore Wildcats to a 5-2 win over the Syracuse Stampede. Viktor Vasilev, Tyler Allen, Dale Peirano, Dylan Pslek and Travis Nemeth all scored for Jersey Shore, and Nate Walker netted both goals for Syracuse. Between the pipes, Rio Virgoe made 38 saves for the Wildcats, while Ryan Scheide made 49 saves for the Stampede.
Chicago 1 @ North Iowa 12 – Double-digits made an appearance on the score sheet for the North Iowa Bulls, who had eleven different goal scorers in a 12-1 game against the Bulldogs on Saturday. Sean Mallonee led the night with two tallies, both in the second period. Caylen Dyni started the scoring just 49 seconds into first period play. Dayton Honkanen added a second goal to make it 2-0 Bulls after one. In the second, Eric Piatt grabbed North Iowa's third goal. Chicago's Jack Henneman ruined the Bulls potential shutout by sneaking a goal in during the second period. Jack Henneman, Kohei Sato, Steven Mordini, and Lucas McKinnon continued the North Iowa scoring through the second period, making it 8-1 in favor of the Bulls. In the third, Mitch Parsons, Vincent Billing, Connor Clemons, and Owen Larson added their names to the goal-scorers list by collecting the last four goals of the night. Brady Meyers took the win with 24 saves in net for North Iowa, while Jacob Dittmer was given the loss with 51 saves.
Pittsburgh Vengeance 2 vs. Wooster Oilers 1-This one goal game was decided by a late second period goal by Thomas Polster for the Pittsburgh Vengeance, giving them the 2-1 win over the Wooster Oilers. Austin Martz also scored for Pittsburgh, and Tyler Kallay earned the sole goal for Wooster. In net, Jacob Hough stopped 17 shots on the Vengeance net, while Michael HUbbard made 29 saves for the Oilers.
Long Beach Sharks 9 vs. Skylands Kings 7-This high scoring game shifted the lead from team to team numerous times, but in the end the Long Beach Sharks won over the Skylands Kings, 9-7. Dillon Lindholm, Martins Vitolins (3), Corey Rees, Ricky Regala (2), Zach Ruley, and Oskar Lindberg all earned points for the Sharks. For the Kings, Jan Broz (2), Phil Pistraya (2), David Rozitis, Mike King, and Craig Garrigan each netted points. Kyle Van Wagner and Will Langstaff made 12 and 17 saves, respectively for Long Beach, and Evan Barghout stopped 36 shots for Skylands.
New England Stars 3 vs. Cape Cod Islanders 0-The New England Stars shut out the Cape Cod Islanders in a 3-0 win. Ian Gately, and Ryan Paul (2) scored for the Stars. Sage Broda had a perfect game, making 21 saves for New England, and Cape Cod's Anton Zemba made 29 saves.
L/A Fighting Spirit 6 vs. Maine Wild 2-The L/A Fighting Spirit established an early lead, enabling them to secure a 6-2 win over the Maine Wild. Dylan Vrees, Dan Espe, Clifford Ogle (2), Walker Hamilton and Thomas Kuntz all scored for the Fighting Spirit, and Lema Muradov netted both goals for the Wild. In net, Michael Errico stopped 24 shots for Lewiston/Auburn, and Brayden McGary and Alex Fortuna made 8 and 11 saves, respectively for Maine.
Metro Jets 3 vs. West Michigan Wolves 1-Two third period goals for the Metro Jets lead them to a 3-1 win for the West Michigan Wolves. Mathias Tellstrom, Graham Day, and Jason Recchia each scored one for the Jets, and Trevor Temple scored in the second for West Michigan. Andrew Kormos stopped 23 shots for Metro, while Alex Wilder made 38 saves for the Wolves.
St. Louis Jr. Blues 5 vs. Rochester Ice Hawks 0-The St Louis Jr Blues earned a shutout, giving them a 5-0 win over the Rochester Ice Hawks. Daniil Ovchinnikov, Robby Seger, Samuel Maddox, Ivan Galaguzov, and Nick Balestra all scored for the Jr Blues. Zach Young had a perfect game - saving all 18 shots on the St Louis net, while Sawyer Schmidt and Bailey Schmitz had 37 and 12 saves, respectively, for Rochester.
Peoria Mustangs 10 vs. Evansville Thunderbolts 1-The Peoria Mustangs enforced a strong offense presence over the Evansville Thunderbolts, giving them a 10-1. Austin Wisely (2), Peter Miller, Braden Stewart (3), Andrej Buchko, Thomas Kolaz, Zach Cox, and Aaron Siegrist all scored for the Mustangs. Mathieu Laforest scored the lone goal for Evansville. Corbin Moore made 19 saves for Peoria, while James Fry and Bryson Linenburg made 21 and 11 saves, respectively, for the Thunderbolts.
Cincinnati Thunder 3 vs. Toledo Cherokee 1-The Cincinnati Thunder scored two unanswered goals to give them a 3-1 win over the Toledo Cherokee. Tyler Klutch, Trevor Veneklase, and Jacob Friedman each netted one for the Thunder, and EJ Gilbert scored the lone goal for the Cherokee. Ryan Kostelnik made 48 saves on the Cincinnati net, while Jeremy Hamerquist stopped 27 shots for Toledo.
Euless Jr Stars 5 vs. Louisiana Drillers 4-This match almost required extra time, but a goal at 19:12 of the third from Euless' Chase Megliorino put them on top, giving them the 5-4 win over Louisiana. Other Jr Stars goals came from Bryce Harrison, Ian Linna, Nick Sheridan, and Axel Olson. From the Drillers, Nikita Anistratenko (2), Michael Ballard, and Jacob Istre all got on the board. Austin Knoebel saved 31 shots on the Euless Jr Star net, while Zack Mayhugh stopped 31 as well for the Louisiana Drillers.
Texas Jr Brahmas 5 vs. College Station Spirit 3-The Texas Jr Brahmas earned a 5-3 win over the College Station Spirit. Tyler Schulz, Dalton Caesar (2), Kyle Torgerson, and Jacob Peterson all earned goals for the Jr Brahmas. Erik Engdahl, Nick Krivokuca, and RC Randall scored one goal each for the Spirit. Texas goalie Tyler Myers stopped 20 shots, while Kevin Mackey made 10 saves for College Station.