NA3HL announces Bauer Divisional Stars of the Week
October 4, 2016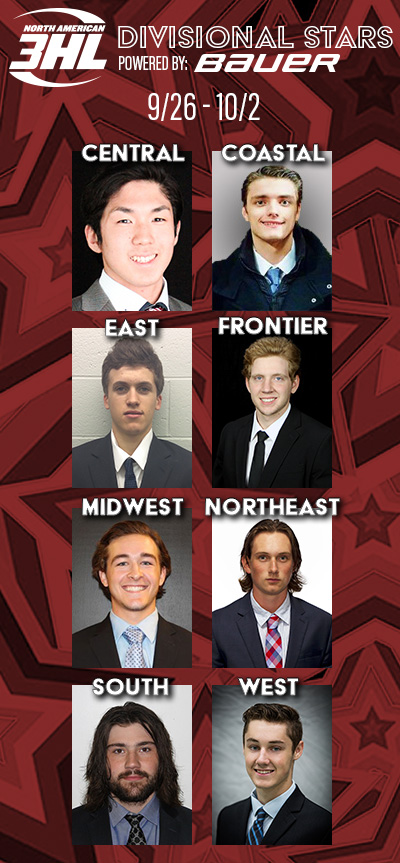 The North American 3 Hockey League (NA3HL) today announced the Divisional Stars of the Week presented by Bauer Hockey for the week ending October 2, 2016. The divisional stars of the week is an award given each week of the regular season to the top performing players in each of the eight divisions of the NA3HL as nominated by their head coaches.
Central Division Star of the Week: Kohei Sato, forward, North Iowa Bulls
A 10 point weekend by 20-year-old Kohei Sato powered the North Iowas bulls through a 3-game sweep against Chicago over the weekend. The 6'1/ 185 lbs forward grabbed 6 goals and 4 assists against the Bulldogs, standing at +10 after 3 games played. The Nishitokio, Japan native leads the Bulls with 8 goals in 2016-17. "Kohei was a catalyst for us this weekend, netting a hat trick on Friday night," said Head Coach Todd Sanden. "His speed constantly puts pressure on opposing teams defense. He is working on some of the details of the game and they are starting to show, as he is becoming a more complete player."
2nd Star: Mike Lyons, D, North Iowa Bulls
Honorable Mention (alphabetical): none
Coastal Division Star of the Week: Sage Broda, goaltender, New England Stars
New England's 19-year-old goalie continued his perfect record (3-0-0) for the Stars by adding in two more wins. The 5'11/165 lbs native of Atlanta, Georgia grabbed his first shutout of the season at home on Sunday. Broda made 41 saves, with only 1 goal against, for a 97.5% save average through the weekend. "Sage was solid in both games this weekend. The timing and quality of his saves were instrumental in solidifying our wins over two tough opponents," said Head Coach Darryl Green.
2nd Star: none
Honorable Mention (alphabetical): none
East Division Star of the Week: Louis Boudon, forward, Metro Jets
With strong offensive efforts, Louis Boudon helped the Metro Jets secure two wins at home this weekend. With the game-winning goal on Friday night, the 5'11/165lbs forward tallied a total of 2 goals, 2 assists and a +4 rating. Boudon hails from Grenoble, France. "Louis has adapted really well to the North American style of play and sheet size. He is a very cerebral player who does a lot for our team on both sides of the puck," said Head Coach Justin Quenneville. "This past weekend, Louis was an integral part in lifting us to those 2 wins, and we only see him getting stronger as the season progresses."
2nd Star: Graham Day, F, Metro Jets
Honorable Mention (alphabetical): Nolan Stanley, F, Toldeo Cherokee
Frontier Division Star of the Week: Zach Heiser, defenseman, Billings Bulls
Zach Heiser contributed 9 points for Billings to give the Bulls their first two wins of the season over the Glacier Nationals. The 6'1/190lbs defenseman, hailing from Osseo, Minnesota, leads the Bulls with 10 points. Heiser collected 3 goals and 6 assists through the weekend, along with a +6 rating. Head Coach Michael Richardson noted Heiser's efforts by saying, "Zach had a good weekend of hockey for us. When Zach came back to us from the NAHL a few weeks ago, he has made it a point to be a dominant player, and I think he certainly did that this weekend. His points were certainly impressive, but I want to make sure his defensive responsibilities get credit. I know when he does get another opportunity in the NAHL he will be someone to watch."
2nd Star: Brooks Mitzel, F, Gillette WIld
Honorable Mention (alphabetical): Ludvig Omdal, F, Billings Bulls
Midwest Division Star of the Week: Nick Balestra, forward, St. Louis Jr. Blues
Four goals and an assist from Nick Balestra aided the St. Louis Jr. Blues in a weekend sweep over Rochester. The 5'7/165 lbs native of Ballwin, Missouri collected a +4 rating through the two wins. Balestra leads the Blues with 7 goals in the 2016-17 season. "Nick really had a breakout weekend on the scoresheet. His speed, along with his linemates Ryan Edgar and Sam Maddox, accounted for a ton of offensive production. Aside from his offense, Nick was huge for us on the penalty kill and played a great two-way game," said Head Coach Chris Flaugher.
2nd Star: Ryan Kostelnik, G, Cincinnati Thunder
Honorable Mention (alphabetical): Sam Maddox, F, St. Louis Jr. Blues
Northeast Division Star of the Week: Brad Becker, forward, Binghamton Jr. Senators
Howell, New Jersey native Brad Becker snagged his first power-play goal of the season to help the Jr. Senators secure three wins at home over the weekend. The 6'2/ 180lbs forward collected 2 goals, 6 assists and a +6 rating through three games. "We are very proud of Brad for his accomplishment. Brad comes from the NAHL and we call on him to be a leader both on and off the ice for our team. Brad's 8 points in 3 games were key to leading our team to three wins over the weekend," said Assistant Coach Nick Perri.
2nd Star: Jeremy Wilber, F, Binghamton Jr. Senators
Honorable Mention (alphabetical): none
South Division Star of the Week: Kayne Fedor, forward, Euless Jr. Stars
Euless' leading scorer continued his high-tempo offense with 5 goals and 2 assists through the weekend for the Jr. Stars. The 5'10/185lbs 20-year-old had two game winning goals, along with two short-handed goals, against Louisiana. Fedor, hailing from Adelaide, Australia, sits on top of the goal scoring and points categories for Euless with 8 and 15, respectively. "Kayne had a huge performance this past weekend. As one of our captain's he really came through on many levels… from the power play, to two shorthanded goals, along with two game winners," said Head Coach Don Babineau. "He's proven to be a top player in the NA3HL with a goal to crack a NAHL lineup by mid season. On the ice, Kayne leads by example and is a big part of our team's early success. As a staff we are excited to see continue success throughout the season."
2nd Star: Tyler Myers, G, Texas Jr. Brahmas
Honorable Mention (alphabetical): Melker Kroon, F, Texas Jr. Brahmas - Tristan Wilson, F, Euless Jr. Stars
West Division Star of the Week: Bronson Moore, goaltender, Breezy Point North Stars
North Stars' Bronson Moore kept his record (3-0-0) squeaky clean by grabbing two more wins over the weekend. The 5'11/160lbs native of Wenatchee, Washington collected 81 saves in 116 minutes of play, posting a 95.2% save average. Head Coach Jon Jonasson applauded Moore's work in net by saying, "Bronson stood on his head this weekend keeping us in the game to grab 4 points. Moore has shown us a high level of character and work ethic so far in Breezy Point and we see how driven he is to get to the next level."
2nd Star: Alex Weissenborn, G, Willmar WarHawks
Honorable Mention (alphabetical): Braden Altena, F, Granite City Lumberjacks – Jacob Dobberstein, F, Willmar WarHawks – Steven Kukla, F, Breezy Point North Stars – Ryan Smith, F, Granite City Lumberjacks