Sunday Wrap-Up: Nashville completes sweep
October 10, 2016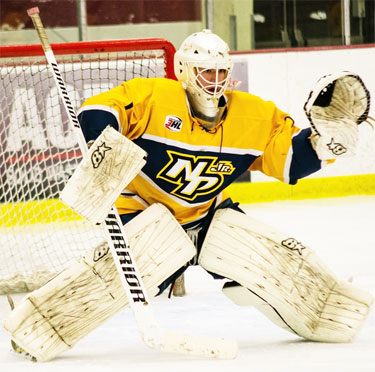 Nashville Jr Predators 3 vs. Atlanta Capitals 2-The Nashville Jr Predators secured a 3-2 win over the Atlanta Capitals by establishing an early lead. Niks Kalnberzins, Dakota Wilson, and Michael Redmon each scored once for the Jr Predators, and Sascha Figi and Tristen Poliseno earned points for the Capitals. Ricky Gonzalez made 27 saves for Nashville, while Nolan Bivolcic stopped 22 shots on the Atlanta net.
Point Mallard Ducks 5 vs. Louisiana Drillers 1-The Point Mallard Ducks maintained a strong offensive presence throughout the game, earning them a 5-1 win over the Louisiana Drillers. John Meakins, Mark Revniaga, Nicholas Gustafson, and Elias Nilsson (2) scored for Point Mallard, and Thomas Driscoll netted the lone goal for Louisiana. Gary Glassman stopped 14 shots on the Ducks' net, while Tyler Smith made 33 saves for the Drillers.
Binghamton Junior Senators 8 vs. Jersey Shore Wildcats 3-The Binghamton Junior Senators were able to secure a 8-3 win over the Jersey Shore Wildcats after a strong third period. Conor Landrigan (2), Lucas Ethington, Tyler Uravage (2), Dominik Bogdziul, Armaan THiara, and Ryan Reifler all earned points for the Junior Senators. Dylan Plsek (2) and Tyler Allen scored for the Wildcats. In net, Salvatore Lauretta made 35 saves for Binghamton, hile Rio Virgoe and Ryan Cote made 10 and 20 saves, respectively, for Jersey Shore.
New England Stars 3 vs. Roc City Royals 2-A pair of goals from John Krapian gave the New England Stars a 3-2 win over the Roc City Royals. Brandon Hammner also scored for the Stars, and Brandon Corey scored both goals for Roc City. Greg Moon made 23 saves for New England, while Nicholas Sesock stopped 36 shots on the Royals net.
Syracuse Stampede 9 vs. Skylands Kings 3-A busy second period for the Syracuse Stampede helped propel them to a 9-3 win over the Skylands Kings. Nick Sanborn, Matt Allen (3), Nate Walker (2), Hunter Soden, Tristan Ayoubi,and Rich Hart earned goals for the Stampede. Darrin Bruce and Craig Garrigan (2) each scored for the Kings. Syracuse goaltender Martin Sten made 35 saves on the night, while Evan Barghout made 41 saves for Skylands.
L/A Fighting Spirit 5 vs. East Coast Minutemen 1-3 unanswered goals late in the game secured a 5-1 win for the Lewiston/Auburn Fighting Spirit over the East Coast Minutemen. Dylan Vrees, Crewz Berry, Andrew McCormick, Kyle Secor, and JP Chauvin all scored one each for the Fighting Spirit, and Nick Padgett scored the lone goal for the Minutemen. Chris Schmitt stopped 10 shots on the Lewiston/Auburn net, while Dom Montecalvo made 41 saves for the East Coast.
Metro Jets 5 vs. Peoria Mustangs 0-With 5 separate scorers, the Metro Jets rolled to a 5-0 win over the Peoria Mustangs. Trevor Momot, Mathias Tellstrom, Louis Boudon, Jason Recchia, and Chase Sereno each netted one for the Jets. In net, Andrew Kormos made 30 saves for Metro, while Jaden Gardner and JT Kossakowski made 13 and 22 saves, respectively, for Peoria.
Northeast Generals 4 vs. Cape Cod Islanders 2-Three unanswered goals for the Northeast Generals powered them to a 4-2 win over the Cape Cod Islanders. Shawn Peckman, Craig Lauzon, Derric Trudeau, and Austin Braley each scored one for the Generals, while Nash Braun and Nick Marston netted goals for the Islanders. Leo Lake made 34 saves for Northeast, while Ryan Clifford stopped 28 shots on the Islanders net.