Billings defenseman Heiser making an impact
October 10, 2016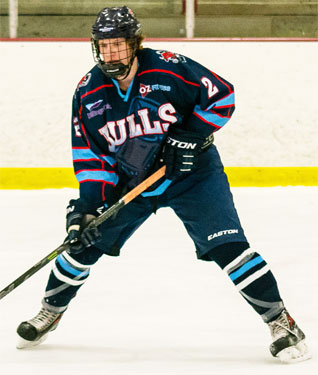 By Tom Robinson, Special to USA Hockey
Zach Heiser felt comfortable that his offseason concentration and workouts had made him into a better player on the defensive end of the ice for this season.
The Billings Bulls defenseman then went out and put up the type of numbers early in the North American 3 Hockey League season to prove that he is also much more of a threat in the offensive end.
"I think that definitely in the defensive zone is where it all came together for me," said Heiser, a 19-year-old from Osseo, Minnesota. "A lot of times I would really focus on the offensive side even though I'm a defenseman. That was one thing that my coach, Mike Richardson, and I worked on a ton with individual film and other stuff, just always making sure I was on the defensive side of the puck.
"I'm making sure that before we get into that offensive zone that we're doing things right and not skating through four guys when you can just make one pass and move it up quick."
Heiser earned NA3HL Frontier Division Star of the Week honors for the week by producing nine points as the Bulls posted their first two wins of the season. He leads Billings with 10 points after 4 games.
The 6-foot-1, 190-pounder thinks it was the defensive work that allowed him to come close to making the jump to the North American Hockey League this summer, staying with the Topeka RoadRunners through training camp and exhibitions until four days before the regular season started.
Richardson knows the work Heiser has put in on the other end and does not want the offensive numbers to distract from that.
"Zach had a good weekend of hockey for us," Richardson said after Heiser went plus-6 while scoring three goals and assisting on six others. "When Zach came back to us from the NAHL a few weeks ago, he has made it a point to be a dominant player, and I think he certainly did that this weekend.
"His points were certainly impressive, but I want to make sure his defensive responsibilities get credit. I know when he gets another opportunity in the NAHL, he will be someone to watch."