Metro defenseman Hansen gets call to NAHL
October 13, 2016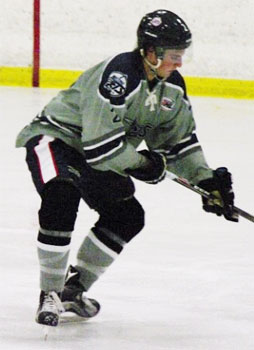 By Matt Mackinder
Just about a month into the season and the Metro Jets have advanced another player to the North American Hockey League.
This time, defenseman George Hansen is on his way to the Wilkes-Barre/Scranton Knights.
Another defenseman, Nick Foran, was called up to the NAHL last month and played for the Kenai River Brown Bears.
Hansen left for Wilkes-Barre/Scranton on Monday afternoon and is excited for the opportunity that awaits him.
"One of Wilkes-Barre's defenseman got called up to the USHL, so their head coach (Tom Kowal) called Coach Q (Jets coach-GM Justin Quenneville) asking for a d-man and he referred me. To stay in the NAHL, I just have to play a simple game and move the puck and not turn the puck over trying to do the extra moves."
"We are fortunate that we have the relationships to promote these young men when opportunities arise," noted Quenneville. "We are constantly trying to elevate our platform for players here and we are grateful teams and colleges continue to communicate with us on a consistent basis. George came to us with the right mindset and a drive to develop. He knew it wasn't going to be an overnight opportunity, so he committed himself to elevating his game. He had habits he corrected and a positive attitude which helped him earn this chance.
"I love when we can continue to provide these opportunities for players time and time again, and prove over and over why our league is the premier development and advancement platform for junior players."
In 10 games this season, Hansen, a 19-year-old native of Patchogue, N.Y., compiled five assists. He played in 2015-16 for the Texas Jr. Brahmas and faced the Jets in last spring's NA3HL Silver Cup tournament in suburban Chicago.
"The biggest thing I learned from the coaches here is that if you put 100 percent effort in to Coach Q and Coach Jamie (Lovell), they will put the effort in to move you," Hansen said. "They showed me that you don't need to make the extra move every time – a simple give and go will be more effective in higher levels.
"After last season, I knew Metro was just a powerhouse of a team and if I was playing in the NA3HL, I wanted to play for them. I also had a couple buddies on the team, so it was an easy transition."
(The two teams consummated a trade over the summer.)
Like most, Hansen's future goals include sticking in the NAHL and committing to an NCAA school when the time is right.