Friday Finals: Blizzard shutout Lumberjacks
October 15, 2016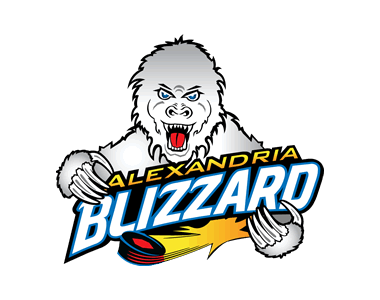 Alexandria Blizzard 4 vs. Granite City Lumberjacks 0-The Alexandria Blizzard maintained a steady offensive presence throughout the game, earning them a 4-0 win over the Granite City Lumberjacks. Connor Busse, Caleb Anderson, Emil Lindfors, and Logan Nelson each scored for Alexandria. Brey Effertz earned a shutout, stopping all 19 shots on the Blizzard net, while David Mulligan made 32 saves the Granite City.
Pittsburgh Vengeance 4 vs. West Michigan Wolves 3-A pair of goals late in the game earned the Pittsburgh Vengeance a 4-3 win over the West Michigan Wolves. Gavin Cummings, Nicholas Lyon, Nick Hawkins, and Marc Anthony each netted goals for Pittsburgh, while Dakota Ulmer and Thomas Harrison (2) score for West Michigan. In net, Joel De Simone made 29 saves for the Vengeance, while Alex Wilder stopped 18 for the Wolves.
Metro Jets 6 vs Toledo Cherokee 2-The Toledo Cherokee attempted a comeback, but it was too late and the Metro Jets finished with a 6-2 win. Chas Distelrath (2), Jake Gleason, Robby Flannery, Jason Newel, and Louis Boudon all scored for Metro, and EJ Gilbert and Brock Grandbois scored one a piece for Toledo. Jets goalie Andrew Kormos made 19 saves on the night, while Adrian Morales stopped 53 shots for the Cherokee.
Cape Cod Islanders 3 vs. New England Stars 2 (OT)-A pair of goals within 2 minutes from Aaron Deady of the Cape Cod Islanders tied the game In the third, sending it to overtime, where Cape Cod's Joe Brennan netted the OT winner, giving them a 3-2 OT win over the New England Stars. New England scorers included Ryan Paul and Zach Comier. Hans Meling made 30 saves for the Islanders, and Dom Lamanno stopped 25 shots on the Star's net.
Southern Tier Express 10 vs. Wooster Oilers 4-An early 4 goal lead gave the Southern Tier Express the advantage, eventually securing their win, 10-4, over the Wooster Oilers. Cameron Pries (2), Hunter Kepple, Arttu Rajamaki, Cameron Trejchel (2), Joseph Gerace, Luke Grossman, and Santeri Rajakallio (2) all scored for Southern Tier. For Wooster, Jeremy Ross, Nicholas Mooney, Timothy Orlosky, and Christopher Hubbard each netted a goal. Harrison Vengellow made 19 saves for the Express, and Michael Hubbard and Creighton Furber made 13 and 17 saves each for the Oilers.
Evansville Thunderbolts 10 vs. Chicago Bulldogs 1-The Evansville Thunderbolts maintained a steady lead over the Chicago Bulldogs, resulting in a 10-1 win. Jon Grimm, Seth Parsons, John Ames (2), Drew Wynn (2), Kody Kifer (2), Mathieu Laforest, and Brandon Rozema all scored for Evansville, and Brandon Caudill scored the lone goal for Chicago. Defensively, James Fry stopped 25 out of the 26 shots he faced for the Thunderbolts, while Joe Timmerman made 61 saves for the Bulldogs.
North Iowa Bulls 5 vs. La Crosse Freeze 2-Four goals in the second for the North Iowa Bulls propelled them to a 5-2 win over the La Crosse Freeze. Caylen Dyni, Owen Larson (2), Mitch Parsons, and Sean Mallonee all scored for North Iowa, while JP Eykyn and Danny Toycen netted one each for La Crosse. Bulls goalie Josh Benson stopped 30 shots during the match, while Brendan Pasdo made 32 saves for the Freeze.
Maine Wild 4 vs. East Coast Minutemen-The Maine Wild maintained pressure on the East Coast Minutemen through all three periods, resulting in a 4-1 win. Zach Gagne, Tucker Twardosky, Jacob Brandon, and Daniel Avdioukin all scored for Maine, while Matt Orourke scored the lone goal for East Coast. In net, Brayden McGary made 27 saves for the Wild, while Dom Montecalvo stopped 54 shots for the Minutemen.
New Ulm Steel 3 vs. Willmar WarHawks 2-A pair of goals in the third from New Ulm Steel's Alex Nagel gave them the lead, ensuring a 3-2 win over the Willmar WarHawks. Nicholas Campbell also scored for New Ulm, while Jacob Dobberstein and Alex Syring each earned points for Willmar. Nathan Siclovan made 38 saves for the Steel, and Alexander Cathcart stopped 25 shots on the WarHawk's net.
Euless Jr Stars 7 vs. Atlanta Capitals 5-Two late third period goals from the Euless Jr Stars decided the game, giving them a 7-5 win over the Atlanta Capitals. Kayne Fedor (2), Tristan Wilson (3), Thomas Delaney, and Daniel Goodwin earned points for Euless. Boomer Miller, Sascha Figi, Grant Koehler, and Talon Medure (2) all netted goals for the Capitals. Jr Stars goalie Austin Knoebel made 22 stops, and Connor Fewster made 39 saves for Atlanta.
Rochester Ice Hawks 4 vs. Breezy Point North Stars 3 (OT)-Rochester Ice Hawk Ethan Sievek scored halfway through overtime to give them the 4-3 OT win over the Breezy Point North Stars. Other scorers for Rochester include Dylan Boysen (2), and Spencer Hadacek. For Breezy Point, Ryan Higgins, Michael Behl, and Steven Kukla each scored a goal. VBetween the pipes, Sawyer Schmidt made 41 saves for the Ice Hawks, and Jaeger Reed stopped 21 shots for the North Stars.
Louisiana Drillers 7 vs. College Station Spirit 3-A strong second period for the Louisiana Drillers gave them the lead necessary to secure a 7-3 win over the College Station Spirit. Brayden Hutchinson (2), Nikita Anistratenko, Connor Taylor, Blake Elliott, Brandon Vukasin, and Michael Ballard all earned points for the Drillers, and Jackson Greer, Denis Kusy, and Kyle Kester scored one a piece for College Station. In net, Tyler Smith made 27 saves for Louisiana, and Ryan O'Toole and Nick Hart made 11 and 16 saves, respectively, for the Spirit.
Long Beach Sharks 6 vs. L/A Fighting Spirit 3-A strong second period for the Long Beach Sharks helped them to earn a 6-3 win over the L/A Fighting Spirit. Carmine Taffo (3), Martins Vitolins, Alex Cerda, and Zach Ruley,each scored for the Sharks. Dan Espe, Siegel Matt, and Patrick Romano all scored once for the Fighting Spirit. In net, Kyle Van Wagner made 42 saves for Long Beach, while Zack Barry stopped 27 shots for Lewiston/Auburn.
Jersey Shore Wildcats 5 vs. Roc City Royals 4 (OT)-The Roc City Royals came from behind, tying the game with 6 seconds left in regulation, but the momentum didn't carry into extra minutes, giving the OT win to the Jersey Shore Wildcats, 5-4. David Vaysberg, and Michael Gulawsky (3) scored in regulation, and Dylan Plsek earned the OT winner. For Roc City, Brandon Corey (2), Henrik Toiviainen and Cameron Clark each scored. Rio Virgoe made 29 saves for Jersey Shore, and Freddy Peters and Ian Stahl both made 12 saves for the Royals.
Gillette Wild 5 vs. Yellowstone Quake 4 (SO)-A third period revival for the Gillette Wild put them back into play, eventually earning a shootout win over the Yellowstone Quake after a goal from Riley Holwegner. Cade Boreing, Nick Stockert (2) and Jack Oberg scored in regulation for the Wild. Cole Stewart, Max Meyer, Reed Kelly, and Jesse Lawman each scored once for the Quake. Landon Anderson made 41 saves on the night for Gillette, and Nick Ottenbacker stopped 39 shots on the Yellowstone net.
Bozeman Icedogs 6 vs. Billings Bulls 5 (SO)-The Bozeman Icedogs sored halfway through the third, sending the game into overtime, and eventually a shootout, where goals from Austin Charnholm and Kyle Amundson earned them the 6-5 shootout win over the Billings Bulls. Steven Nisbet, Liam Millar, Casey Gobel, Charnholm, and Kadin Ferguson scored in regulation for the Icedogs. Zach Heiser, Daniel Johansson, Peyton Tofte, and Austin Lange (2) scored in regulation for Billings, and Ludvig Omdal scored one in the shootout. Bozeman goalie Charlie Smart made 47 saves on the night, and Simo Huhtanen made 48 saves for the Bulls.
Great Falls Americans 3 vs. Missoula Junior Bruins 2-The Great Falls Americans came back from a one goal deficit to secure a 3-2 win over the Missoula Junior Bruins. Sandis Mezharaups (2) and Danny O'Donnell were the scorers for Great Falls, while Justin Barnes and Misha Akatnov each scored one for Missoula. Nick Nast stopped 22 shots for the Americans, and Tanner Loucks made 31 saves for the Junior Bruins.
Helena Bighorns 5 vs. Glacier Nationals 4 (OT)-A pair of goals late in the third tied the game for the Helena Bighorns, sending it to extra minutes, where Ryatt Bayne scored the game winner, earning them a 5-4 OT win over the Glacier Nationals. John Heddle (2), Kyle Hayter, and Brendan Bessee scored in regulation for Helena. Lindros Beard and Kevin Bird each scored twice for the Nationals. Bighorns goalie Nicholas Battaglia stopped 22 shots, while Brendan Schultz made 46 saves for Glacier.