Sunday Wrap-Up: Evansville completes weekend sweep
October 17, 2016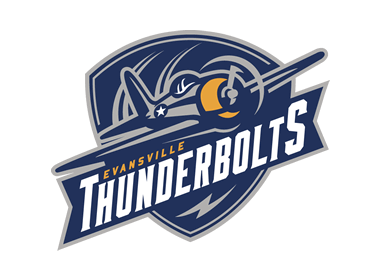 Evansville Thunderbolts 6 vs. Chicago Bulldogs 2-The Chicago Bulldogs scored first, but that didn't derail the Evansville Thunderbolts, as they powered their way to a 6-2 win. Drew Wynn, Brandon Rozema, John Ames, Austin Cody, Matt McElroy, and Mathieu Laforest each scored one for Evansville, and Jake Hermann and Matt Sharpe netted the Chicago goals. James Fry made 23 saves for the Thunderbolts, while Joe Timmerman stopped38 shots for the Bulldogs.
Binghamton Junior Senators 8 vs. Cape Cod Islanders 1-The Binghamton Junior Senators did not let up after earning a 4 goal lead after the first period, and powered through to an 8-1 win over the Cape Cod Islanders. Ryan Reifler, Ryan Flanagan (2), Zacharia Ouladelhadjahmed, Jeremy Wilber, Conor Landrigan, Tyler Uravage, and Andrew Palmiter all scored for Binghamton, and Aaron Deady netted the lone goal for Cape Cod. Junior Senator netminder Salvatore Lauretta made 22 saves on the night, while Justin Servidori and Hans Meling made 26 and 10 saves, respectively, for the Islanders.
Roc City Royals 5 vs. Jersey Shore Wildcats 1-The Roc City Royals established an early lead over the Jersey Shore Wildcats, allowing them the 5-1 win. Peter Izzo (2), Henrik Toiviainen, Brandon Corey, and Aidan Conolly all scored for Roc City, and Nikita Penzov netted the goal for Jersey Shore. In net, Nicholas Sesock stopped 32 shots for the Royals, and Rio Virgoe and Ryan Cote made 16 and 14 saves, respectively, for the Wildcats.
Syracuse Stampede 4 vs. Skylands Kings 3 (OT)-Darrin Bruce tied the game late in the third for the Skylands Kings, sending the game to extra minutes, where Rich Hart scored to give the Syracuse Stampede the 4-3 OT win. Josh Wallace, Oscar Lande, and Nate Walker each scored in regulation for Syracuse, and Jan Broz and Steven Ford also scored for the Kings. Martin Sten made 33 saves for the Stampede, and Evan Barghout stopped 38 shots for Skylands.
St. Louis Jr Blues 6 vs. Wisconsin Whalers 1-Five first period goals from the St Louis Jr Blues created a deficit the Wisconsin Whalers just couldn't come back from, giving the Jr Blues the 6-1 win. Samuel Maddox (2), Ryan Edgar (2), Brandon Bornkamp, and Trevor Wilhelm all scored for the Jr Blues, and Connor Boscaccy scored one for Wisconsin. In net, Zach Young made 21 saves for St Louis, while Whalers goalie Elliot Gerth stopped 43 shots on net.
Nashville Jr Predators 3 vs. Peoria Mustangs 1-The Peoria Mustangs scored first, but three unanswered goals gave the Nashville Junior Predators the 3-1 win. Conor Cunningham, Logan Orem and Baylor Hudson each scored once for the Jr Predators, and Zach Cox scored for the Mustangs. Ricky Gonzalez made 31 saves for Nashville, while Jaden Gardner stopped 21 shots for Peoria.
Cincinnati Thunder 3 vs. Point Mallard Ducks 1-The score was within one the whole game, but a goal from Trevor Veneklase halfway through the third gave the 3-1 win to the Cincinnati Thunder over the Point Mallard Ducks. Justin Bioni and Cameron Sangster also scored for Cincinnati, and Brandon Knopf scored once for Point Mallard. In net, Tyler Geloneck stopped 40 shots for the Thunder, while Gary Glassman made 21 saves for Point Mallard.
Northeast Generals 8 vs. Maine Wild 4-The Northeast Generals came out strong, and the Maine Wild came back to fight in the third, but it wasn't enough and the Generals took home an 8-4 win. Tommy Bellew (2), Billy Hickey (2), Alex O'Dowd, Conor Harrington, Tyler Rudek, and Derric Trudeau all earned points for Northeast. A hat trick from Lema Muradov and one from Evgeni Semeniuk totaled Maine's four goals.