Drillers take time out to visit hospital
October 21, 2016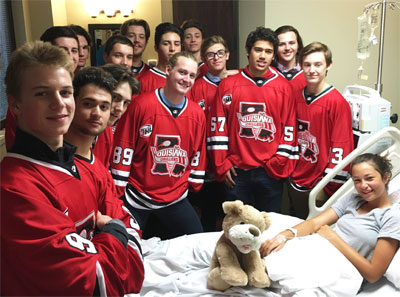 One of the most important life lessons learned through being a junior hockey player is supporting to the community that supports you. Players of the North American 3 Hockey League's (NA3HL) Louisiana Drillers gathered together to repay the favor that Lafayette, Louisiana has given their team since day one.
Trading sticks for stuffed animals, and helmets for happy hockey smiles, the Drillers visited The Pediatric Department at Women's & Children's Hospital in Lafayette on a late October evening. Amidst their second season in the NA3HL, the team took a night off to visit with patients, hand out stuffed animals, and offer words of encouragement.
The Pediatric Department at Women's & Children's Hospital provides inpatient and outpatient services for children from birth to 17 years of age.
"Tonight was special. Watching the players give back some of their time to children who represent the community we play in is important to us. Hopefully a stuffed animal from some great young hockey players will bring a smile to their face," said Head Coach Shawn McNeil.
Stuffed animals are actually part of a common hockey tradition in Lafayette. The Louisiana Drillers and Women's and Children's Hospital will be partnering up again for the annual teddy bear toss later this season. Fans bring, or buy, teddy bears and stuffed animals at a designated game during the season. Usually after the first goal of the night scored by the home team, the fans start a flying wave of colors, chucking their stuffed toys over the boards. After the stuffed animals are thrown on to the ice, they are collected by the team and personnel, and then given out by the players to children within the community.
The Louisiana Drillers play their home games at Planet Ice in Lafayette, Louisiana. Visit
www.ladrillers.com
for game schedule information, tickets, and their latest stories.