Friday Finals: Minutemen win thriller over Generals
October 22, 2016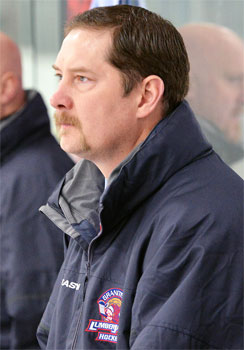 College Station 3 at Euless 10 – Thomas Delaney and Tristan Wilson had four points each as Euless beat College Station, 10-3. Daniel Goodwin also chimed in with two goals and an assist in the win and Austin Knoebel made 31 saves for the Jr. Stars. Denis Kusy had two goals for the Spirit in the loss.
Point Mallard 2 at Atlanta 5 – Anton Minaev scored twice and Nolan Bivolcic made 24 saves in a 5-2 win for the Capitals. Kyle Klatt, Jesse Brown and Ivan Mikhailov also scored for Atlanta in the win.
West Michigan 4 at Southern Tier 1 – Sam Woznicki made 28 saves and four different players scored for the Wolves in a 4-1 win. Dakota Ulmer, Nathan Sudek, Bear Ross and Jacob Redman scored for the Wolves, while Nicholas Wilcox had the lone goal for Southern Tier.
Roc City 2 at Syracuse 5 – Nate Walker had a hat-trick and an assist as the Stampede beat the Royals, 5-2. Also scoring for the Stampede was Matt Allen and Nick Sanborn. Roc City goals came from Brandon Corey and Henrik Toiviainen. Steven Kozikoski made 34 saves in the win.
Pittsburgh 3 at Toledo 1 – Pittsburgh scored three, 3rd period goals en route to a 3-1 win. Vengeance goals came from Austin Martz, Dominick Glavach and Cam Williams. Ben Hamilton had the lone goal for Toledo. Joel De Simone made 24 saves in the win.
Northeast 5 at East Coast 6 (SO) – Five different players scored in regulation and Kyler Harding had the shootout winner as East Coast edged Northeast, 6-5. Matt O'Rourke, Nikolai Bazhenov, Jake Lilledahl, Joseph Brochu and Leevi Kervinen scored for the Minutemen, while Generals goals came from Derric Trudeau, Conor Harrington, Kevin Kaufman and two from Austin Braley.
Maine 4 at Long Beach 9 – Ricky Regala and Carmine Taffo each scored twice as the Sharks scored nine goals in a win over the Wild. Oskar Lindberg, Jerome Emanuel, Gunther Stange, Tyler Boon and Zach Ruley also scored for Long Beach. Ryan Gilboy scored twice for Maine in the loss.
St. Louis 9 at Evansville 1 – Jack Hatton had four goals and two assists as the Jr. Blues crushed Evansville, 9-1. Ryan Edgar, Brandon Bornkamp, Frankie Cardinale, Alex WerdMuller and Trevor Wilhelm also scored for the Jr. Blues. Braden Rowe had the lone Evansville goal.
Skylands 3 at Jersey Shore 6 – Dan Suszek scored twice as the Wildcats doubled up the Kings, 6-3. Jersey Shore also got goals from Travis Nemeth, Reggie Hunter, Tyler Allen and Frederick Schaljo. Kings goals came from Eric Vanderhoff, Jan Broz and Craig Garrigan.
Rochester 0 at Alexandria 8 – Brey Effertz stopped all 14 shots that came his way as the Blizzard blanked the IceHawks, 8-0. Eight different players scored for Alexandria, which included Jack Mellstrom, Riley Scanlon, Cole Cirks, Steven Gustafson, Brenden Payne, Logan Nelson, Connor Nilson and Riley Meyer.
New Ulm 5 at Willmar 3 – The Steel scored two goals late in the 3rd period to edge the WarHawks, 5-3. Five different players scored for New Ulm including Bennett Witta, Jacob Padley, Fritz Belisle, Jared Erickson and Erik Rainersson. The WarHawks got goals from Kane Toriumi, Riley Dixon and Alex Syring. Steel goalie Nathan Siclovan made 33 saves in the win.
La Crosse 2 at Breezy Point 5 - Magnus Lindhe made 28 saves for the West Division-leading North Stars in a 5-2 win over the Freeze. Alex Flicek, Christian Lenzmeier, Andrew Heckaman, Tristyn Sabina and Austin Langworthy scored for the North Stars. Toon De Schepper and Sam Dabrowski scored for the Freeze.
Peoria 3 at Granite City 6 – Lumberjacks head coach Brad Willner posted his 400th win as the Lumberjacks doubled up the Mustangs. Six different players scored for Granite City including Ryan Smith, Logan Neu, Cole Buhl, Brandon Bissett, Brady Dahl and Lucas Carroll. Peoria goals came from Andrej Buchko, Thomas Kolaz and Dane Federighi.
North Iowa 18 at Chicago 1 – The Bulls fired 88 shots on goal as multiple players had big nights in an 18-1 win. Marshall Barnes had eight points, which included four goals and four assists. Kristian Kause had five points as did Connor Clemons. Brendan Studioso had a four-point game.
Great Falls 3 at Gillette 4 – Two goals and an assist from Riley Holwegner propelled Gillette to a 4-3 win over the visiting Americans. Jack Oberg and Nick Stockert also scored for the Wild. Tanner Congdon scored all three goals for Great Falls. Landon Anderson made 36 saves in the win for the Wild.
Yellowstone 4 at Helena 2 – The Quake fired 73 shots on goal in a 4-2 win. Cole Stewart, Curt Greenbush, Anders Bergh and Max Doner scored for Yellowstone and Nick Ottenbacker made 33 saves in the win. Brendan Bessee and Ben Kottmeier scored for Helena in the loss and Alex Kruger made 69 saves.
Billings 1 at Missoula 4 – Zachary Colgrove, Austin Azzinnaro, Misha Akatnov, and Josh Chamberlain all had a goal and assist each in a 4-1 win over Billings. Julius Huset made 17 saves in the win. Ludvig Omdal had the lone goal for the Bulls in the loss.
Bozeman 5 at Glacier 1 – Liam Millar and Stosh Skorulski each scored twice to lead the Icedogs to a 5-1 road win. Casey Gobel had the other goal for Bozeman, while Jamahl Eckett had the lone goal for Glacier in the loss. Luke Olson made 28 saves in the win.