Metro Jets soaring on the ice this season
October 24, 2016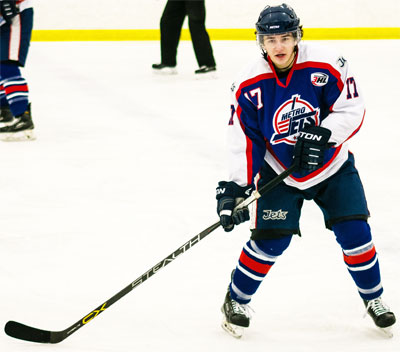 By Tom Robinson, Special to USA Hockey
Justin Quenneville says he does not normally pay much attention to records and standings at this point in the season.
But it's been hard not to notice what the Metro Jets from Fraser, Michigan have accomplished so far in the North American 3 Hockey League (NA3HL).
"I've never been a coach that puts too much emphasis on our record in the first two months of the season, rather more on development of the players individually and getting kids to buy in," Quenneville said. "We've had success here and have been able to get off to a good start when we have kids that buy in early, but not a start to this extent."
The Jets are 13-0-0-0. Although there are two other teams unbeaten in regulation, they have the only perfect record among 48 teams spread across 7 NA3HL divisions.
Metro is the sixth-highest scoring NA3HL team, outscoring opponents 68-19, but where they have really excelled is on the defensive end of the ice.
The combination of veteran leadership on defense and strong newcomers in goal has turned the Jets into the toughest team to score on in the NA3HL.
According to Quenneville, the Jets are fortunate to have players at both positions who are strong enough to have played in higher-level U.S. junior leagues in the past, and some who could be there now but have chosen to accept prominent roles close to home in the NA3HL.
Dylan Naumovski and Robby Flannery not only are part of that veteran defense, but they are among the nine Jets who are already in double figures in points.
Naumovski joins five forwards in producing at least a point per game. The 20-year-old from Macomb, Michigan, who played five games with the Kenai River Brown Bears of the North American Hockey League last season, has three goals and nine assists in 12 games.
"Dylan had some NA opportunities, but made the choice to stay back with us for his age-out season to continue to develop but also get some exposure to schools because of the role he is in," Quenneville said. "He's a high-end player with a pretty decorated background playing Triple-A hockey in Detroit with Little Caesars.
"He comes with a large skill set, but also a high hockey IQ. He leads that back end on a lot of special teams and in different situations."
Flannery has had both a goal and an assist in three of the last four games to boost his scoring total to four goals and seven assists.