Jets blank Wolves on Wednesday, 7-0
October 27, 2016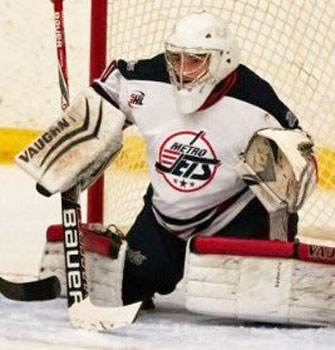 Metro 7 @ West Michigan 0 - After a scoreless first period, the Jets exploded for seven goals over the final 40 minutes and defeated the West Michigan Wolves 7-0 Wednesday night at The Rink at Battle Creek.
Dylan Naumovski led the offense with two goals and two assists, while Mathias Tellstrom and Chase Sereno each contributed a goal and two helpers.
Andrew Kormos stopped all 17 shots fired his way to record the shutout in goal.
"We got off to a slow start as expected with a long lay over between games, but once we got that first goal and moved the puck, we were able to open it up," said Jets coach-GM Justin Quenneville. "Our power play was better tonight and I'm glad we took advantage of our chances in a game like this. We will move forward and regroup tomorrow to get ready for this weekend."
The Jets went 4-for-10 with the man advantage, while shutting down all five of West Michigan's chances.
"I think tonight was a great test for our team, seeing if we can succeed while facing a little adversity," noted Jets forward Griffin Sawyer, who scored one of the three goals in the second period. "With a Wednesday night game and short practice week, we got to see what we're really made of. The first period was not as smooth as we'd like, but Q got us going after the first period to make sure we get back to playing the way we can. Everyone stayed positive and kept pushing and that's when the goals came.
"I was with two new linemates tonight (Sereno and Chas Distelrath) and I credit both of them with playing great and getting us started on the stat sheet."
Louis Boudon chipped in a goal and an assist and Stefan Boskovic added a single goal to go along with two assists each from Distelrath and Robby Flannery.
West Michigan goalie Alex Wilder finished with 39 saves in suffering the defeat.