Hockey helps bring hope in Binghamton
October 31, 2016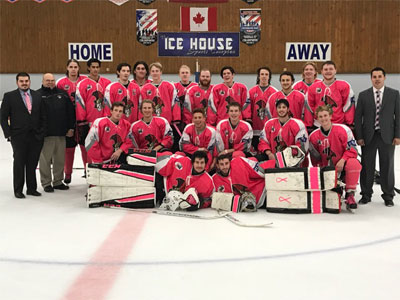 On Saturday evening, like many Saturdays, the Ice House Sports Complex in Binghamton, NY, was a busy place in preparation for the NA3HL Binghamton Junior Senators game. This evening was different, as the color pink was also a focus in addition to the hockey, as the Junior Sens hosted Pink In The Rink night to benefit local charity Traci's Hope.
Traci's Hope is a local non-profit organization providing assistance to patients and families dealing with breast cancer. The foundation was started by Traci Gibson, a local hockey mom, after her cancer diagnosis, as a way to give back to those in the community suffering from breast cancer. The foundation has been able to provide nearly $500,000 in assistance to families in Broome and surrounding counties, including northeast PA, since its inception. The Junior Senators organization, with the help of sponsors, organized the event as a way to benefit Traci's Hope.
Pre-game ceremonies started off on an emotional note, with the introduction of Gordon and Mary Shiner, Traci's parents, who have been carrying on with the foundation in memory of their daughter. Gordon was at center ice to drop the first puck. As breast cancer affects so many women most individuals know someone who suffers from the disease, and many families are forced to deal with breast cancer, including a member of the Junior Senators family. Margaret Darling, mother of Junior Senators defenseman Will Darling is a breast cancer survivor and avid supporter of the team as she is on hand every game to cheer for Will and the Junior Sens. On this evening her courage was recognized before the game as she was presented with a gift from the team along with a pink wreath by her son Will.
The Junior Senators provided the large crowd with an entertaining night as they took an early lead over the Syracuse Stampede and came away with an 8-2 win while taking to the ice in their pink jerseys which were auctioned off to benefit Traci's Hope. Before the game and during intermission the upper lobby of the Ice House Sports Complex was a bustling place as fans were busy purchasing raffle tickets and bidding on jerseys.
In an interview with Gordon Shiner before the game he recalled the large amount of time he spent at the Ice House Sports Complex attending games with his grandsons who were involved in local youth hockey, and replied that "Traci was very involved in hockey with her boys and would be very happy with what the team is doing to help provide hope to those with breast cancer".
You can find out more information on Traci's Hope and find out how you can get involved at
http://tracishope.com/
. You can also find out how you can purchase one of the few remaining pink Junior Senators jerseys and help support this cause by contacting the team at
rwelsh21@icloud.com
. The Binghamton Junior Senators would like to thank the fans on hand as well as the sponsors who made this evening a tremendous success.