Gongshow Flow of the Month winner for October announced
November 2, 2016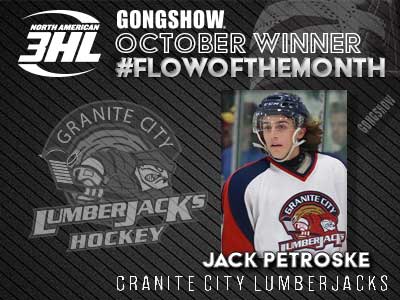 We continue the GONGSHOW Flow of the Month in October.
By now, the season is two months old and players have had plenty of time to grow the flow. There is a chill in the air and proper flow is not only important for style, but also to keep warm during the impending winter months.
Players in the NAHL and NA3HL are encouraged to submit photos of their best 'hockey hair' or 'flow' via social media or email by the end of every month during the regular season. The winners will receive a Gongshow Gear hat.
The winner in the NA3HL for October is Granite City Lumberjacks forward Jack Petroske.
Petroske, 18, is in his first season playing for Granite City in the NA3HL. The native of St. Cloud, Minnesota, has played in 10 regular season games to date and recorded four points.
However, judging by the flow, this is not Petroske's first dabbling into the flow styling's of a hockey player. As a matter of fact, playing high school hockey in the state of Minnesota has 'groomed' Jack for many years to this point of being a Flow of the Month Champion. Pure style and hockey hair all the way here, which is accentuated by his dark and flowing locks. It sticks well out of the back of the blue helmet and waves in the breeze. Great stuff from a flow veteran.
For the sixth season in a row, Gongshow is the exclusive sponsor of the Flow of the Month promotion exclusively on the NA3HL and Gongshow Twitter sites @NA3HL and @GONGSHOWGEAR.
To enter the contest for the month of Movember, submit your best #FlowoftheMonth pictures by November 30th to @NA3HL and @GONGSHOWGEAR. Two winners will be selected on December 1st. Winners will receive a Gongshow Gear hat.
Extra points will be awarded in Movember for players sporting the facial hair that comes along with participating in Movember.
Gongshow Gear Inc. (Gongshow) is the Official Lifestyle Hockey Apparel of the NAHL and NA3HL. Gongshow is also the sponsor of the NAHL/NA3HL TV platform. Gongshow is recognized as the hockey good industry's premier manufacturer of innovative, high quality, fashionable and trend setting clothing apparel for hockey athletes of all ages and abilities.