Friday Finals: Whalers notch first win
November 5, 2016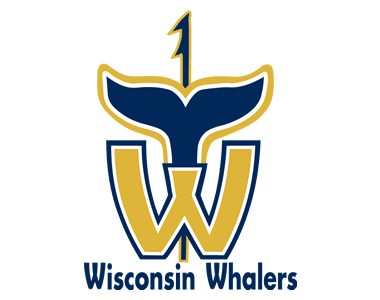 Binghamton Junior Senators 4 vs. Syracuse Stampede 0-The Binghamton Junior Senators came out strong in the third period, scoring three times to secure a 4-0 win over the Syracuse Stampede. Tyler Uravage opened and close the game with two goals, and Stephen Aponik and Jeremy Wilber each netted one in the third for Binghamton. Salvatore Lauretta stopped all 20 shots he faced on the night for the Junior Senators, while Martin Sten made 49 saves for Syracuse.
Jersey Shore Wildcats 4 vs. Skylands Kings 2-The Skyland Kings worked to get themselves out of a three goal deficit, but in the end it wasn't enough, and the Jersey Shore Wildcats pulled out the 4-2 win. Joe Line, Alexander Rowe, Tyler Allen and Frederick Schaljo scored for Jersey Shore, while Craig Garrigan and Trevor Smolsky scored one each for Skylands. Wildcat goaltender Matt Kastein made 24 saves, while Kings' goalie Mathias Yttereng made 42 saves.
Southern Tier Express 8 vs. Lockport Express 1-The Southern Tier Express grabbed an early lead and ran with it, finishing with an 8-1 win over the Lockport Express. Bradley Delenko (2), Hunter Kepple, Arttu Rajamaki, Cameron Pries, Santeri Rajakallio (2) and Luke Grossman all scored for Southern Tier, and Dominic Senese scored the lone Lockport goal. In net, Ryan Pascarella made 24 saves for Southern Tier, and Sam Fitzpatrick stopped 50 shots for Lockport.
Toledo Cherokee 4 vs. West Michigan Wolves 2-The Toledo Cherokee earned an early lead after the first, and they held on to earn a 4-2 win over the West Michigan Wolves. Ben Hamilton, Darryl Kuchcinski, Ricky Kwapich, and Nick Nappi each scored for Toledo, and Nicholas Guy and Nicholas Strom netted one goal each for West Michigan. Defensively, Cherokee goaltender Roman Malkov made 19 stops, and Alex Wilder made 32 saves for the Wolves.
Long Beach Sharks 10 vs. East Coast Minutemen 1-The Long Beach Sharks had a busy second period, and scored 7 goals on their way to a 10-1 win over the East Coast Minutemen. Hal Gemignani, Martins Vitolins (2), Ricky Regala, Sam Weidenbaum, Alex Pilatsky, Alex Cerda, Oskar Lindberg, Tyler Boon, and Zach Ruley all notched goals for the Sharks, and Nikolai Bazhenov earned the lone goal for the Minutemen. In net, Richard Ledek stopped 23 shots on the Long Beach net, while Nick Kent and Dom Montecalvo made 26 and 28 saves, respectively, for East Coast.
Texas Jr Brahmas 6 vs. Atlanta Capitals 5 (SO)-Both teams scored 5 times in 65 minutes, sending the game to a shootout, where Kyle Torgerson scored the lone goal for the Texas Brahmas, giving them the 6-5 SO win over the Atlanta Capitals. Torgerson also scored twice in regulation, along with Garrett Culps, Bennett Weycker, and Jacob Berry for Texas. For Atlanta, Kyle Klatt, Teagan Poliseno (2), Sascha Figi, and Michael Cichy all netted goals. Jr Brahma goalie Tyler Myers made 29 saves, while Nolan Bivolcic stopped 27 shots for the Capitals.
Metro Jets 7 vs. Wooster Oilers 1-The Metro Jets hang on to their undefeated status after a 7-1 win over the Wooster Oilers. Graham Day, Dylan Naumovski (2), Louis Boudon, Jason Newel (2), and Cam Schwartz all scored for Metro, while Andrew Romani opened the game with a goal for the Oilers. Between the pipes, Jake Gwillim stopped 22 shots on net for the Jets, and Creighton Furber made 42 saves for Wooster.
Point Mallard Ducks 5 vs. Evansville Thunderbolts 4-A late goal from the Point Mallard Ducks prevented overtime and gave them the 5-4 win over the Evansville Thunderbolts. Jake Cox (3), Kevin LaPlante, and Elias Nilsson scored for Point Mallard, while Mathieu Laforest, Matt McElroy (2) and Kyle Gregory notched points for the Thunderbolts. On defense, Gary Glassman made 28 stops for the Ducks, and James Fry stopped 21 shots for Evansville.
Breezy Point North Stars 4 vs. Rochester Ice Hawks 1-A busy third period for the Breezy Point North Stars secured their 4-1 win over the Rochester Ice Hawks. Steven Kukla, Wyatt Stotts, Tyler Larwood, and Andrew Heckaman scored for the North Stars, while Austyn Renn scored the lone Rochester goal. In net, Breezy Point goalie Sam Moberg made 25 saves, while Bailey Schmitz made 37 saves for the Ice Hawks.
Alexandria Blizzard 5 vs. New Ulm Steel 2-The Alexandria Blizzard came out to win, and an early lead carried them to a 5-2 win over the New Ulm Steel. Dawson Ellingorth, Jack Cernohous, Emil Lindfors, Tosten Mann, and Caleb Anderson all scored for Alexandria, and Luc Kreuser notched both New Ulm goals. Blizzard goalie Brey Effertz made 17 saves on the night, while Jon Albers stopped 27 shots on the Steel net.
North Iowa Bulls 5 vs. Willmar WarHawks 3-A pair of goals from both Sean Mallonee and Tim Kuivinen gave the North Iowa Bulls the 5-3 win over the Willmar WarHawks. Mike Lyons also scored for North Iowa, and Riley Dixon, Alec Skar, and Riley Tigrett each netted one for Willmar. In net, Brady Meyers and RJ Pluhar made 12 and 7 saves each for the Bulls, and Alexander Cathcart stopped 25 shots on the WarHawks net.
Wisconsin Whalers 3 vs. Chicago Bulldogs 1-The Chicago Bulldogs may have scored first, but three unanswered goals from the Wisconsin Whalers gave them the 3-1 win. Connor Boscaccy, Austin Lewis, and Ben Ratner each scored for the Whalers, and Tim Hoffenkamp notched the lone goal for the Bulldogs. In net, Justin Nelson made 22 saves for Wisconsin, while Jacob Dittmer made 68 saves for Chicago.
Great Falls Americans 2 vs. Gillette Wild 1 (OT)-Tanner Congdon scored late in OT to give the Great Falls Americans a 2-1 win over the Gillette Wild. Tegan Harrington scored for the Americans in regulation, and Brooks Mitzel notched one for the Wild. Great Falls goalie Nick Nast made 43 saves, while Robbie Brennan stopped 32 shots for Gillette.
Bozeman Icedogs 5 vs. Glacier Nationals 1-An early lead for the Bozeman Icedogs helped them carry out a 5-1 win over the Glacier Nationals. John Dixon (3), Stosh Skorulski, and Austin Charnholm scored for Bozeman, while Gavin Cline scored the solo Glacier goal. In net, Icedogs goalie Benjamin Sakaria made 19 saves, and Will Langstaff stopped 49 shots on the Nationals' net.
Missoula Junior Bruins 9 vs. Helena Bighorns 2-The Missoula Junior Bruins scored 4 goals in the first on their way to a 9-2 win over the Helena Bighorns. Payton McSharry (4), Parker Todd, Justin Barnes, Misha Akatnov, Josh Chamberlain, and Colby Birch all scored for Missoula, while John Heddle and Bradley Estrada notched one each for Helena. Between the pipes, Tanner Loucks made 19 saves for the Junior Bruins, and Angus Campbell and Alex Kruger stopped 7 and 13 shots, respectively, for the Bighorns.