Metro forward Boudon signs NAHL tender
November 8, 2016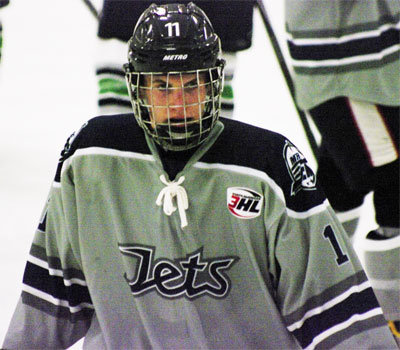 By Matt Mackinder, Metro Jets
Louis Boudon is the youngest player on the Metro Jets roster, but may be one of the most well-spoken players.
Not too shabby of a compliment, considering the 18-year-old only arrived in Michigan from France in late summer.
And he's already being noticed by higher levels of hockey, signing a North American Hockey League tender agreement Monday for the 2017-18 season with the Northeast Generals.
Again, not too shabby.
"'Q' (Jets coach-GM Justin Quenneville) informed me that a couple teams were interested in me signing a tender contract for next year, including Northeast," explained Boudon. "After that, I was in touch with the director of scouting for the Generals, and we talked about the team and what they can bring me. After talking with my family and the coaches, I finally signed the contract Monday."
The Generals are a first-year NAHL franchise based in Canton, Mass., about 25 miles southwest of Boston.
"The Northeast Generals are, in my opinion, a great program to help players get better and find college commitments in the NCAA," said Boudon, who turned 18 on Oct. 4.
All Boudon has done so far with the Jets is lead the team in goal scoring (12) and currently sits third in team scoring with 22 points in 17 games. He's also among the NA3HL's top rookie scorers.
"Louis is a special player," said Quenneville. "He came here completely raw and uneducated to the U.S. junior world. He chose Metro because of our relationships and our platform to help develop and expose players. Louis is a very gifted player offensively and has tremendous vision on the ice. He does all the little things, competes, plays on both sides of the puck and puts in the extra work to elevate his game. He is completely deserving of the attention he has been receiving and we are glad he made a decision. He understands the work doesn't stop and we look forward to continue to help him grow as a player."
That said, Boudon takes the mature, humble approach to the first part of the season.
"I haven't contributed anything," Boudon said. "The team has, and I hope we will continue this way. I'm trying to do my best at every game and practice to help the team. The team is amazing, it's a great group of guys. We have fun playing together and we work hard every day in order to get better."
Away from the rink, Boudon lives with Jets captain Graham Day and his family in Rochester.
"Living overseas is a great experience for me," explained Boudon. "The U.S. is very different from France. Everything is bigger, from the cars, food, cities and rinks, but I love living in Michigan. Day's family is amazing. They are very kind and I feel really comfortable living with them."
Looking ahead to the rest of the NA3HL season, Boudon simply wants to remain a consistent player for the Jets.
"I want to become one of the key players on the team, continue to be on the scoresheet and get seen as much I can," said Boudon. "To do so, I have keep working hard, get stronger and help the team get better.
"From a team standpoint, we want to win as many games as we can."
A tender is a contract, of sorts, a player signs announcing his intentions to play for that particular NAHL team and that NAHL team only. Once a player signs a tender with an NAHL team, his playing rights belong to that team within the NAHL and he may not be recruited by any other NAHL team. Each team is granted ten (10) tenders, which include one tender exclusively used on players from the NA3HL - plus or minus any trades - which became active on Nov. 1. Tendered players are not eligible for the NAHL draft, which will be held on June 2, 2017.