Saturday Scores: Jets stay perfect with 19th straight win
November 13, 2016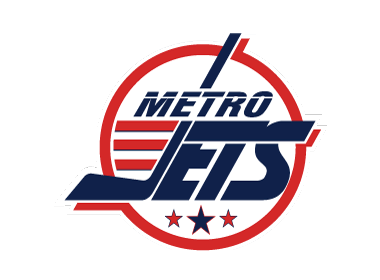 Metro Jets 9 vs. Southern Tier Express 0-A hat trick from Louis Boudon helped the Metro Jets cruise to a 9-0 win over the Southern Tier Express. Cam Schwartz (2), Chas Distelrath, Graham Day, Mathias Tellstrom, and Chase Sereno all notched points for the Jets. Andrew Kormos stopped all 19 shots he faced for Metro, while Express goalies Ryan PAscarella and Harrison Vangellow stopped 31 and 20 shots.
Rochester Ice Hawks 4 vs. Wisconsin Whalers 3 (OT)-Three unanswered goals, including the OT winner, powered the Rochester Ice Hawks to a 4-3 OT win over the Wisconsin Whalers. Skylar Watt (2), Colby Decarlo, and Dylan Boysen scored for the Ice Hawks, while Broddey Richards (2) and Ben Ratner netted goals for the Whalers. In net, Drew Schenkenberg made 26 saves for Rochester, and Elliot Gerth stopped 28 shots on the Wisconsin net.
St Louis Jr Blues 4 vs. Peoria Mustangs 3 (OT)-Samuel Maddox scored an overtime goal for the St Louis Jr Blues, securing a 4-3 OT win over the Peoria Mustangs. Ryan Edgar, Daniel Dunaway and Nick Balestra scored in regulation for the Jr Blues, and Thomas Kolaz (2), and Braden Stewart scored for Peoria. In net, Hunter Smith made 18 saves for St Louis, while Mustang JT Kossakowski stopped 32 shots.
Syracuse Stampede 4 vs. Maine Wild 3-A hat trick from Matt Allen helped the Syracuse Stampede cruise to a 4-3 win over the Maine Wild. Hunter Soden also scored for the Stampede, and Jordan Tieken, Reagan Wintle, and Dylan Demers scored for the Wild. Steven Kozikoski made 34 saves in net for Syracuse, while Maine's Alex Fortuna made 28 stops.
Alexandria Blizzard 6 vs. Chicago Bulldogs 0-The Alexandria Blizzard demonstrated a consistent offensive presence to propel them to a 6-0 win over the Chicago Bulldogs. Brett Meister, Caleb Anderson, Brenden Payne, Jack Cernohous, Logan Nelson, and Emil Lindfors each netted one for the Blizzard. In net, Brey Effertz stopped all 12 shots he faced for Alexandria, and Jacob Dittmer made 82 saves for Chicago.
Pittsburgh Vengeance 5 vs, West Michigan Wolves 1-The Pittsburgh Vengeance had a strong second period, scoring 3 goals to secure a 5-1 win over the West Michigan Wolves. Nolan Puhala (2), James Unger, Vincent Casale, and Dillon Joyce scored for Pittsburgh, while the West Michigan goal came via Mitch Galea. In net, Joel De Simone made 36 saves for the Vengeance, and Brian Thomas made 29 saves for the Wolves.
Binghamton Junior Senators 5 vs. L/A Fighting Spirit 1-Tied after two. The Binghamton Junior Senators dominated the third period to power to a 5-1 win over the L/A Fighting Spirit. Conor Landrigan (2), Ryan Reifler, and Dominik Bogdziul (2) notched goals for the Junior Senators, while Matt Siegel scored the lone Fighting Spirit goal. In net, Salvatore Lauretta stopped 22 shots on the Binghamton net, while Daniel Potter and Michael Errico made 11 and 15 saves, respectively, for Lewiston/Auburn.
New England Stars 3 vs. Jersey Shore Wildcats 1-The New England Stars held on to an early lead to secure a 3-1 win over the Jersey Shore Wildcats. Tyson Gudaitis, Nick Johnson, and Peter Menzies scored for the Stars, while Josh Mander scored the lone Wildcats goal. Dom Lamanno made 26 saves for New England, while Zach Robbins stopped33 shots on the Jersey Shore net.
Skylands Kings 8 vs. Lockport Express 3-A dominant second period for the Skylands Kings propelled them to an 8-3 win over the Lockport Express. Darrin Bruce (2), Edward Klein (2), Steven Ford, Eric Vanderhoff (2), and Mike King all scored for the Kings, and Frankie Bodami, Mitchell Thornton, and Brandon Schweickert earned points for Lockport. Mathias Ytterng stopped 41 shots on Skylands' net, while Adam Partridge and Sam Fitzpatrick made 22 and 20 saves for Lockport.
Granite City Lumberjacks 7 vs. New Ulm Steel 3-A strong second period for the Granite City Lumberjacks propelled them to a 7-3 win over the New Ulm Steel. For the Lumberjacks, Owen Sikich, Jack Petroske, Braden Altena, Brycon Johnson, Matthew Sprink, Horka Sekesi, and Brady Dahl each netted one, and Cory Martinez, Jared Erickson, and Sam Wenner scored for New Ulm. In net, Mac Berglove made 31 stops for Granite City, while Nathan Siclovan made 34 saves for the Steel.
Euless Jr Stars 5 vs. College Station Spirit 3-The Euless Jr Stars established an early lead, and they were able to hold out to secure a 5-3 win over the College Station Spirit. Tristan Wilson (2), Anthony Chavez, Remy Kesling, and William Rooney scored for the Jr Stars, and Jakub Plany, RC Randall, and Kevin Ely notched goals for the College Station. Autin Knoebel stopped 20 shots for Euless, while Nick Hart made 53 saves for the Spirit.
Nashville Jr Predators 9 vs. Cincinnati Thunder 2-Eight unanswered goals for the Nashville Jr Predators helped them execute a 9-2 win over the Cincinnati Thunder. Logan Orem, Weilan Parrish (2), Michael Redmon, Conor Cunningham, Elliot Greene, Peter Cabala, Brock Brown, and Jacob Kovick scored for Nashville, and Trevor Veneklase and Cobin Sanborn each netted one for the Thunder. Between the pipes, Jonathan Chip made 23 saves for the Jr Predators, and Tyler Geloneck and Kyle Bavis made 23 and 5 saves each for Cincinnati.
Long Beach Sharks 9 vs. Cape Cod Islanders 3-An early lead for the Long Beach Sharks helped them propel to a 9-3 win over the Cape Cod Islanders. Oskar Lindberg (4), Phil Garcia, Alex Herda (2), Martins Vitolins, and Carmine Taffo all scored for the Sharks, while Niko Roy (2) and James Brosnan netted goal for the Islanders. In net, Kyle Van Wagner stopped 27 shots for Long Beach, and Justin Servidori and Anton Zemba made 19 and 36 saves each for Cape Cod.
Helena Bighorns 3 vs. Missoula Junior Bruins 1 -The Missoula Junior Bruins opened the scoring, but three consecutive goals from the Helena Bighorns carried them to the 3-1 win. John Heddle, Kyle Hayter, and Bradley Estrada scored for Helena, and Misha Akatnov notched the only goal for the Junior Bruins. Angua Campbell made 54 saves for Helena, and Julius Huset stopped 34 shots for Missoula.
Breezy Point North Stars 7 vs. Willmar War Hawks 6-A busy third period for the Prezzy Point North Stars propelled them to a 7-6 win over the Willmar War Hawks. Steven Kukla, Tyler Larwood, Nikolas Boyer, Wyatt Stotts, Josh Laven, Tristyn Sabina, and Christian Lenzmeier scored for the North Stars, and Gabe Gauer, Dylan Gast, Kyle Wendorf (2), Dylan Gast, and Jordan Cooper scored for the War Hawks. In net, Sam Moberg made 36 saves for Breezy point, and Jacob Anderson stopped 30 shots on the Willmar net.
Gillette Wild 10 vs. Billings Bulls 2-The Billings Bulls scored first, but the Gillette Wild came back strong to cruise to a 10-2 win. Colt Johnson, Derek Scoggins (2), Dallas Paxton (2), Nick Stockert, Cade Boreing (2), Zack Brunelle, and Blake Kauth scored for the Wild, and Daniel Johansson netted both goals for the Bulls. Lincoln Riley made 31 saves for Gillette, while Chayo Goodwin stopped 36 shots on the Bulls net.
Yellowstone Quake 6 vs. Bozeman Icedogs 5 (OT)-The Yellowstone Quake scored late in the third to hold onto their undefeated in regulation record, sending the game to extra minutes, where Jesse Lawman scored to give the Quake the 6-5 OT win over the Bozeman Icedogs. Cosimo Yapello,Matt Runyon, Reed Kelly (2), and Carter Johnson scored for the Quake, and Stosh Skorulski, Kyle Amundson, Kadin Ferguson, and Steven Nisbet (2) netted goals for the Icedogs. Defensively, Nick Ottenbacher and Brady Anderson made 7 and 23 saves a piece for Yellowstone, and Benjamin Sakaria made 49 stops for Bozeman.