USA Hockey: Binghamton Junior Senators thriving in new home
November 14, 2016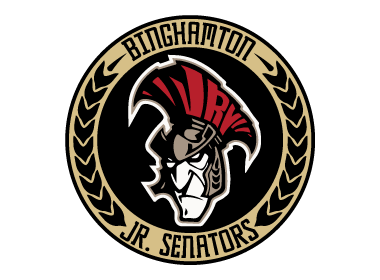 By Tom Robinson, special to usahockey.com
From his home in rural northeastern Pennsylvania, Ray Welsh is a similar distance from the Wilkes-Barre/Scranton, Pennsylvania and Binghamton, New York markets.
When Welsh did not like the way things were working in Wilkes-Barre, he moved his team without having to move himself or remove himself from the operation.
Welsh used the move to return to being more active. It's led to some impressive results.
The Binghamton Junior Senators team owner returned to the general manager role he had occupied prior to last season and has guided the former Wilkes-Barre Miners through a successful transition in the North American 3 Hockey League.
Several players who struggled while with the Miners have been a big part of getting the team off to a 19-0-0-1 start to lead the Northeast Division.
Welsh said those veterans were helpful even before the team took the ice for the first time in Binghamton.
"By the end of the year, we had the core group of players we have now," said Welsh, who explained that poor preseason recruiting left the team with a thin roster and relying on local prep and high school players to fill in on the way to a 10-34-0 finish in the NA3HL Eastern League last season. "We have seven returning players that came back this year."
Their presence helped make the team attractive to other players.
"When I was out recruiting this summer, trying to get players to come, when you throw out a name like Ryan Flanagan or Conor Landrigan that are coming back, those are two top, high-end forwards," Welsh said. "Another player was Steve Aponik, a defenseman from Philadelphia. He came back.
"It was easy to get good players to come, because players want to play where they know good players are going."
The last step for Welsh was just in seeing which players remained available after several tried out for North American Hockey League teams.
The Senators have gotten out of the gates quickly in their first year across the state line.
Improved overall training situations at the Ice House Sports Complex in Chenango Bridge, near Binghamton, have put the team on the ice more with two-a-day, mid-week practices wrapped around off-ice training sessions.
As the Miners last season, the team shared the Coal Street facility in Wilkes-Barre with youth hockey, figure skating and as the home base of the Wilkes-Barre/Scranton Penguins American Hockey League team.
Welsh said the team was generally limited to three, hour-and-15-minute sessions on the ice each week.
"We spend more time on the ice now than we would get in a whole week last year," Welsh said.