Rochester makes coaching change
November 17, 2016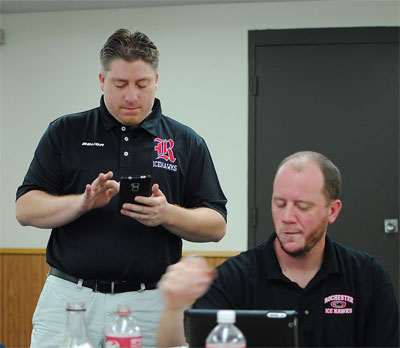 By Jason Feldman, Post Bulletin
After nearly two decades as a coach, Nick Fatis is stepping away from the NA3HL's Rochester Ice Hawks' bench. The long-time bench boss of Rochester's only junior hockey team will move to a different role in the organization he has been a part of since its infancy.
Ice Hawks assistant coach Eric Hofmann has been elevated to the head coaching position and former Hawks forward Vinnie Susi will be Hofmann's top assistant coach.
"Coaching has been fun, a lot of fun," Fatis said Tuesday night. "I have a lot going on in my personal life and the team needs a change. It's a different direction ... it's the best move for the players and the organization to move forward."
Fatis will continue with the team in his role as assistant general manager and will oversee hockey operations. He'll take on many of the duties that team owner/GM Michael Fatis has assumed over the first 20 seasons the franchise has been in existence.
"The team is ready for a change and so is Nick," Michael Fatis said. "He's been coaching for 20 years ... I'm getting older and need to have someone else helping out with some of the duties I don't want to do at 72."
The Ice Hawks are 2-15-1 and playing their second season in the North American 3 Hockey League. They earned their second victory on Saturday night, a 4-3 overtime win against the Wisconsin Whalers.
The team, founded as the Minnesota Ice Hawks and owned by Fatis' father, Michael, originated in Le Sueur in 1996 and moved to Rochester in the fall of 2002.
"Looking to the future, I'll do whatever I can to help the team," said Nick Fatis, who said he could see coaching again, at some level of hockey at some time in the future. "It's tough, but it's clear this isn't going the direction it needs to... I don't care who gets the good information to the players, just as long as they get it."