Friday Finals: Quake widen lead with big win
November 19, 2016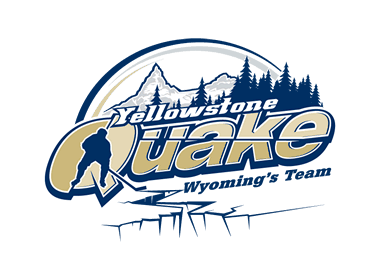 Yellowstone Quake 4 vs. Gillette Wild 2-A pair of goals each from Reed Kelly and Jesse Lawman carried the Yellowstone Quake to a 4-2 win over the Gillette Wild. Colt Johnson and Blake Kauth scored for the Wild. Yellowstone goalie Nick Ottenbacker made 31 saves on the night, and Landon Anderson stopped 38 shots for Gillette.
Billings Bulls 3 vs. Helena Bighorns 2-Two goals in the third from Billings Bulls forward Daniel Johansson powered them to a 3-2 win over the Helena Bighorns. Ludvig Omdal also scored for Billings, and Bradley Estrada and Brendan Bessee got on the scoreboard for the Bighorns. Between the pipes, Simo Huhtanen made 32 saves for the Bulls, and Alex Kruger stopped 41 shots on Helena's net.
Great Falls Americans 12 vs. Glacier Nationals 0-The Great Falls Americans gained an early 6 goal lead to propel them to a 12-0 win over the Glacier Nationals. Quinn Stuebner, Nathan Margeson, Kyler Mack, Tanner Congdon (2), Malachi Bushey (3), Sandis Mezharaups (2), and Mitchell Ramstad all notched goals for the Americans. In net, Kyler Ayers stopped all 8 shots he faced, while Will Langstaff and Jonah Gower made 25 and 42 saves each for the Nationals.
Bozeman Icedogs 3 vs. Missoula Junior Bruins 0-The Bozeman Icedogs scored one goal in each period to earn a 3-0 win over the Missoula Junior Bruins. Beckett Patten, Austin Charnholm, and Kadin Ferguson each netted one for Bozeman. In net, Luke Olson earned a shutout with 47 saves for the Icedogs, and Tanner Loucks stopped 32 shots for Missoula.
Maine Wild 6 vs. East Coast Minutemen 4-A trio of third period goals carried the Maine Wild to a 6-4 win over the East Coast Minutemen. For Maine, Ryan Gilboy, Lema Muradov (2), Kyle Sikora, and Dean Pratt notched goals, while Eric Steeves (2), Joseph Brochu, and Nikolai Bazhenov scored for the Minutemen. In net, Chris O'Shaughnessy made 49 saves for the Wild, while Dom Montecalvo stopped 43 shots on the East Coast net.
Metro Jets 5 vs. West Michigan Wolves 1-An early lead for the Metro Jets helped them to secure a 5-1 win over the West Michigan Wolves. Robby Flannery, Griffin Sawyer, Marc Schwartz, Graham Day, and Chase Sereno got on the board for the Jets, and West Michigan's Collin Rewerts notched the only goal. In net, Andrew Kormos made 27 stops for Metro, and Sam Woznicki stopped 34 shots for the Wolves.
Pittsburgh Vengeance 3 vs. Southern Tier Express 1-A pair of goals early in the game carried the Pittsburgh Vengeance to a 3-1 lead over the Southern Tier Express. Nicholas Lyon, Brian Dee and Dillon Joyce scored for the Vengeance, while Nicholas Wilcox netted one for Southern Tier. Defensively, Joel De Simone made 26 saves for Pittsburgh, and Southern Tier's Ryan Pascarella stopped 28 shots.
Syracuse Stampede 6 vs. Lockport Express 3-The teams traded the lead back and forth, but a hat trick from Hunter Soden for the Syracuse Stampede propelled them to a 6-3 win over the Lockport Express. Rich Hart, Josh Wallace, and Nate Walker also earned points for the Stampede, and Andrew Logar (2), and Blake Bennett got on the board for Lockport. In net, Steven Kozikoski made 39 saves for Syracuse, and Lockport's Adam Partridge made 49 saves.
Binghamton Junior Senators 4 vs. Jersey Shore Wildcats 2-A pair of goals in the second propelled the Binghamton Junior Senators to a 4-2 win over the Jersey Shore Wildcats. Conor Landrigan, Dominik Bogdziul, Tyler Uravage, and Lucas Ethington netted goals for the Junior Senators, and Alexander Rowe and Jacob Hanebrink earned points for the Wildcats. In net, Salvatore Lauretta made 23 saves for Binghamton, while Matt Kastein stopped 49 shots on Jersey Shore's net.
Peoria Mustangs 5 vs. Wisconsin Whalers 4-Four goals in the third helped the Peoria Mustangs climb to a 5-4 win over the Wisconsin Whalers. Jack Healy, Braden Stewart, Brennan Begner, Thomas Kolaz, and Anthony Iacullo scored for the Mustangs, and Matt Resch, Connor Boscaccy (2), and Jake Faulkner earned points for the Whalers. Between the pipes, Corbin Moore made 23 saves for Peoria, while Wisconsin goaltender Elliot Gerth made 42 saves.
Evansville Thunderbolts 4 vs. Nashville Jr Predators 3 (OT)-The Nashville Jr Predators tied the game with less than 4 minutes left, forcing an overtime, where Sebastian Simoncello notched the OT game winner for the Evansville Thunderbolts, earning them the 4-3 OT win. Kyle Gregory, Mathieu Laforest, and Brandon Rozema scored in regulation for the Thunderbolts, and Conor Cunningham and Michael Redmon (2) earned goals for the Jr Predators. In net, Jack Spaulding made 30 saves for Evansville, while Mason Koster and Jonathan Chip saved 16 and 20 shots, respectively, for Nashville.
Willmar WarHawks 6 vs. La Crosse Freeze 3-Three goals in the third secured the win for the Willmar War Hawks in their 6-3 win over the La Crosse Freeze. Riley Tigrett (2), Kyle Wendorf, Jordan Cooper, Max Oelkers, and Danny Nugent all got on the scoreboard for the War Hawks, and Blake Nelson, Dylan Goggin, and Hunter Dolan each netted one for the Freeze. In net, RJ Pluhar made 35 saves for Willmar, while Will Graves stopped 38 shots for La Crosse.
North Iowa Bulls 2 vs. Granite City Lumberjacks 1 (SO)-The only regulation goals were scored in the first – 1 a piece – forcing overtime, and eventually a shootout, where Mike Lyons secured the win for the North Iowa Bulls, 2-1, over the Granite City Lumberjacks. Sean Mallonee scored for the Bulls in regulation, and Owen Sikich scored the lone Lumberjack goal. Defensively, North Iowa netminder Josh Benson stopped 30 shots, while Mac Berglove made 35 saves for Granite City.
Euless Jr Stars 6 vs. Point Mallard Ducks 5 (OT)-The Point Mallard Ducks scored with less than 2 minutes left in regulation, forcing extra minutes, where Euless Jr Star William Rooney scored to secure the 6-5 OT win. Nick Sheridan (2), Axel Olson, and Thomas Delaney (2) all scored for the Jr Stars, and Joe Polcaro, Brandon Knopf, and Mark Revniaga notched goals for the Ducks. In net, Maxwell Kerner stopped 26 shots for Euless, and Joey Bernadini and Gary Glassman made 10 and 40 saves, respectively, for Point Mallard.
College Station Spirit 4 vs. Atlanta Capitals 3-The Atlanta Capitals worked to climb out of a three goal deficit, but they were unsuccessful, and the College Station Spirit came out with a 4-3 win. Denis Kusy, Jakub Plany (2), and Trevor Wolf scored for the Spirit, and Anton Minaev, Tristen Poliseno, and Kyle Klatt each netted one for the Capitals.
Long Beach Sharks 9 vs. L/A Fighting Spirit 2 -The Long Beach Sharks gained an early lead, powering them to a 9-2 win over the L/A Fighting Spirit. Carmine Taffo (2), Alex Cerda (2), Kyle Sada, Oskar Lindberg (2), Martins Vitolins, and Zach Ruley all scored for the Sharks, while Fighting Spirit skaters Thomas Kuntz and Walker Hamilton also netted one each. In net, Richard Ledek and Kyle Van Wagner made 25 and 28 saves, respectively, and Michael Errico and Chris Schmitt made 24 and 16 saves each for Lewiston/Auburn.