Sunday Wrap-Up: Syracuse completes three-game sweep
November 21, 2016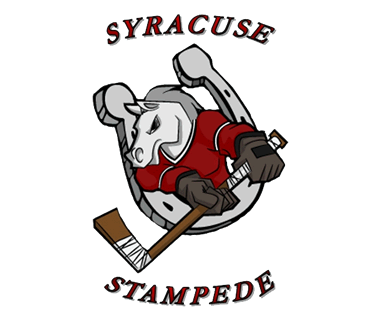 Syracuse Stampede 6 vs. Lockport Express 4-A hat trick from Syracuse Stampede forward Hunter Soden helped secure a 6-4 win over the Lockport Express. Nick Sanborn, Nate Walker, and Rich Hart also scored for the Stampede, and Nick Grupp, Michael Sokol and Blake Bennett (2) notched goals for the Express. In net, Martin Sten made 35 saves for Syracuse, while Adam Partridge made 53 saves for Lockport.
New England Stars 15 vs. Roc City Royals 1-A four goal game from John Krapian helped the New England Stars to a 15-1 win over the Roc City Royals. Nolan Arbuckle, Derek Flynn, Peter Menzies, Ryan Gauvin, Ryan Paul, Ian Gately (3), Derek Lovejoy, Cole Archambeault, and Tyson Gudaitis netted goals for the Stars, and Brandon Corey scored for Roc City. In net, Sage Broda and Greg Moon made 11 and 8 saves each for New England, whileFreddy peters and Nicholas Sesock had 9 and 22 saves, respectively, for the Royals.
Long Beach Sharks 9 vs. Maine Wild 8 (OT)0A late overtime goal from Zach Ruley earned the Long Beach Sharks a 9-8 OT win over the Maine Wild. Martin Grinberg (2), Carmine Taffo, Alex Cerda (3), Oskar Lindberg, and Martins Vitolins scored in regulation for the Sharks, and Lema Muradov (3), Zach Gagne, Reagan Wintle, Dean Pratt (2), and Connor Busch notched goals for the Wild. Defensively, Kris Augustine and Kyle Van Wagner had 6 and 24 saves, respectively, for Long Beach, while Maine's Brandon Daigle stopped 53 shots.
Binghamton Junior Senators 8 vs. Jersey Shore Wildcats 2-A hat trick from Binghamton Junior Senator Conor Landrigan helped power them to an 8-2 win over the Jersey Shore Wildcats. Jeremy Wilber (2), Ryan Reifler (2), and Brad Becker also scored for the Junior Senators, while Frederick Shaljo and John Minnich got on the scoreboard for the Wildcats. Between the pipes, Salvatore Lauretta made 16 saves for Binghamton, and Zach Robbins and Matt Kastein each stopped 11 shots for Jersey Shore.
Cincinnati Thunder 1 vs. Wooster Oilers 0 (OT)-Grant Kiepper scored the only goal of the game – in overtime – to give the Cincinnati Thunder a 1-0 win over the Wooster Oilers. Defensively, Tyler Geloneck earned a shutout with 25 saves, and Michael Hubbard and Lucas Soyka stopped 9 and 19 shots each for the Oilers.
St Louis Jr Blues 14 vs. Chicago Bulldogs 0-A four goal game from St Louis Jr Blue Daniel Dunaway helped lock in a 14-0 win over the Chicago Bulldogs. Max Kamper, Samuel Maddox (2), Joe Papa (2), Jack Hatton, Daniil Ovchinnikov (2), and Nick Balestra (2) scored for the Jr Blues. Between the pipes, Zach Young made 12 saves for a shutout for St Louis, and Joe Timmerman made 45 saves for Chicago.
L/A Fighting Spirit 3 vs. Northeast Generals 2-A late third period goal from L/A Fighting Spirit forward Dylan Vrees secured a 3-2 win over the Northeast Generals. Clifford Ogle and Thomas Kuntz also scored for the Fighting Spirit, and Dylan Figueroa and Zach Needham netted one each for the Generals. In net, Michael Errico made 22 saves for Lewiston/Auburn, and Leo Lake stopped 28 shots on the Northeast net.
Peoria Mustangs 4 vs. Wisconsin Whalers 2-Thomas Kolaz notched a hat trick for the Peoria Mustangs on their way to a 4-2 win over the Wisconsin Whalers. Andrej Buchko also scored for the Mustangs, while Drew Steines and Jordan Hylbert earned points for the Whalers. Defensively, Jaden Gardner made 22 saves for Peoria, while Wisconsin goalie Max McConnell stopped 21 shots.
Texas Jr Brahmas 3 vs. Point Mallard Ducks 1-Three unanswered goals propelled the Texas Jr Brahmas to a 3-1 win over the Point Mallard Ducks. Dakota Davis (2) and Sylvain Rooney scored for the Jr Brahmas, and Brandon Knopf notched a goal for Point Mallard. Texas netminder Tyler Myers made 20 saves on the night, while Sam Gartner stopped 36 shots for the Ducks.
Toledo Cherokee 4 vs. West Michigan Wolves 2-The Toledo Cherokee earned an early lead on their way to a 4-2 win over the West Michigan Wolves. Brock Grandbois, Ricky Kwapich, Anthony Weinrich, and Josh Smith earned goals for the Cherokee, and Dakota Ulmer and Andrew Michalowski scored for the Wolves. Defensively, Roman Malkov stopped 35 shots for Toledo, while West Michigan goalie Sam Woznicki made 20 saves on the night.
Atlanta Capitals 9 vs. College Station Spirit 4-Six unanswered goals, including a hat trick for Sascha Figi, propelled the Atlanta Capitals to a 9-4 win over the College Station Spirit. Grant Koehler, Jesse Brown (2), Christian Dale, Talon Medure, and Anton Minaev also scored for the Capitals, and Denis Kusy (3) and Jake Hess earned points for the Spirit. In net, Nolan Bivolcic made 40 stops for Atlanta, while College Station's Ryan O'Toole stopped 72 shots.