Americans, Spirit and Jr. Stars win big on Thursday
December 2, 2016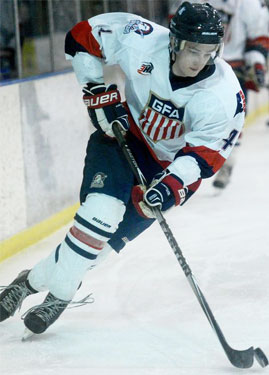 Great Falls Americans 14 vs. Glacier Nationals 0
-
An early lead for the Great Falls Americans helped them climb to a 14-0 win over the Glacier Nationals. Sandis Mezharaups, Danny O'Donnell, Jesse Johnson (2), Dustin Truex, Cameron Cunningham (2), Tegan Harrington, Mitchell Ramstad, Tanner Congdon, Kyler Mack, Brendan Jester, Isaac Vincent, and Malachi Bushey all scored for the Americans. Defensively, Great Falls goalie Nick Nast made 12 saves, and Will Langstaff and Jonah Gower stopped 38 and 18 shots, respectively.
Evansville Thunderbolts 6 vs. Nashville Jr Predators 4-The Evansville Thunderbolts made a comeback after giving up 3 goals in the first for a 6-4 win over the Nashville Jr Predators. Thunderbolts Kyle Gregory, Drew Wynn, Rory Scott, Matt McElroy, Kody Kifer, and Brandon Rozema each notched one, and Michael Redmon, Dylan Schmidt, Benjamin Skinner, and Adam Stalzer scored for the Jr Predators. Evansville goalies James Fry and Jack Spaulding made 5 and 27 saves, and Jonathan Chin stopped 26 shots for Nashville.
Euless Jr Stars 10 vs. College Station Spirit 3-The Euless Jr Stars strong finishing period catapulted them to a 10-3 victory over the College Station Spirit. Anthony Chavez, Tristan Wilson, Bryce Harrison, William Rooney, Kayne Fedor, Chase Deacon (2), Remy Kesling (2), -and Dalton Caesar scored for the Jr Stars, and Preston Palamara (2) and Alex Norwinski netted goals for the Spirit. In net, Thomas Bailey made 17 saves for Euless, and Dalton Baker stopped 36 shots for College Station.