Friday Finals: Souther Tier wins battle of the Xpress
December 3, 2016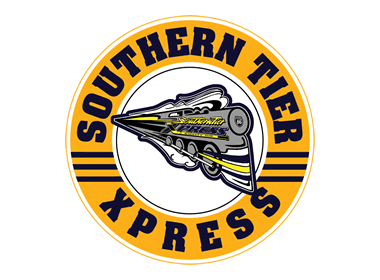 Southern Tier Express 4 vs. Lockport Express 3-Both teams traded the lead back and forth, but in the end the Southern Tier Express held on to a 4-3 win over the Lockport Express. Cameron Trejchel, Jacob St Andre, Arttu Rajamaki, and Joseph Gerace scored for Southern Tier, and Dominic Senese, Blake Bennett, and Aaron Shahin netted goals for Lockport. In net, Southern Tier goalie Harrison Vangellow made 56 saves, while Sam Fitzpatrick stopped 50 shots for Lockport.
Metro Jets 3 vs. Wooster Oilers 0-The Metro Jets held off the Wooster Oilers to secure a 3-0 victory. Mathias Tellstrom, Robby Flannery, and Nick Foran scored for the Jets. Defensively, Andrew Kormos stopped all 11 shots he faced for Metro, while Lucas Soyka made 24 saves for Wooster.
La Crosse Freeze 4 vs. Wisconsin Whalers 3-The La Crosse Freeze snagged an early lead on their way to a 4-3 win over the Wisconsin Whalers. Donny Schultz, Hunter Dolan, and Lukas Motloch (2) scored for the Freeze, and Taylor Dickert, Matt Resch, and Connor Boscaccy each netted one for Wisconsin. La Crosse netminder Jacob Silverstein made 38 saves, while Max McConnell stopped 29 shots for the Whalers.
Texas Jr Brahmas 5 vs. Euless Jr Stars 2-A four goal first period for the Texas Jr Brahmas powered them to a 5-2 win over the Euless Jr Stars. Hunter Bersani (2), Kyle Torgerson, and Melker Kroon (2) scored for Texas, and William Rooney and Chase Deacon notched goals for the Jr Stars. In net, Tyler Myers stopped 25 shots for the Jr Brahmas, and Austin Knoebel and Maxwell Kerner made 10 and 22 shots each for Euless.
Toledo Cherokee 3 vs. West Michigan Wolves 2-The Toledo Cherokee came back with two late goals to secure a 3-2 victory over the West Michigan Wolves. Tristin Snyder, Ethan Resetar, and Brock Grandbois scored for the Cherokee, and Bear Ross and Trevor Temple netted one each for West Michigan. Toledo goalie Roman Malkov made 33 saves, while Sam Woznicki stopped 28 shots for the Wolves.
Jersey Shore Wildcats 6 vs Skylands Kings 2-A strong second period for the Jersey Shore Wildcats pushed them to a 6-2 win over the Skylands Kings. Joe Line, Michael Gulawsky, Travis Nemeth (2), Nathaniel Schwartz, and David Vaysberg scored for Jersey Shore, and Eric Vanderhoff and Jan Broz netted goals for the Kings. Between the pipes, Rio Virgoe made 22 saves for Jersey Shore, and Mathias Ytterng stopped 27 shots for Skylands.
Alexandria Blizzard 6 vs. Rochester Ice Hawks 3-The Alexandria Blizzard maintained a consistent offensive presence on their way to a 6-3 win over the Rochester Ice Hawks. Brenden Payne, Riley Meyer, Emil Lindfors (2), Logan Nelson, and Caleb Anderson scored for the Blizzard, and Skyler Watt, Ethan Sievek, and Ryley Cook netted goals for the Ice Hawks. In net, Alexandria goaltender Michael Hughes made 19 saves, while Drew Schenkenberg made 44 stops for Rochester.
North Iowa Bulls 7 vs. New Ulm Steel 4-The New Ulm Steel tried to make a comeback in the third, but the North Iowa Bulls come out on top with a 7-4 victory. Sean Malonee (2), Zach Hayes, Mitch Dolter, Josh Arnold, Connor Clemons, and Tim Kuivinen scored for the Bulls, and Jared Erickson, Vincent Billing (2), and Jacob Padley netted goals for the Steel. Defensively, Brady Meyers made 18 saves for North Iowa, and Jon Albers and Nathan Siclovan made 10 and 22 stops for New Ulm.
Louisiana Drillers 5 vs. Point Mallard Ducks 3-A busy third period for both teams lead to a 5-3 win for the Louisiana Drillers over the Point Mallard Ducks. Timothy Zittel, Brandon Vukasin (3), and Niki Raiskio netted goals for the Drillers, and Cody LaValley, Travis Brain, and Matt Goodman scored for the Ducks. Defensively, Santeri Seppinen made 55 saves for Louisiana, and Gary Glassman stopped 22 shots for Point Mallard.
Nashville Jr Predators 6 vs. Atlanta Capitals 4-The Nashville Jr Predators scored 3 goals in the third period to secure a 6-3 victory over the Atlanta Capitals. Declan O'Neal, Adam Stalzer, Conor Cunningham, Dylan Schmidt (2), and Niks Kalnberzins scored for Nashville, and Jesse Brown, Sascha Figi, Anton Minaev, and Boomer Miller netted goals for the Capitals. In net, Mason Koster made 28 stops for Nashville, and Nolan Bivolcic stopped 23 shots for Atlanta.
Northeast Generals 3 vs. New England Stars 2 (OT)-The New England Stars forced overtime, where Cam Piokowski scored to give the 4-3 OT win to the Northeast Generals. Ryan Newman and Billy Hickey scored for the Generals in regulation, and Brandon Hammner and Nick Johnson scored for the Stars. Defensively, Leo Lake made 40 saves for Northeast, and Sage Broda stopped 31 shots for New England.
Granite City Lumberjacks 4 vs. Breezy Point North Stars 1-The Granite City Lumberjacks scored three times in the first period to cruise to a 4-1 win over the Breezy Point North Stars. Jordan Olson, William Sprink (2), and Casey Esselman netted goals for the Lumberjacks, and Austin Langworthy scored for the North Stars. In net, Mac Berglove made 37 saves for Granite City, and Breezy Point goalie Magnus Lindhe stopped 29 shots.
Gillette Wild 7 vs. Helena Bighorns 1-The Gillette Wild scored six unanswered goals on their way to a 7-1 win over the Helena Bighorns. Riley Holwegner (2), Tyler Tennant, Dallas Paxton, Kyle Truax (2), and Jack Oberg scored for the Wild, and Bradley Estrada netted the lone goal for Helena. Defensively, Angus Campbell made 44 saves for Gillette, and Robbie Brennan stopped 17 shots for the Bighorns.
Yellowstone Quake 7 vs. Bozeman Icedogs 1-The Yellowstone Quake had a busy second period on their way to a 7-1 win over the Bozeman Icedogs. Jesse Lawman (2), Nick Ligocki, Curt Greenbush, Carter Johnson, Tony Dahlberg, and Max Meyer scored for the Quake, and Steven Nisbet netted one for Bozeman. Yellowstone goalie Nick Ottenbacher stopped 33 shots, and Drew Pehrson and Benjamin Sakaria made 23 and 24 shots for the Icedogs.
Missoula Junior Bruins 5 vs. Billings Bulls 1-The Missoula Junior Bruins scored five unanswered goals to secure a 5-1 win over the Billings Bulls. Josh Chamberlain, Justin Barnes, Wyatt Mathews, Jens Juliussen, and Zach Jaffe scored for the Junior Bruins, and Matt Newberger netted one for the Bulls. Between the pipes, Missoula goaltender Tanner Loucks and Ethan Wiese of Billings each had 36 saves on the night.
Great Falls Americans 5 vs. Glacier Nationals 0 -Great Falls American goaltenderKyler Ayers had 15 saves on the way to a 5-0 shutout win over the Glacier Nationals. Sandis Mezharaups, Michael Fary, Malachi Bushey, Tanner Congdon, and Matt Janke scored for the Americans. Brendan Schultz made 56 saves for the Nationals.