Three more Metro players get call to the NAHL
December 3, 2016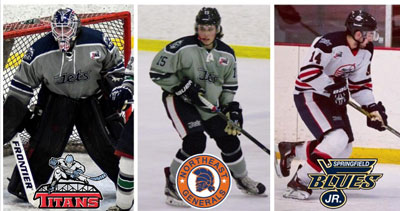 By Matt Mackinder, Metro Jets
The Metro Jets have advanced three more players from their North American 3 Hockey League team to North American Hockey League clubs.
Defensemen Robby Flannery and Nick Foran and goaltender Jake Gwillim are the latest players to make the jump to the NAHL ranks – Flannery to the Springfield Jr. Blues, Foran to the Northeast Generals and Gwillim to the New Jersey Titans.
Foran also signed an affiliate agreement with Northeast for the rest of the 2016-17 season.
This trio gives the Jets five NAHL call-ups this season, joining Foran (Kenai River Brown Bears) and defenseman George Hansen (Wilkes-Barre/Scranton Knights).
Forward Louis Boudon also inked an NAHL tender agreement with the Generals last month.
"We are excited for our guys and the opportunities that have been given to them," said Jets coach-GM Justin Quenneville. "At the end of the day, this is what our team and our league is all about and we wish them all the best.
"All our guys have definitely earned these opportunities."
Gwillim, who has played in the NAHL previously with the Johnstown Tomahawks and on a call-up last season from the Jets to the Brookings Blizzard, as well as in the United States Hockey League with the Muskegon Lumberjacks, is 9-0-0 with a 1.75 goals-against average and a .919 save percentage with one shutout this year.
Foran has compiled 14 points (two goals, 12 assists) in 18 games with the Jets this season, while Flannery has seven goals and 23 points in 22 games this year after registering four goals and 18 points as a rookie with Metro last season.