Sunday Wrap-Up: Mustangs sweep Thunder
December 5, 2016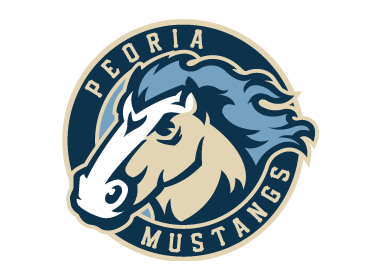 Peoria Mustangs 7 vs. Cincinnati Thunder 0
-
Jaden Gardner made 15 saves on his way to his first shutout of the season, carrying the Peoria Mustangs to a 7-0 win over the Cincinnati Thunder. Braden Stewart (2), Peter Miller, Austin Wisely (2), Jordan Hillman, and Andrej Buchko scored for the Mustangs. Thunder goalie Ryan Kostelnik made 26 saves.
Roc City Royals 6 vs. Jersey Shore Wildcats 5-Both teams traded the lead back and forth, never ahead by more than one, and in the end the Roc City Royals held on to earn the 6-5 win over the Jersey Shore Wildcats. Bryan Moscicki, Henrik Toiviainen, Brandon Corey each scored twice for the Royals, and Nathaniel Schwartz, Travis Nemeth, Frederick Schaljo, David Vaysberg and Dale Peirano netted one each for Jersey Shore. In net, Freddy Peters made 34 saves for Roc City, and Jersey Shore's Rio Virgoe stopped 21 shots.
Binghamton Junior Senators 8 vs. Skylands Kings 0-A strong first period helped the Binghamton Junior Senators climb to an 8-0 win over the Skylands Kings. Brad Becker (2), Duncan Cameron (2), Jeremy Wilber, Conor Landrigan, Ryan Reifler, and Jack Allen scored for Binghamton. Junior Senator goaltender Steven Schmitt saved all 25 shots for his second shutout of the season, and Evan Barghout made 53 saves for Skylands.
Southern Tier Express 5 vs. Pittsburgh Vengeance 4 (OT)-The Southern Tier Express climbed back from a three goal deficit to win in overtime, 5-4, over the Pittsburgh Vengeance. Joshua Bostic, Matthew Crosby, Joseph Gerace, Arttu Rajamaki scored in regulation, and Cameron Trejchel notched the OT winner for the Express. For Pittsburgh, Cam Williams (2), Dominik Glavach, and Gavin Cummings netted goals. In net, Harrison Vangellow made 35 saves for Southern Tier, and Nikoloas Manousos stopped 27 shots for the Vengeance.
Cape Cod Islanders 3 vs. Maine Wild 0-The Cape Cod Islanders maintained a consistent offensive presence to secure a 3-0 win over the Maine Wild. James Brosnan, Mitchell Eldridge, and Chuck Costello scored for the Islanders. Anton Zemba earned his second shutout of the season with 24 saves for Cape Cod, and Maine's Brandon Daigle stopped 23 shots.
Wisconsin Whalers 13 vs. Chicago Bulldogs 1-Eleven unanswered goals for the Wisconsin Whalers powered them to a 13-1 win over the Chicago Bulldogs. Ben Ratner (2), Connor Boscaccy (2), Drew Steines, Taylor Dickert, Carter Grobstick (3), Nick Miller, Austin Lewis (2), and Anthony Fortin netted goals for the Whalers, and Jake Hermann notched the lone Bulldog goal. Defensively, Alex Hufford made 18 saves for Wisconsin, and Josh Cannon stopped 52 shots for Chicago.
Long Beach Sharks 7 vs. L/A Fighting Spirit 6 (OT)-A pair of goals from L/A Fighting Spirit forward Matt Siegel forced an overtime, where Martins Vitolins scored to give the 7-6 OT win to the Long Beach Sharks. Carmine Taffo (2), Vitolins, Oskar Lindberg (2), and Gunther Stange scored in regulation for the Sharks, and Thomas Kuntz (2), Dylan Vrees, and Felix Nyqvist also scored for the Spirit. Between the pipes, Kyle Van Wagner made 18 saves for Long Beach, and Michael Errico stopped 29 shots for Lewiston/Auburn.
St Louis Jr Blues 6 vs. Evansville Thunderbolts 2-A hat trick from St Louis Jr Blue Jared Hatton helped propel them to a 6-2 win over the Evansville Thunderbolts. Alex Werdmuller (2) and Ryan Reader also scored for St Louis, and Kyle Gregory and DJ LaMartina netted goals for Evansville. In net, Zach Young made 17 saves for the Jr Blues, and James Fry stopped 34 shots for Evansville.
East Coast Minutemen 3 vs. Northeast Generals 1-A pair of goals from Leevi Kervinen helped the East Coast Minutemen to a 3-1 win over the Northeast Generals. Joseph Brochu also scored for the Minutemen, and Tommy Bellew notched the only goal for the Generals. Defensively, Dom Montecalvo made 65 saves for East Coast, and Leo Lake stopped 30 shots for the Northeast.