Friday Finals: Missoula rolls to 5th straight win
December 10, 2016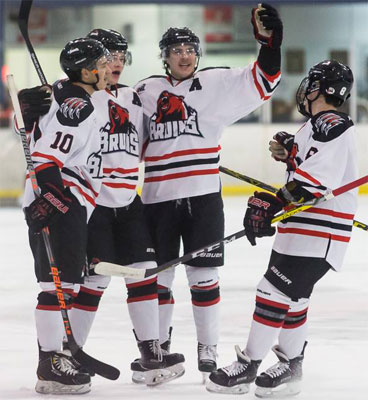 Glacier 1 @ Missoula 14 - The Missoula Junior Bruins picked up their fifth win in a row on Friday night, skating past the Glacier Nationals, 14-1, at Glacier Ice Rink in Missoula. The Jr. Bruins moved to 15-7 (with one shootout loss) in the North American 3 Hockey League Frontier Division standings. They sit in fourth place with 31 points, four behind the third-place Gillette Wild. Misha Akatnov led the hosts with three goals and an assist. Kalispell product Zachary Colgrove also had a hat trick, while Christian Ward tallied two goals and Austin Azzinnaro piled up five assists. Missoula has been on a tear lately with its attack. The Jr. Bruins have averaged 8.8 goals per game over the course of their win streak.
Point Mallard Ducks 3 vs. Nashville Jr Predators 2-The Point Mallard Ducks secured a win with a game winner from Elias Nilsson at 19:56 left in the third. Matt Goodman and William Chun also scored for the Ducks, and Weiland Parrish and Conor Cunningham netted goals for the Jr Predators. In net, Kevin Mackey made 28 saves for Point Mallard, while Mason Koster stopped 28 shots for Nashville.
West Michigan Wolves 3 vs. Toledo Cherokee 1-Two goals in the first set the pace for a 3-1 West Michigan Wolves win over the Toledo Cherokee. Collin Rewarts, Jacob Redman, and Thomas Harrison scored for the Wolves, and Anthony Weinrich netted one for the Cherokee. Defensively, Alex Wilder made 24 saves for West Michigan, and Adrian Morales stopped 51 shots for Toledo.
Jersey Shore Wildcats 5 vs. Syracuse Stampede 4 (OT)-Five different scorers for the Jersey Shore Wildcats helped them to a 5-4 OT win over the Syracuse Stampede. Michael Gulawsky, Frederick Schaljo, David Vaysberg, and Alexander Rowe scored for the Wildcats in regulation, and John Minnich notched the OT winner. Nick Sanborn, Oscar Lande, Josh Wallace, and Armaan Thiara scored for the Stampede. Between the pipes, Rio Virgoe made 44 saves for Jersey Shore, while Syracuse netminder Martin Sten made 24 stops.
Pittsburgh Vengeance 8 vs. Wooster Oilers 1-The Pittsburgh Vengeance scored 3 goals early to set the pace for an 8-1 win over the Wooster Oilers. Nolan Puhala (2), Dominick Glavach (2), James Unger, Austin Martz, and Dillon Joyce (2) all scored for the Vengeance, and Michael Ragone netted one for Wooster. In net, Joel De Simone made 17 saves for Pittsburgh, and Lucas Soyka and Michael Hubbard made 20 and 6 saves for the Oilers.
La Crosse Freeze 4 vs. Wisconsin Whalers 3-The La Crosse Freeze scored two third period goals to surpass the Wisconsin Whalers for a 4-3 win. Micah Anderson, Donny Schultz, Hunter Dolan and Sam Dabrowski netted goals for the Freeze, and Nick Miller and Jake Faulkner (2) scored for the Whalers. Freeze goalie Will Graves made 30 saves, and Max McConnell stopped 37 shots for Wisconsin.
Alexandria Blizzard 10 vs. Chicago Bulldogs 0-A hat trick from Caleb Anderson helped the Alexandria Blizzard to a 10-0 win over the Chicago Bulldogs. Riley Meyer (2), Tosten Mann, Connor Nilson, Emil Lindfors, Logan Nelson, and Logan Norman scored for the Blizzrd, and Michael Hughes made 12 saves for a Blizzard hat trick. Jacob Dittmer made 53 saves for the Bulldogs.
New England Stars 7 vs. East Coast Minutemen 1-A hat trick from Ryan Paul helped the New England Stars to a 7-1 win over the East Coast Minutemen. Tyson Gudaitis, Cole Archambeault, Brendan Miller and Brandon Hammner also scored for the Stars, while Tre Pridgen notched one for the Minutemen. Greg Moon made 18 saves for New England, and Dom Montecalvo stopped 27 shots for the East Coast.
Texas Jr Brahmas 2 vs. College Station Spirit 0-Two second period goals for the Texas Jr Brahmas carried them to a 2-0 win over the College Station Spirit. James Boisvert and Melker Kroon scored for Texas, and Samuel Solomon earned a hat trick with 37 stops. Nick Hart stopped 49 shots for College Station.
Maine Wild 4 vs. Northeast Generals 2-A busy third period for the Maine Wild helped them to a 4-2 win over the Northeast Generals. Daniel Erbe, Derek Erbe, Kyle Sikora and Dean Pratt scored for the Wild, and Stephen Toal and Derric Trudeau notched goals for the Generals. Maine's Brandon Daigle made 36 saves, while Peter Ciccarelli stopped 45 shots for Northeast.
Cincinnati Thunder 3 vs. Evansville Jr Thunderbolts 2 (OT)-Cameron Sangster scored late in OT to give the Cincinnati Thunder a 3-2 win over the Evansville Jr Thunderbolts. Grant Kiepper and Jacob Friedman scored in regulation for the Thunder, and Brandon Rozema and Drew Wynn netted goals for the Jr Thunderbolts. In net, Ryan Kostelnik made 18 saves for Cincinnati, while James Fry stopped 34 shots for Evansville.
Roc City Royals 4 vs. Southern Tier Express 3-A busy second period for the Roc City Royals powered them to a 4-3 win over the Southern Tier Express. Brandon Corey (2), Henrik Toiviainen, and Peter Izzo scored for the Royals, and Jacob St Andre (2) and Santeri Rajakallio netted goals for the Express. Defensively, Ian Stahl made 37 saves for Roc City, and Harrison Vangellow stopped 19 shots for Southern Tier.
Granite City Lumberjacks 5 vs. Willmar WarHawks 1-Andrej Jamnicky scored twice to help the Granite City Lumberjacks to a 5-1 win over the Willmar WarHawks. Owen Sikich, Tucker Bjorlin and Matthew Sprink also scored for the Lumberjacks, and Dylan Gast scored the lone WarHawks goal. In net, Mac Berglove made 27 saves for Granite City, and Alexander Cathcart stopped 31 shots for Willmar.
Great Falls Americans 3 vs. Helena Bighorns 1-The Great Falls Americans scored twice in the third one their way to a 3-1 win over the Helena Bighorns. Sandis Mezharaups, Malachi Bushey, and Jens Juliussen scored for the Americans, while Kyle Hayter notched one for the Bighorns. Between the pipes, Nick Nast made 26 saves for Great Falls, while Alex Kruger made 56 stops for Helena.
Gillette Wild 5 vs. Bozeman Icedogs 2-Five separate scorers had a hand in a 5-1 win for the Gillette Wild over the Bozeman Icedogs. Brooks Mitzel, Kyle Truax, Tyler Tennant, Cade Boreing, and Colt Johnson scored for the Wild, and Kyle Amundson and Cade Hanley netted goals for the Icedogs. In net, Landon Anderson made 32 saves for Gillette, and Benjamin Sakaria stopped 49 shots for Bozeman.
Yellowstone Quake 6 vs. Billings Bulls 2-A hat trick from Reed Kelly helped propel the Yellowstone Quake to a 6-2 win over the Billings Bulls. Mason Stewart, Max Doner, and Max Meyer scored for the Quake as well, and Matt Newberger and Denis Kozev notched goals for the Bulls. In net, Nick Ottenbacher made 27 saves for Yellowstone, and Sim Huhtanen stopped 39 shots for Billings.