Sunday Wrap-Up: Jets stay undefeated heading into Showcase
December 12, 2016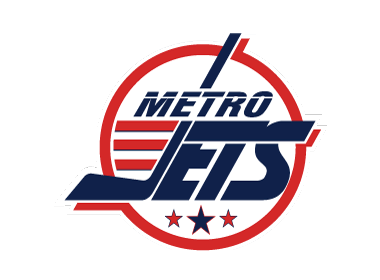 Metro Jets 5 vs. Toledo Cherokee 1-The Metro Jets scored 5 goals to secure a victory over the Toledo Cherokee and continue their undefeated streak. Chas Distelrath, Jason Newel, Jacob Stawinski, Cam Schwartz, and Jason Recchia scored for the Jets, and Brock Grandbois netted the lone Cherokee goal. Roman Malkov made 49 saves for the Jets, and Andrew Kormos stopped 33 shots for Toledo.
La Crosse Freeze 2 vs. Breezy Point North Stars 1-Sam Dabrowski scored twice to carry the La Crosse Freeze to a 2-1 win over the Breezy Point North Stars. Nicholas Reed scored for the North Stars, keeping Jacob Silverstein from a shutout, though he had 50 saves on the night. Magnus Lindhe stopped 21 shots for Breezy Point.
Skylands Kings 5 vs. Syracuse Stampede 4 (OT)-Eric Vanderhoff scored early in OT, earning the Skylands Kings their second straight win, 5-4 over the Syracuse Stampede. Darrin Bruce, Craig Garrigan, Clayton Thomas, and Steven Ford scored in regulation for the Kings, and Matt Allen, Josh Wallace, Nick Sanborn and Hunter Soden got on the scoreboard for the Stampede. In net, Mathias Yttereng made 28 saves for Skylands, and Steven Kozikoski stopped 29 shots for Syracuse.
Jersey Shore Wildcats 6 vs. Lockport Express 3-The Jersey Shore Wildcats scored three times in the second on their way to a 6-3 win over the Lockport Express. Jordan Nolan, Nikita Penzov (2), Dale Peirano, Nathaniel Schwartz, and Michael Gulawsky notched goals for the Wildcats, and Erick Santiago, Frankie Bodami, and Luca Mazzo scored for the Express. Between the pipes, Rio Virgoe stopped 46 shots for Jersey Shore, and Adam Partridge made 36 saves for Lockport.
Peoria Mustangs 3 vs. St Louis Jr Blues 1-A pair of goals from Peoria Mustang Thomas Kolaz pushed them to a 3-1 victory over the St Louis Jr Blues. Austin Wisely also scored for Peoria, and Samuel Maddox netted one for the Jr Blues. Mustang goaltender JT Kossakowski made 24 saves on the night, and Zach Young stopped 20 shots for St Louis.
Cincinnati Thunder 7 vs. Evansville Thunderbolts 2-Trailing after one, the Cincinnati Thunder scored 6 unanswered goals to climb to a 7-2 victory over the Evansville Thunderbolts. Jacob Friedman, Jake Ustorf, Bradley Begeman, Mihali See, Thomas Brady, James Frantz, and Cameron Sangster scored for the Thunder, and Kyle Gregory and Drew Wynn notched goals for the Thunderbolts. In net, Tyler Geloneck made 32 saves for Cincinnati, and Jack Spaulding stopped 31 shots for Evansville.
L/A Fighting Spirit 4 vs. East Coast Minutemen 2-The L/A Fighting Spirit scored twice late in the third period to earn a 4-2 win over the East Coast Minutemen. Dylan Vrees (2) and Jonathan Donaghey (2) scored for the Fighting Spirit, and Eric Steeves and Mike Lavoie got on the scoreboard for the Minutemen. Defensively, Tyler Friel made 33 saves for Lewiston/Auburn, and Dom Montecalvo stopped 54 shots for East Coast.
Atlanta Capitals 11 vs. Louisiana Drillers 1-The Atlanta Capitals secured an early lead on their way to an 11-1 win over the Louisiana Drillers. Tristen Poliseno (2), Sascha Figi (3), Christian Dale, Jason Ladzinski, Anton Minaev, Jesse Brown, Grant Koehler, and Vito Carlo earned points for the Capitals, and Timothy Zittel netted one for the Drillers. In net, Wyatt Monear made 13 stops for Atlanta, and Kevin Lake and Santeri Seppinen stopped 7 and 27 shots on the Louisiana net.