Competition, schedule balance highlight Day 1 of NA3HL Showcase
December 17, 2016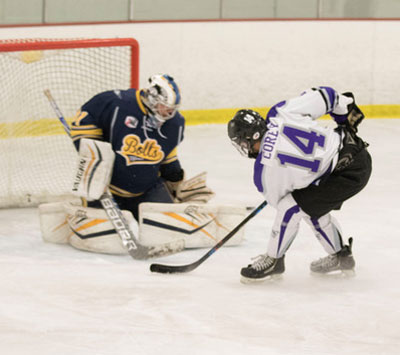 It was a very good first day of the 2016 NA3HL Showcase in Blaine, Minnesota on Friday. With 24 games being played each day, the action was plentiful and competitive.
One of the changes to the format this season was creating a schedule based on playing cross-divisional games against teams with a common place in the divisional standings after November 28th. That methodology seems to work out on Day 1 as 13 of the 24 games were decided by two goals or less.
Day 2 of the NA3HL Showcase takes place on Saturday, December 17th at the Schwan Super Rink in Blaine, MN, with games beginning at 10am (central).
For more details on the NA3HL Showcase, including ticket, hotel, rental car, scouting and schedule information, visit:
na3hl.com/showcase
.
All the games at the NA3HL Showcase will be broadcast live on
HockeyTV
.
Day 1 recaps
East Coast Minutemen 5 vs. College Station Spirit 1
-
Nick Kent made 26 saves for the East Coast Minutemen on their way to a 5-1 victory over the College Station Spirit. Minutemen scorers included Kyler Harding (2), Brendan Sullivan, Eric Steeves, and Mike Lavoie, while Jackson Greer put the Spirit on the scoreboard. Dalton Baker stopped 32 shots for College Station.
Willmar Warhawks 2 vs. Southern Tier Express 0
-
Braden Shea and Kane Toriumi scored late in the second to secure the Willmar Warhawks the win in their opening showcase game, 2-0 over the Southern Tier Express. War hawk netminder Alexander Cathcart stopped all 24 shots he faced for the shutout, and Harrison Vangellow made 19 saves for the Express.
Louisiana Drillers 3 vs. Chicago Bulldogs 2
-
A late goal from Louisiana Driller Tucker Alspaugh kept the Bulldogs from earning at least one point in this match, giving the 3-2 victory to the Drillers. Alspaugh also scored in the first, as did Mitch Dolese. Bryce Freel and Sam Krawcyzk netted goals for the Bulldogs. Kevin Lake stopped 39 shots for Louisiana, and Jacob Dittmer ,are 24 saves for Chicago.
Point Mallard Ducks 4 vs. Rochester Icehawks 0
-
Gary Glassman made 19 saves to ice out the Rochester Icehawks and secure a 4-0 win for the Point Mallard Ducks. Jake Cox (2), Cody Pisciola and Brandon Knopf scored for the Ducks. Bailey Schmitz made 33 stops for Rochester.
Metro Jets 3 vs. Breezy Point North Stars 1
-
The Metro Jets kept a steady offensive pressure to earn a 3-1 victory over the Breezy Point North Stars. Robby Flannery, Jason Recchia, and Stefan Boskovic notched goals for the Jets, and Nick Blanchette got on the scoreboard for the North Stars.
Texas Jr Brahmas 3 vs. North Iowa Bulls 2 (SO)
-
Texas Jr Brahma Melker Kroon earned a hat trick (including the shootout winner) to secure a 3-2 SO win over the North Iowa Bulls. For the Bulls, Mitch Parsons and Mitch Dolter got on the scoreboard. Texas goalie Tyler Myers made 35 saves on the night, and Brady Meyers made 28 stops for North Iowa.
New Ulm Steel 3 vs. West Michigan Wolves 2 (OT)
-
The New Ulm Steel scored halfway through the extra minutes to cement their 3-2 win over the West Michigan Wolves. Alex Egle and Dylan Lievermann scored for the Steel in regulation, and Fritz Belisle notched on in OT. For the Wolves, Nicholas Guy and Ryan Weaver got on the scoreboard. Defensively, Brady Boudreau stopped 25 shots for New Ulm, while West Michigan's Alex Wilder made 30 saves.
Cincinnati Thunder 3 vs. Skylands Kings 2
-
Grant Kiepper, Corbin Sanborn, and Justin Bioni each scored once for the Cincinnati Thunder on their way to a 3-2 win over the Skylands Kings. Craig Garrigan and Nicholas Farkas netted goals for the Kings. Between the pipes, Ryan Kostelnik made 31 saves for the Thunder, and Mathias Yttereng stopped 53 shots for Skylands.
Yellowstone Quake 6 vs. New England Stars 2
-
A busy second period for the Yellowstone Quake helped them climb to a 6-2 victory over the New England Stars. Reed Kelly, Pablo Pantoja, Carter Johnson, Max Doner (2), and Tony Dahlberg scored for the Quake, and Brendan Miller and Zach Burnham netted goals for the Stars. In net, Nick Ottenbacher made 13 saves for Yellowstone, and New England goaltender Dom Lammano stopped 28 shots.
Northeast Generals 1 vs. Missoula Junior Bruins 0
-
Billy Hickey scored the only goal of the game - putting the Northeast Generals up 1-0 over the Missoula Junior Bruins. Leo Lake made 24 saves on his way to a shutout for the Generals, and Tanner Loucks stopped 21 shots on the night.
Wooster Oilers 8 vs. Billings Bullls 0
-
Michael Hubbard earned a 26 save shutout to help the Wooster Oilers to an 8-0 victory over the Billings Bulls. Anders Staky (2), Cole Barney (2), Tyler Kallay, Nicholas Stanko, Michael Zenone, and Bobby Frieson scored for the Oilers. Bulls netminder Ean Wiese stopped 46 shots.
Granite City Lumberjacks 3 vs. Pittsburgh Vengeance 2
-
Three different goal scorers- Andrej Jamnicky, Keenan Lund, and Ryan Smith- had a hand in the Granite City Lumberjack's 3-2 victory over the Pittsburgh Vengeance. Austin Martz and Camron Smith scored for the Vengeance.
Euless Jr Stars 3 vs. La Crosse Freeze 1
-
Three unanswered goals for the Euless Jr Stars carried them to a 3-1 win over the La Crosse Freeze. Matthew Butler, Nick Sheridan, and Tristan Wilson notched goals for the Jr Stars, and Micah Anderson scored for the Freeze. Euless' goaltender Austin Knoebel made 26 saves, and Jacob Silverstein stopped 12 shots for La Crosse.
Maine Wild 2 vs. Helena Bighorns 1
-
Two unanswered goals for the Maine Wild helped them power to a 2-1 win over the Helena Bighorns. Kyle Sikora and Connor Busch scored for the Wild, and John Heddle got on the scoreboard for the Bighorns. Brayden McGary made 9 saves for Maine, and Helena's Alex Kruger stopped 23 shots.
Cape Cod Islanders 5 vs. Bozeman Icedogs 4
-
These two teams traded the league back and forth throughout the match, but in the end the Cape Cod Islanders pulled out the 5-4 win over the Bozeman Icedogs. Chuck Costello, James Pollock, Nevin Connors, Dan Moore and Jake Davis scored for the Islanders, and Zach Ahiers (2), Steven Nisbet, and Liam Millar notched goals for the Icedogs. Cape Cod netminder Anton Zemba stopped 31 shots, while Luke Olson made 19 saves for Bozeman.
Great Falls Americans 6 vs. Long Beach Sharks 4
-
A hat trick from Great Falls American Tegan Harrington carried them to a 6-4 win over the Long Beach Sharks. Brendan Jester, Matt Janke, and Dustin Truex also earned points for Great Falls, and Martins Vitolins, Ricky Regala, Carmine Taffo, and Trace Pederson scored for the Sharks. In net, Nick Nast made 14 saves for the Americans, and Long Beach goalie Kyle Van Wagner stopped 11 shots.
Gillette Wild 8 vs. L/A Fighting Spirit 4
-
Three late goals for the Gillette Wild powered them to an 8-4 victory over the L/A Fighting Spirit. Cade Boreing, Nick Stockert, Kyle Truax (2), Tyler Tennant (2), Connor Moore, and Brooks Mitzel scored for the Wild, and Dylan Vrees (3) and Denver Lundstrom notched goals for the Fighting Spirit. In net, Lincon Riley stopped 9 shots, and Michael Ericco made 27 saves for Lewiston/Auburn.
Alexandria Blizzard 5 vs. Toledo Cherokee 0
-
Five separate scorers had a hand in powering the Alexandria Blizzard to a 5-0 win over the Toledo Cherokee. Riley Meyer, Emil Lindfors, Logan Nelson, Connor Nelson, and Tosten Mann scored for the Blizzard. Alexandria goaltender Grey Effertz earned a 16 shot shutout, while Adrian Morales stopped a whopping 58 shots for the Cherokee.
Peoria Mustangs 6 vs. Jersey Shore Wildcats 1
-
Aaron Siegrist scored twice for the Peoria Mustangs on their way to a 6-1 victory over the Jersey Shore Wildcats. Anthony Iacullo, Braden Stewart, Dane Federighi, and Lorenzo Santiago-Vasquez also scored for the Mustangs, and David Vaysberg notched one for the Wildcats. In net, JT Kossakowski made 17 saves for Peoria, and Rio Virgoe and Matt Kastein stopped 20 and 24 shots, respectively, for Jersey Shore.
Binghamton Junior Senators 6 vs. St Louis Jr Blues 3
-
The Binghamton Junior Senators had a busy first period on their way to a 6-3 win over the St Louis Jr Blues. Jeremy Wilber, Tyler Uravage, Conor Landrigan, Brad Becker (2), and Daniel Johansson scored for the Junior Senators, and Ivan Galaguzov, Daniel Dunaway and Jack Hatton notched ones for the Jr Blues. In net, Salvatore Lauretta made 29 stops for Binghamton, and Hunter Smith and Sawyer Schmidt made 9 saves each for St Louis.
Lockport Express 5 vs. Glacier Nationals 2
-
The Lockport Express scored three in the third to power to a 5-2 win over the Glacier Nationals. Andrew Logar, Blake Bennett (2), Erick Santiago, and Brandon Schweickert netted goals for the Express, and Austin Moser and Gavin Cline earned points for the Nationals. Lockport goaltender Adam Partridge made 14 saves on the night, while Will Langstaff stopped 22 shots for Glacier.
Nashville Jr Predators 4 vs. Syracuse Stampede 0
-
Nashville Jr Predator goalie Jonathan Chin made 17 saves for a shutout against the Syracuse Stampede, securing their 4-0 win. Declan O'Neal, Michael Redmon, Benjamin Skinner, and Dakota Wilson scored for the Jr Predators. Stampede goalie Martin Sten stopped 36 shots on the night.
Atlanta Capitals 6 vs. Wisconsin Whalers 3
-
An early lead for the Atlanta Capitals helped them to a 6-3 win over the Wisconsin Whalers. Tristen Poliseno, Talon Medure, Anton Minaev, Sascha Figi, Jesse Brown and Boomer Miller each scored once for the Capitals, and Anthony Fortin, Matt Resch and Connor Boscaccy earned points for the Whalers. In net, Nolan Bivolcic made 23 stops for Atlanta, and Elliot Gerth stopped 33 shots for Wisconsin.
Roc City Royals 5 vs. Evansville Jr Thunderbolts 3
-
A hat trick from Roc City Royal Brandon Corey helped propel them to a 5-3 win over the Evansville Jr Thunderbolts. Peter Izzo also netted two for the Royals, and Mathieu Laforest scored twice for the Jr Thunderbolts. Freddy Peters made 24 saves for Roc City, and James Fry stopped 22 shots for Evansville.