Day 2 of NA3HL Showcase displays plenty of offense
December 18, 2016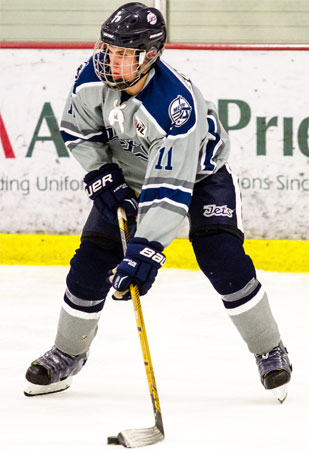 Day 2 of the 2016 NA3HL Showcase was all about offense.
Several teams moved to 2-0 at the event thanks to some high scoring games with the offensive talent level on display. Just three of the 24 games featured a shutout.
Day 3 of the NA3HL Showcase takes place on Sunday, December 18th at the Schwan Super Rink in Blaine, MN, with games beginning at 9:40am (central).
For more details on the NA3HL Showcase, including ticket, hotel, rental car, scouting and schedule information, visit:
na3hl.com/showcase
.
All the games at the NA3HL Showcase will be broadcast live on
HockeyTV
.
Day 2 recaps
New Ulm Steel 6 vs. Point Mallard Ducks 1-Five unanswered goals helped the New Ulm Steel to a 6-1 victory over the Point Mallard Ducks. Fritz Belisle (2), Jared Erickson, Dylan Leivermann, Wyatt Peterson, and Luc Kreuser scored for the Steel, and Matt Goodman netted one for the Ducks.
Cincinnati Thunder 3 vs. Northeast Generals 1-Three separate skaters had a hand in the Cincinnati Thunder's 3-1 win over the Northeast Generals. Cameron Sangster, Tyler Simon, and Jake Ustorf scored for the Thunder, and Derric Trudeau notched one for the Generals. Cincinnati net minder Tyler Geloneck made 6 saves on the night, and Peter Ciccarelli made 13 stops for Northeast.
Southern Tier Express 12 vs. Chicago Bulldogs 2-The Southern Tier Express scored five goals to se the pace for a 12-2 win over the Chicago Bulldogs. Ty Rickabaugh (2), Arttu Rajamaki (2), Joseph Gerace, Jacob St Andrew, Tristan Mock (2), Santeri Rajakallio, Jacob Zweig, George French, and Joshua Malin netted goals for the Express, and Mitch Nevada and Harrison Bjorgo scored for the Bulldogs. In net, Harrison Vangellow stopped 24 shots for Southern Tier, and Chicago's Josh Cannon made 32 saves on the night.
East Coast Minutemen 6 vs. Billings Bulls 2-The Billings Bulls attempted a comeback in the third, but it wasn't enough and the East Coast Minutemen cruised to a 6-2 win. Nick Padgett, Jerome Emanuel, Mike Lavoie, Albert Wiggins, Cam Crowley, and Leevi Kervinen scored for East Coast, and Duncan Cameron and Keith Gustin earned points for the Bulls. Minutmen goalie Dom Montecalvo made 21 saves, while Chayo Goodwin stopped 23 shots for Billings.
Pittsburgh Vengeance 4 vs. La Crosse Freeze 1-The Pittsburgh Vengeance established and early lead on their way to a 4-1 win over the La Crosse Freeze. Chris Harvey, Nolan Puhala, Camron Smith and Cam Williams got on the scoreboard for Pittsburgh, and Brendan Elliot scored for the Freeze.
Missoula Junior Bruins 6 vs. Skylands Kings 4-The Missoula Junior Bruins had an offense surge in the third period to thank for their 6-4 victory over the Skylands Kings. Rhys Cottle, Cameron Cunningham (2), Christian Ward, Colby Birch, and Parker Todd scored for the Junior Bruins, and Dylan Dinzik, Steven Ford, Edward Klein, and Eric Vanderhoff earned points for the Kings. Missoula goalie Jonah Gower made 10 saves, and Evan Barghout made 17 stops for Skylands.
Binghamton Junior Senators 2 vs. Yellowstone Quake 0-Ryan Flanagan and Cole Skelly scored the only goals of the game - both for the Binghamton Junior Senators- for a 2-0 win over the Yellowstone Quake. Junior Senator Steven Schmitt had a 30 save shutout, while Nick Ottenbacher made 32 saves for the Quake.
Nashville Jr Predators 9 vs. L/A Fighting Spirit 1-The Nashville Jr Predators established an early lead to propel them to a 9-1 victory over the L/A Fighting Spirit. Logan Orem (2), Niks Kalnberzins (2), Weiland Parrish, Dakota Wilson, Dylan Schmidt (2), and Peter Cabala scored for Nashville, while Jonathan Donaghey got Lewiston/Auburn on the scoreboard. Mason Koster made 20 saves for the win, and Sam Gartner and Michael Errico made 20 and 12 saves each for the Fighting Spirit.
Lockport Express 4 vs. College Station Spirit 3-Blake Bennett scored with one second remaining in the game to prevent OT and give the 4-3 win to the Lockport Express over the College Station Spirit. Andrew Logar, Gibson Stuart, and Aaron Shahin also scored for the Express, while Jordan Wright, Castor Mattos, and RC Randall netted goals for the Spirit. Express goalie Adam Partridge made 20 saves on the night, and Nick Hart had 41 stops for College Station.
Great Falls Americans 7 vs. Jersey Shore Wildcats 3-The Great Falls Americans scored three times in the third to lock in the 7-3 win over the Jersey Shore Wildcats. Jens Juliussen, Dustin Truex, Danny O'Donnell, Logan Parsley, Tegan Harrington, Tanner Congdon, and Brendan Jester each scored once for the Americans, and Antonio Filippello (2) and Jacob Hanebrink scored for the Wildcats. In net, Kyler Ayers made 15 stops for Great Falls, while Rio Virgoe made 20 saves for Jersey Shore.
Gillette Wild 8 vs. Syracuse Stampede 3-Eight separate Gillette Wild skaters had a had in the 8-3 win over the Syracuse Stampede. Cole Cirks, Blake Kauth, Nick Stockert, Cade Boreing, Riley Holwegner, Kyle Truax, Dallas Paxton, and Derek Scoggins notched goals for the Wild, while Nate Walker, Hunter Soden, and Matt Allen scored for the Stampede. In net, Gillette goaltender Robbie Brennan stopped 31 shots, while Steven Kozikoski and Ryan Scheide made 3 and 19 saves, respectively, for Syracuse.
New England Stars 5 vs. St Louis Jr Blues 4 (SO)-Ian Gately scored twice, including in a shootout, to help the New England Stars to a 5-4 SO win against the St Louis Jr Blues. Cole Archambeault, Peter Menzies, and Tyson Gudaitis also scored for the Stars in regulation, while Ryan Edgar (2), Ivan Gulaguzov, and Jack Hatton scored for the Jr Blues.
West Michigan Wolves 4 vs. Rochester Ice Hawks 0-West Michigan Wolves goaltenderBrian Thomas stopped 18 shots for a shutout and a 4-0 win over the Rochester Ice Hawks. Nathan Sudek, Justin Bloomfield (2), and Collin Rewerts scored for the Wolves. Rochester goalie Drew Schenkenberg made 34 saves.
Metro Jets 3 vs. North Iowa Bulls 1-League leaders Metro Jets and North Iowa Bulls faced off in a close call match, but the Jets pulled out the win with two third period goals. Hayden Winch, Louis Boudon, and Jason Newel notched goals for the Jets, and Owen Larson netted one for the Bulls. In net, Jake Gwillim made 28 saves for Metro, and Brady Meyers stopped 22 shots for North Iowa.
Bozeman Icedogs 5 vs. Roc City Royals 4-A busy second period for the Bozeman Icedogs resulted in a 5-4 victory over the Roc City Royals. Kyle Amundson, Liam Millar (2), Casey Gobel, and Carmon Teel scored for the Icedogs, and Zach Buchholz, Aidan Conolly, Henrik Toiviainen, and Brandon Corey notched one goal each for the Royals. Defensively, Benjamin Sakaria and Drew Pehrson made 13 and 14 saves a piece for Bozeman, and Ian Stahl stopped 20 shots for Roc City.
Wooster Oilers 6 vs. Helena Bighorns 3-The Wooster Oilers scored five goals in the second on their way to a 6-3 victory over the Helena Bighorns. Trenton Mulnix, Evan Tasker, Noah Oblak, Michael Zenone, Anders Staky, and Nicholas Mooney scored for the Oilers, and Ben Kottmeier, Bradley Estrada and Adam Apangalook notched goals for Helena. In net, Lucas Soyka made 20 saves for Wooster, and Nicholas Battaglia stopped 21 shots for the Bighorns.
Long Beach Sharks 7 vs. Peoria Mustangs 3-The Long Beach Sharks established an early lead to secure a 7-3 win over the Peoria Mustangs. Carmine Taffo (2), Martins Vitolins (2), Keegan Brick, Trace Pederson, and Alex Cerda netted goals for the Sharks, and Jordan Hillman, Anthony Iacullo and Thomas Kolaz got on the scoreboard for the Mustangs. Kyle Van Wagner made 20 saves for Long Beach, and Peoria's JT Kossakowski made 11 saves.
Maine Wild 3 vs. Glacier Nationals 1-Two goals in the third secured the 3-1 win for the Maine Wild over the Glacier Nationals. Lema Muradov, Daniel Erbe and Cameron Campbell scored for the Wild, and Gavin Cline notched one for the Nationals.
Atlanta Capitals 4 vs. Alexandria Blizzard 1-The Alexandria Blizzard scored first, but 4 unanswered goals helped the Atlanta Capitals to the 4-1 victory. Luke Olivo, Sascha Figi, and Jesse Brown (2) notched goals for the Capitals, and Caleb Anderson netted one for Alexandria. Wyatt Monear made 36 saves for Atlanta, and Brey Effertz stopped 17 shots for the Blizzard.
Wisconsin Whalers 3 vs. Toledo Cherokee 2-The Wisconsin Whalers established an early lead to propel them to a 3-2 win over the Toledo Cherokee. Bryce Fisk, Anthony Fortin and Austin Lewis scored for the Whalers, and Giovanni Taormina and Ben Hamilton notched goals for the Cherokee. Max McConnell made 32 saves for Wisconsin, and Adrian Morales stopped 27 shots for Toledo.
Granite City Lumberjacks 6 vs. Euless Jr Stars 0-Chase Di Bari scored twice to set the pace for a 6-0 win for the Granite City Lumberjacks over the Euless Jr Stars. Andrej Jamnicky, Will Mix, Brady Dahl, and Owen Sikich also scored for the Lumberjacks. Granite City goalie David Mulligan made 14 saves for a shutout, and Maxwell Kerner stopped 34 shots for Euless.
Breezy Point North Stars 4 vs. Texas Jr Brahmas 3-The Texas Jr Brahmas scored three in a row, but then the Breezy Point North Stars scored four to give them the 4-3 win. Andrew Heckaman, Austin Langworthy, Alex Flick, and Nicholas Reed scored for the North Stars, and Dakota Davis, Hunter Bersani, and Kyle Torgerson netted goals for the Jr Brahmas. In net, Magnus Lindhe made 19 saves for Breezy Point, and Texas' Tyler Myers made 33 stops.
Willmar WarHawks 7 vs. Louisiana Drillers 1-The Willmar WarHawks scored six unanswered goals on their way to a 7-1 victory over the Louisiana Drillers. Alec Skar, Kyle Wendorf, Kane Toriumi (2), Jordan Cooper (2), and Gabe Gauer scored for Willmar, and Connor Taylor netted one for the Drillers. Defensively, Matt McCoy made 14 saves for the WarHawks, and Santeri Seppinen stopped 50 shots for Louisiana.
Evansville Jr Thunderbolts 5 vs. Cape Cod Islanders 2-The Evansville Jr Thunderbolts held onto an early lead to a 5-2 victory over the Cape Cod Islanders. Oliver Johnson, Mathieu Laforest, Kody Kifer, John Ames, and Brandon Rozema scored for Evansville, and Kevin Connors and Jake Davis notched goals for Cape Cod. Bryson Linenburg made 28 saves for Evansville, while Cape Cod's Justin Servidori stopped 28 shots.