NA3HL Showcase comes to a close on Sunday
December 19, 2016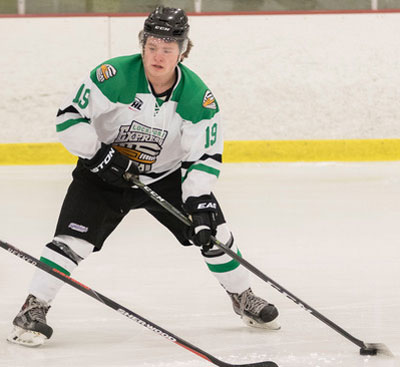 The 2016 NA3HL Showcase came to a close on Sunday with all 48 teams in action for the third straight day.
A variety of NAHL and college scouts were on hand over the weekend to see some great action that featured a display of offense and competitive games.
"All indications are is that everyone involved was very pleased with the event," said NA3HL Commissioner Denny Scanlon. "There was a very good scout turnout and I heard several comments that they were impressed with the competition. We have some very high level players in the league and I would look for even more advancement announcements in the near future."
Congratulations are due to 11 of the 48 teams at the event who posted a perfect 3-0 record and included (alphabetical): Binghamton Junior Senators, Cincinnati Thunder, East Coast Minutemen, Gillette Wild, Granite City Lumberjacks, Lockport Express, Maine Wild, Metro Jets, New Ulm Steel, Willmar WarHawks and Wooster Oilers.
Sunday recaps
Lockport Express 7 vs. Helena Bighorns 1-A hat trick from Blake Bennett helped the Lockport Express to a 7-1 win over the Helena Bighorns. Pavel Kovtunov, Frankie Bodami, Luca Mazzo, and Andrew Logar also scored for the Express, and Adam Apangalook netted one for the Bighorns. In net, Adam Partridge stopped 24 shots for Lockport, while Alex Kruger and Angus Campbell made 15 and 8 saves for Helena.
La Crosse Freeze 7 vs. Long Beach Sharks 6 (OT)-JP Eykyn scored late in OT to give the La Crosse Freeze a 7-6 OT win over the Long Beach Sharks. Dylan Goggin, Danny Toycen, Lukas Motloch, Micah Anderson, Hunter Dolan, and Sam Dabrowski scored for the Freeze, while Martin Grinberg, Carmine Taffo (2), Phil Garcia, and Oskar Lindberg netted goals for the Sharks. La Crosse goaltender Jacob Silverstein made 27 saves, while Richard Ledek stopped 29 shots for Long Beach.
West Michigan Wolves 4 vs. Point Mallard Ducks 1-A pair from Blake Siewertsen helped the West Michigan Wolves to a 4-0 victory over the Point Mallard Ducks. Dakota Ulmer and Bear Ross also netted two, while goaltender Sam Woznicki made 27 stops. Estevan Cortes scored one for the Ducks, while goalies Gary Glassman and Joey Bernardini 33 and 3 saves each.
North Iowa Bulls 8 vs. New England Stars 1-The North Iowa Bulls scored four goals in the first on their way to an 8-1 victory against the New England Stars. Brendan Studios, Jason Miner (2), Mitch Dolter, Lucas McKinnon, Owen Larson, Marshall Barnes, and Connor Clemons scored for the Bulls, while Brendan Miller notched the lone New England goal. RJ Pluhar made 19 saves for North Iowa, and Greg Moon stopped 24 shots for the Stars.
Rochester Ice Hawks 7 vs. Cape Cod Islanders 4-The Rochester Ice Hawks held a strong offensive presence on their way to a 7-4 win over the Cape Cod Islanders. Joe Puglise, Spencer Hadacek (2), Michael Smits, Colby Decarlo (2) and Ethan Sievek scored for the Ice Hawks and Chuck Costello, Niko Roy, Dan Moore and Thomas Tobey notched goals for the Islanders. In net, Drew Schenkenberg made 24 saves for Rochester, while Cape Cod goaltender Ryan Clifford stopped 36 shots.
Northeast Generals 12 vs. Chicago Bulldogs 1-A hat trick from Zach Needham helped the Northeast Generals to a 12-1 win over the Chicago Bulldogs. Cam Piorkowski (2), Stephen Toal, Conor Harrington (2), Austin Braley (2), Dylan Figueroa, and Guido also earned points for the Generals, while Sean Sullivan notched one for Chicago. For Northeast, both Peter Ciccarelli and Leo Lake made 7 saves, while Jacob Dittmer and Josh Cannon had 17 and 19 stops for the Bulldogs.
Bozeman Icedogs 6 vs. Evansville Jr Thunderbolts 3-The Bozeman Icedogs commanded an early lead on their way to a 6-3 win over the Evansville Jr Thunderbolts. Daniel Liberko, Casey Gobel (2), Kadin Ferguson, Nick Pizzey, and Carmon Teel scored for the Icedogs, and Mathieu Laforest, Brandon Rozema and Rory Scott notched goals for the Jr Thunderbolts.
Maine Wild 4 vs. Billings Bulls 0-Brandon Daigle stopped 25 shots on the way to a 4-0 win over the Billings Bulls. Connor Busch (2), Cameron Campbell and Lema Muradov scored for the Wild. Simo Huhtanen stopped 40 shots for the Bulls.
Peoria Mustangs 3 vs. Great Falls Americans 2 (SO)-Anthony Iacullo and Jack Healy scored in a shootout for the Peoria Mustangs to give them the 3-2 SO victory over the Great Falls Americans. Iacullo and Braden Stewart also scored in regulation, while Brendan Jester, Danny O'Donnell, and Tegan Harrington (SO) notched goals for the Americans. In net, JT Kossakowski made 17 saves for Peoria, and Nick Nast stopped 22 shots for Great Falls.
Cincinnati Thunder 3 vs. Missoula Junior Bruins 1-The Cincinnati Thunder grabbed an early lead on their way to a 3-1 win against the Missoula Junior Bruins. Jake Ustorf, Bradley Begeman, and Tyler Simon scored for the Thunder, and Misha Akatnov notched one for Missoula. Ryan Kostelnik and Tyler Geloneck made 8 and 18 saves for Cincinnati, and Joe Chekan stopped 19 stops for the Junior Bruins.
Gillette Wild 3 vs. Nashville Jr Predators 2-Cade Boreing scored with less than two minutes to grab the 3-2 win for the Gillette Wild against the Nashville Jr Predators. Derek Scoggins and Dallas Paxton also scored for the Wild, and Weiland Parrish and Logan Orem netted goals for the Jr Predators. In net, Landon Anderson made 33 saves for Gillette, and Jonathan Chin stopped 19 shots for Nashville.
Yellowstone Quake 7 vs. St Louis Jr Blues 2-The St Louis Jr Blues may have scored first, but 6 unanswered goals for the Yellowstone Quake carried them to the 7-2 win. Jesse Lawman (2), Pablo Pantoka, Reed Kelly (2), Tony Dahlberg, and Curt Greenbush scored for the Quake, and Trevor Wilhelm and Ivan Galaguzov notched one goal each for the Jr Blues. In net, Brady Anderson made 16 saves for Yellowstone, and Hunter Smith and Sawyer Schmidt made 11 and 5 stops each for St Louis.
Granite City Lumberjacks 12 vs. Jersey Shore Wildcats 1-The Granite City Lumberjacks scored early in the game to set the pace for a 12-1 win over the Jersey Shore Wildcats. Owen Sikich (2), Keenan Lund (2), Andrej Jamnicky (2), Matthew Sprink, Eric Moser, Jordan Olson (2), Ryan Smith, and Tucker Bjorlin each scored for the Lumberjacks, and Travis Nemeth notched one for the Wildcats. Mac Berglove made 18 saves for Granite City, and Matt Kastein and Zach Robbins stopped 4 and 35 shots for Jersey Shore.
Binghamton Junior Senators 6 vs. Breezy Point North Stars 1-Ryan Flanagan and Conor Landrigan each scored twice on the way to a 6-1 win for the Binghamton Junior Senators over the Breezy Point North Stars. Jeremy Wilber and Tyler Uravage also scored for the Junior Senators, and AJ Hoyt netted one for Breezy Point. In net, Salvatore Lauretta made 34 stops for Binghamton, and Magnus Lindhe and Bronson Moore made 14 and 2 saves for the North Stars.
East Coast Minutemen 9 vs. Glacier Nationals 1-Kami Kortelainen scored four times to propel the East Coast Minutemen to a 9-1 victory over the Glacier Nationals. Leevi Kervinen, Jon Mathieu, Kyler Harding, Mike Lavoie, and Jonathan Macdonald also scored for the Minutemen, and Matt Baerg netted one for the Nationals.
Alexandria Blizzard 4 vs. Syracuse Stampede 1-The Syracuse Stampede opened fire early in the game, but 4 subsequent goals carried the Alexandria Blizzard to a 4-1 victory. Riley Scanlon, Brenden Payne, Josiah Roen, and Logan Nelson scored for the Blizzard, and Nate Walker notched one for Syracuse. Brey Effertz stopped 14 shots for Alexandria, and Ryan Scheide made 49 saves for Syracuse.
New Ulm Steel 8 vs. Roc City Royals 1-The New Ulm Steel had a quick start on the way to an 8-1 win over the Roc City Royals. Jared Erickson, Luc Kreuser (3), Cory Martinez (2), Dylan Leivermann and Jacob Padley scored for New Ulm, and Brandon Corey notched one for Roc City. In net, Brady Boudreau stopped 11 shots for New Ulm, and Nicholas Sesock made 37 saves for Roc City.
Willmar WarHawks 4 vs. Skylands Kings 0-Alex Weissenborn made 32 saves for the Willmar Warhawks for a shutout on their way to a 4-0 win over the Skylands Kings. Kyle Wendorf, Dylan Gast (2) and Max Oelkers scored for the WarHawks. Skylands net minder Evan Barghout made 45 saves on the night.
Metro Jets 3 vs. Texas Jr Brahmas 0-Metro Jets goaltender Andrew Kormos made 24 saves for a 3-0 shutout win over the Texas Jr Brahmas. Collin Gamrat, Stefan Boskovic and Robby Flannery scored for Metro, and goaltender Tyler Myers made 38 saves for Texas.
Pittsburgh Vengeance 8 vs. Euless Jr Stars 1-The Pittsburgh Vengeance established an early lead to finish with an 8-1 win over the Euless Jr Stars. Austin Martz, Dominick Glavach, Vincent Casale, Gavin Cummings, Cam Williams (2), Brian Dee, and Thomas Polster scored for the Vengeance, and Tristan Wilson netted one for the Jr Stars. Pittsburgh net minder Joel De Simone made 9 saves on the night, while Thomas Bailey stopped 16 shots for Euless.
Toledo Cherokee 4 vs. Atlanta Capitals 2-Ben Hamilton scored twice to help the Toledo Cherokee to a 4-2 win over the Atlanta Capitals. EJ Gilbert and Nolan Stanley also scored for the Cherokee, and Anton Minaev an Jesse Brown scored for the Capitals. In net, Roman Malkov made 14 saves for Toledo, and Nolan Bivolcic and Connor Fewster stopped 13 and 11 shots for Atlanta.
Wisconsin Whalers 6 vs. L/A Fighting Spirit 4-The Wisconsin Whalers took an early 3 goal lead to propel them to a 6-3 win over the L/A Fighting Spirit. Carter Grobstick, Ben Ratner, Jimmy McDermott, Anthony Fortin (2) and Bryce Fisk scored for the Whalers, while Walker Hamilton (2), Clifford Ogle, and Thomas Kuntz notched goals for the Fighting Spirit. Wisconsin net minder Alex Hufford stopped 42 shots, and Chris Schmitt made 25 saves for Lewiston/Auburn.
Southern Tier Express 5 vs. Louisiana Drillers 4-After a slow start, the Southern Tier Express gained the necessary momentum to earn the 5-4 victory over the Louisiana Drillers. Cameron Trejchel, Joshua Bostic, Tristan Mock, Matthew Crosby and Santeri Rajakallio notched goals for the Express, and Niki Raiskio (2), Brandon Prewett, and Davis Van Gemerden got on the scoreboard for the Drillers.In net, Harrison Vangellow and Ryan Pascarella made 16 and 5 saves for Southern Tier, and Kevin Lake stopped 58 shots for Louisiana.
Wooster Oilers 3 vs. College Station Spirit 2-The Wooster Oilers scored twice in the third to secure a 3-2 win over the College Station Spirit. Noah Oblak, Anders Staky, and Cole Barney notched goals for the Oilers, and Matt Her and Nate Nelson earned points for the Spirit. Defensively, Creighton Furber made 7 stops for Wooster, and Ryan O'Toole stopped 38 shots for College Station.