Two more Metro players off to play in the NAHL
January 3, 2017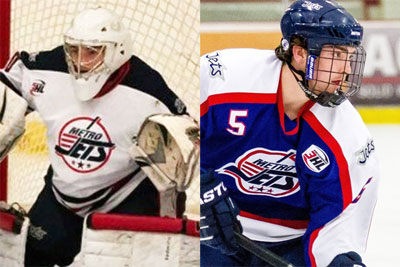 By Matt Mackinder, Metro Jets
Even over the holiday break, the work doesn't stop for the Metro Jets.
The Jets have advanced two more players from their North American 3 Hockey League team to North American Hockey League clubs.
Goaltender Andrew Kormos and defenseman Marc Schwartz will join the Kenai River Brown Bears this coming weekend, giving the Jets seven NAHL call-ups this season, joining defensemen Robby Flannery (Springfield Jr. Blues), Nick Foran (Kenai River, Northeast Generals) and George Hansen (Wilkes-Barre/Scranton Knights) and goaltender Jake Gwillim (New Jersey Titans), who also committed to NCAA Division III Aurora University two weeks ago.
Foran also signed an affiliate agreement with Northeast for the rest of the 2016-17 season and forward Louis Boudon also inked an NAHL tender agreement with the Generals last month.
"I am happy for our guys and the opportunities that continue to come their way, but we are especially excited for Andrew and his call-up," Jets coach-GM Justin Quenneville said. "He has been putting up video game-like numbers and is deserving of this chance. We want to continue to provide the best avenue for players to develop and advance, and it looks like things will continue that way as long as we continue to find guys that buy into the process."
Kormos, a 19-year-old out of Milford, Mich., leads the NA3HL with a 0.87 goals-against average (and has allowed just 13 goals so far), a .962 save percentage and six shutouts this season. He is also 15-0-0 with his 15 wins third in the league.
For the 19-year-old Schwartz, a second-year Jets player out of Macomb, Mich., the alternate captain has posted one goal and 10 assists for 11 points through 22 games. He began the year with the NAHL's Wichita Falls Wildcats and spent a stint last year with the NAHL's Aston Rebels.
In a separate transaction, the Jets have acquired forward Connor Inger from the NAHL's Amarillo Bulls. In 17 games this season with the Bulls and Kenai River, the 19-year-old Macomb native compiled three goals and two assists for five points.