Gongshow Flow of the Month winner for December announced
January 3, 2017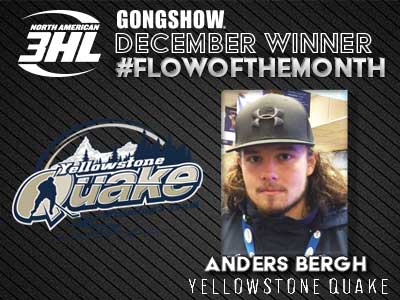 The calendar turns to 2017 with a whole new collection of beauty flows in the NA3HL. December saw its share of good ones. With all of the games, including those at the successful NA3HL Showcase, there was a lot to choose from.
With that said, the North American 3 Hockey League (NA3HL) announced its GONGSHOW Flow of the Month winner for December 2016.
The winner this month is defenseman Anders Bergh of the Yellowstone Quake.
Bergh, 20, is in his final season of playing junior hockey and his first in the NA3HL with the division-leading Yellowstone Quake. The native of Mora, Sweden, has nine points in 21 games played for the Quake this season.
Prior to playing for the Quake, Bergh (6'1/195) spent the previous seasons playing and developing in Sweden.
Now let's discuss Bergh's flow… during the recent NA3HL Showcase in Blaine, we were wandering the lobby one day and saw a variety of great flows. However, Bergh's just stood out and we had to snap a picture.
First, just a great nest of hair! Bergh came to the good 'old US of A with a nice head of hair, but nothing like what we see here. This has undergone months of junior hockey sweat and maintenance and the Under Armor hat doesn't stand a chance of containment. In fact, it accentuates the whole hair experiment. On top of that, he is rocking a solid beard complete with a hint of a wispy mustache. Great facial fuzz! Just a great look for a hockey player and Bergh pulls it off flawlessly.
Congrats Anders… and for his effort, he will be receiving a GONGSHOW Gear hat.
GONGSHOW is the exclusive sponsor of the Flow of the Month promotion exclusively on the NA3HL and GONGSHOW Twitter sites @NA3HL and @GONGSHOWGEAR. Fans and players alike are encouraged to submit photos of their best 'hockey hair' or 'flow' via Twitter by the end of every month during the regular season.
To enter the contest for the month of January, submit your best #FlowoftheMonth pictures by January 31st to @NA3HL and @GONGSHOWGEAR. Winners will be selected in the beginning of February and will receive a GONGSHOW Gear hat.
GONGSHOW Gear Inc. (Gongshow) is the Official Lifestyle Hockey Apparel of the NAHL and NA3HL. GONGSHOW is recognized as the hockey good industry's premier manufacturer of innovative, high quality, fashionable and trend setting clothing apparel for hockey athletes of all ages and abilities.