Point Mallard duo to represent countries in junior competition
January 6, 2017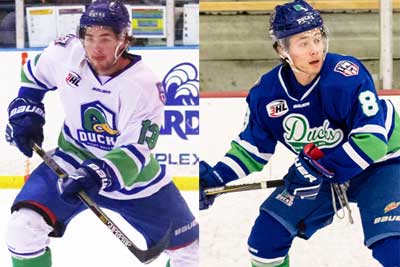 The Point Mallard Ducks of the NA3HL are happy to announce that Joaquin Cosio Jr. (Mexico) and Mark Revniaga (Israel), have been selected to their respective country's National Team and will compete in the upcoming IIHF U20 World Championships.
Cosio Jr. has appeared in 16 games in his rookie year in Point Mallard and head coach Tom Winkler is impressed with his progress. "Joaquin has worked incredibly hard since he arrived in Decatur, and he's starting to see some results from his efforts. The game is slowing down for him and his reads with and without the puck improve every day. We're excited he has this opportunity with the Mexican National Team, and wish him the best of luck." The IIHF U20 Div. IIB tournament takes place in Spain and begins runs from January 7-13.
Revniaga comes to Point Mallard by way of Israel. Mark has tallied 6 goals in 27 games as a rookie. "Mark has been another player who had to adjust to a new level, now that he is used to the pace and style of play his game has improved remarkably since day 1. His offensive instincts allow him to make plays and create offense for our team, we are looking a big second half from Mark once he returns." Israel will compete in the IIHF U20 Div. III tournament, held in New Zealand from January 16-22.
The Point Mallard Ducks would like to wish both players luck in their respective tournaments.