Friday Finals: Xpress win OT thriller
January 7, 2017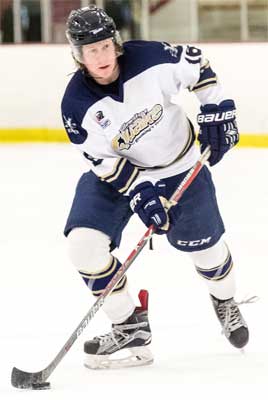 Southern Tier Express 4 vs. Toledo Cherokee 3 (OT)
-
Jacob St Andre scored early in OT to give the 4-3 win to the Southern Tier Express over the Toledo Cherokee. Other scorers for Southern Tier include Jacob Zweig, Grant Scharmer, and Cameron Trejchel. For the Cherokee, Ricky Kwapich (2) and Adam Felser notched goals. Express goalie Ryan Pascarella made 19 stops on the night, while Adrian Morales made 31 saves for Toledo.
Cape Cod Islanders 7 vs. Maine Wild 2 - A hat trick from Cape Cod Islander Aaron Deady helped propel them to a 7-2 victory over the Maine Wild. Dan Moore, Tyler Glennon, Chuck Costello, and James Pollock also scored for the Islanders, while Drew Lambert and Dylan Demers netted one each for the Wild. In net, Anton Zemba made 32 saves on 34 shots for Cape Cod, while Maine net minders Brandon Daigle and Brayden McGary each stopped 12 shots on the night.
Northeast Generals 3 vs. L/A Fighting Spirit 1 - The Northeast Generals held onto an early lead on their way to a 3-1 victory over the L/A Fighting Spirit. Derric Trudeau, Shawn Peckman, and Tommy Bellew each notched one for the Generals, while Denver Lundstrom scored the lone Fighting Spirit goal. Northeast net minder Leo Lake made 36 saves, while Tyler Friel had 11 and Aaron Callan had 12 stops for Lewiston/Auburn.
Pittsburgh Vengeance 3 vs. Wooster Oilers 1 - The Wooster Oilers may have scored first, but three unanswered goals carried the the Pittsburgh Vengeance to a 3-1 win. Vincent Casale, Cam Williams, and Dominick Glavach scored for Pittsburgh, and Noal Oblak earned one for the Oilers. In net, Pittsburgh's Nikoloas Manousos made 15 saves, while Michael Hubbard stopped 27 shots for Wooster.
St Louis Jr Blues 7 vs. Evansville Jr Thunderbolts 4 - The St Louis Jr Blues scored 3 goals in 3 minutes to secure the 7-4 win over the Evansville Jr Thunderbolts. Daniel Dunaway, Ryan Edgar (2), Ivan Galaguzov, Samuel Maddox, Nick Balestra, and Cory Robinson all scored for the Jr Blues, and Rory Scott and John Ames each scored twice for the Thunderbolts. Defensively, Hunter Smith made 25 saves for St Louis, while Evansville's James Fry stopped 41 shots.
New Ulm Steel 3 vs. Granite City Lumberjacks 2 - Jacob Padley scored in the third to give the New Ulm Steel the lead, eventually resulting in a 3-2 victory over the Granite City Lumberjacks. Luc Kreuser and Alex Egle also scored for the Steel, and Andrej Jamnicky and Jack Petroske notched one each for Granite City. Between the pipes, Nathan Siclovan made 23 saves for New Ulm, while Lumberjack net minder Mac Berglove stopped 28 shots.
Alexandria Blizzard 3 vs. Willmar WarHawks 2 - The Alexandria Blizzard scored three in a row on their way to a 3-2 win over the Willmar WarHawks. Riley Scanlon, Josiah Roen, and Logan Norman scored for the Blizzard, and Jacob Dobberstein and Kyle Wendorf netted goals for the WarHawks. Alexandria net minder Brey Effertz made 28 saves on the night, while Alex Weissenborn stopped 62 shots for Willmar.
Atlanta Capitals 5 vs. Texas Jr Brahmas 2 - Five different skaters scored for the Atlanta Capitals on their way to a 5-2 victory over the Texas Jr Brahmas. Talon Medure, Anton Minaev, Sascha Figi, Joseph Lajcaj, and Boomer Miller scored for the Capitals, and Vincent Dekumbis notched both goals for the Jr Brahmas. In net, Wyatt Monear made 17 saves for Atlanta, and Anthony D'Aloisio and Tyler Myers made 10 and 9 saves, respectively, for Texas.
Louisiana Drillers 5 vs. Euless Jr Stars 4 - Niki Raiskio scored twice to help the Louisiana Drillers to a 5-4 win against the Euless Jr Stars. Mitch Dolese, Brayden Hutchinson, and Brandon Vukasin also scored for the Drillers, and Nick Sheridan, Thomas Delaney (2), and Dalton Caesar netted goals for the Jr Stars. Drillers goalie Kevin Lake made 25 saves, while Maxwell Kerner stopped 21 shots for Euless.
Peoria Mustangs 10 vs. Chicago Bulldogs 1 - The Peoria mustangs scored 4 times in the first to set the pace for a 10-1 win against the Chicago Bulldogs. Jack Power Wayvon, Anthony Iacullo (2), Maxx Olson, Thomas Kolaz, Andrej Buchko (2), Lorenzo Santiago - Vasquez, Dane Federighi, and Jack Healy all earned points for the Mustangs, while Cody Gottfried notched the lone Bulldogs goal. In net, Corbin Moore made 11 stops for Peoria, while Chicago goalie Brendan Barada made 41 stops.
Bozeman Icedogs 2 vs. Gillette Wild 1 - Gabe Rankin opened scoring early for the Bozeman Icedogs, setting the pace for a 2-1 win over the Gillette Wild. John Dixon also scored for Bozeman, and Nick Stockert netted one for Gillette. Defensively, Luke Olson made 32 saves for Bozeman, and Lincon Riley stopped 31 shots for the Wild.
Great Falls Americans 6 vs. Missoula Junior Bruins 3 - The Great Falls Americans scored four unanswered goals on their way to a 6-3 victory over the Missoula Junior Bruins. Payton McSharry (2), Matt Janke, Jesse Johnson, Tanner Congdon, and Michael Gary scored for the Americans, and Misha Akatnov, Justin Barnes and Zachary Colgrove earned points for the Junior Bruins. In net, Nick Nast made 27 stops for Great Falls, and Tanner Loucks stopped 12 shots for Missoula.
Yellowstone Quake 13 vs. Billings Bulls 0 - The Yellowstone Quake stacked up an early lead on their way to a 13-0 victory over the Billings Bulls. Carter Johnson, Jesse Lawman (3), Pablo Pantoja (2), Justin Berezinski, Mason Stewart (2), Reed Kelly (2), Ian Doner, and Max Doner scored for the Quake. Yellowstone goaltender Nick Ottenbacher made 15 saves for the shutout, and Chayo Goodwin and Ethan Wiese made 46 and 25 saves each for the Bulls.
Helena Bighorns 3 vs. Glacier Nationals 0 - A hat trick from Bradley Estrada carried the Helena Bighorns to a 3-0 win over the Glacier Nationals. Bighorn goalie Alex Kruger made 42 saves for a shutout, and Will Langstaff stopped 51 shots for the Nationals.