Sunday Wrap-Up: Jets move to 30-0 with sweep
January 9, 2017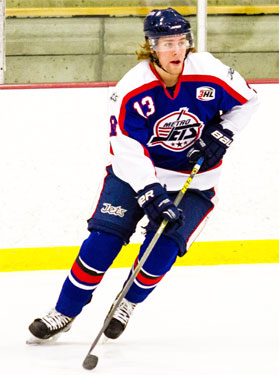 Metro Jets 7 vs. Cincinnati Thunder 3
-
The Metro Jets scored 5 unanswered goals on their way to a 7-3 win over the Cincinnati Thunder. Connor Inger, Griffin Sawyer, Robby Flannery, Mathias Tellstrom (2), Graham Day, and Chas Distelrath earned points for the Jets, and James Frantz, Jacob Friedman, and Cameron Sangster scored for the Thunder. Between the pipes, Brian Tallieu made 23 stops for Metro, while Cincinnati's Tyler Geloneck stopped 35 shots on the night.
Point Mallard Ducks 5 vs. Nashville Jr Predators 4 (SO) - Jake Cox scored three times - twice in regulation and once in a shootout - to push the Point Mallard Ducks to a 5-4 SO victory over the Nashville Jr Predators. Ian Precht and Brandon Knopf scored for the Ducks in regulation, and Matt Goodman notched one in the shootout. For the Jr Predators, Robert Cowan, Jacob Kovick (2), and Weiland Parrish scored in regulation, and Dylan Schmidt netted one in the shootout. In net, Kevin Mackey made 35 stops for Point Mallard, and Mason Koster stopped 28 shots for Nashville.
Jersey Shore Wildcats 3 vs. Lockport Express 2 - A late third period goal from Tyler Allen helped the Jersey Shore Wildcats lock in a 3-2 win over the Lockport Express. Michael Gulawsky and Frederick Schaljo also scored for the Wildcats, and Blake Bennett and Brandon Schweickert earned points for the Express. Defensively, Zach Skop made 52 saves for Jersey Shore, and Sam Fitzpatrick stopped 51 shots for Lockport.
Euless Jr Stars 7 vs. Louisiana Drillers 4 - The Euless Jr Stars had a dominant third period on their way to a 7-4 victory over the Louisiana Drillers. Thomas Delaney, Tristan Wilson, Bryce Harrison, William Rooney (2), Dalton Caesar, and Remy Kesling scored for the Jr Stars, and Davis Van Gemerden, Brandon Vukasin, Kristian Kause, and Brayden Hutchinson earned points for Louisiana. Euless net minder Maxwell Kerner made 33 stops, while kevin Lake stopped 27 shots for the Drillers.
Binghamton Junior Senators 6 vs. Pittsburgh Vengeance 1 - A hat trick from Ryan Flanagan helped the Binghamton Junior Senators cruise to a 6-1 win over the Pittsburgh Vengeance. Jeremy Silver, Conor Landrigan, and Dominik Bogdziul also scored for the Junior Senators, and Vincent Casale notched one for the Vengeance. In net, Steven Schmitt made 38 saves for Binghamton, while Jacob Hough and Jacob Zab stopped 17 and 4 shots, respectively, for Pittsburgh.
Long Beach Sharks 4 vs. Cape Cod Islanders 2 - A pair of goals from Long Beach Shark Oskar Lindberg helped them edge out the Cape Cod Islanders, 4-2. Phil Garcia and Trace Pederson also scored for the Sharks, and Chris O'Donnell and Dan Moore earned points for the Islanders. In net, Kyle Van Wagner made 23 saves for Long Beach, while Cape Cod goalie Anton Zemba made 25 stops on the night.
Wisconsin Whalers 4 vs. Chicago Bulldogs 0 - Alex Hufford made 20 saves to propel the Wisconsin Whalers to a 4-0 shutout victory over the Chicago Bulldogs. Connor Boscaccy, Austin Lewis (2) and Ben Ratner scored for the Whalers. Chicago goaltender Brendan Barada made 54 saves on the night.
Maine Wild 2 vs. New England Stars 1 (OT) - Maine Wild forward Drew Lambert scored early in OT to give them a 2-1 victory over the New England Stars. Dean Pratt also scored for Maine, and Brandon Hammner notched one for the Stars. In net, Chris Oshaughnessy made 29 stops for the Wild, and Dom Lamanno stopped 28 shots for New England.
Atlanta Capitals 3 vs. Texas Jr Brahmas 2 - Talon Medure scored with less than a minute remaining to secure a 3-2 victory for the Atlanta Capitals over the Texas Jr Brahmas. Sascha Figi also notched two for the Capitals, and James Boisvert and Hunter Bersani earned points for the Jr Brahmas. In net, Wyatt Monear and Nolan Bivolcic made 2 and 16 saves for Atlanta, and Texas' Samuel Solomon stopped 22 shots.