January 13, 2017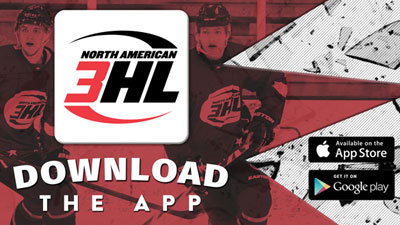 It is a busy weekend in the NA3HL with 43 games on the schedule from Friday through Sunday.
Teams have already started to clinch spots in the NA3HL Silver Cup Playoffs and the regular season has less than two months to go.
Teams and players are also less than a month away from the USA Hockey trade deadline and the selection of players to the 2017 NA3HL Top Prospects Tournament, which will take place on February 27-28, 2017, at USA Hockey Arena in Plymouth, Michigan.
Follow the games on the NA3HL App:
All the games at the NA3HL Showcase will be broadcast live on
HockeyTV
.
Friday, January 13th
Cape Cod at L/A - 7:00 PM EST
Metro at Toledo - 7:00 PM EST
Pittsburgh at West Michigan - 7:00 PM EST
Southern Tier at Wooster - 7:45 PM EST
Syracuse at Binghamton - 8:00 PM EST
Lockport at Skylands - 8:00 PM EST
Wisconsin at Rochester - 7:05 PM CST
New Ulm at Breezy Point - 7:30 PM CST
New England at Northeast - 8:30 PM EST
Evansville at Chicago - 8:00 PM CST
Helena at Gillette - 7:05 PM MST
Bozeman at Billings - 7:30 PM MST
Great Falls at Yellowstone - 7:30 PM MST
Missoula at Glacier - 8:00 PM MST
Saturday, January 14th
Pittsburgh at West Michigan - 1:00 PM EST
Roc City at Northeast - 2:00 PM EST
Nashville at St. Louis - 2:00 PM CST
Texas at Louisiana - 4:00 PM CST
Point Mallard at Atlanta - 7:00 PM EST
Syracuse at Binghamton - 7:30 PM EST
New England at Maine - 7:30 PM EST
Lockport at Skylands - 7:30 PM EST
Toledo at Wooster - 7:45 PM EST
Chicago at Evansville - 7:00 PM CST
Jersey Shore at Long Beach - 8:00 PM EST
La Crosse at Rochester - 7:05 PM CST
Granite City at Alexandria - 7:10 PM CST
Willmar at New Ulm - 7:10 PM CST
Wisconsin at North Iowa - 7:30 PM CST
Peoria at Cincinnati - 9:00 PM EST
Helena at Gillette - 7:05 PM MST
Billings at Bozeman - 7:30 PM MST
Missoula at Glacier - 7:30 PM MST
Great Falls at Yellowstone - 7:30 PM MST
Sunday, January 15th
Lockport at Skylands - 12:00 PM EST
Roc City at Northeast - 1:10 PM EST
L/A at New England - 1:20 PM EST
Nashville at St. Louis - 1:00 PM CST
Peoria at Cincinnati - 2:30 PM EST
Rochester at La Crosse - 2:00 PM CST
Cape Cod at East Coast - 3:30 PM EST
Texas at Louisiana - 4:00 PM CST
Point Mallard at Atlanta - 7:00 PM EST