Friday Finals: Surging Americans win Frontier battle
January 14, 2017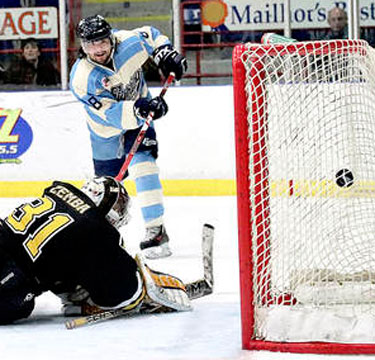 Great Falls Americans 3 vs. Yellowstone Quake 2 (SO)
-
Tegan Harrington and Payton McSharry scored in a shootout to finalize the game with a 3-2 SO win over the Yellowstone Quake. Brendan Jester and Harrington also scored in regulation for the Americans, and Tony Dahlberg and Reed Kelly earned regulation goals for the Quake, while Max Doner notched one in the shootout. Great Falls goaltender Nick Nast made 33 saves on the night, and Nick Ottnbacher made 33 stops as well for Yellowstone.
Rochester Ice Hawks 4 vs. Wisconsin Whalers 2 - The Rochester Ice Hawks scored early in the game to set the pace for a 4-2 win over the Wisconsin Whalers. Ethan Sievek, Andrew Gates, Alex Tarr and Skylar Watt scored for Rochester, and Drew Steines and Jake Faulkner netted goals for the Whalers. In net, Bailey Schmitz made 24 saves for the Ice Hawks, and Alex Hufford stopped 32 shots for Wisconsin.
L/A Fighting Spirit 5 vs. Cape Cod Islanders 4
-
Dylan Vrees notched a hat trick, including one at 18:23 of the third to carry the L/A Fighting Spirit to a 5-4 win over the Cape Cod Islanders. Matt Siegel and Caleb Labrie also scored for the Fighting Spirit, and Nick Marston, Chris O'Donnell, James Pollock, and Dan Moore netted goals for the Islanders. In net, Aaron Callan stopped 22 shots for Lewiston/Auburn, and Anton Zemba made 32 saves for Cape Cod.
Breezy Point North Stars 5 vs. New Ulm Steel 4 (SO) - Ryan Higgins scored in a shootout to give the Breezy Point North Stars a 5-4 victory over the New Ulm Steel. Steven Kukla, Dan Wieber, Tristyn Sabina, and Higgins scored in regulation for the North Stars, and Dylan Leivermann, Nicholas Campbell, and Luc Kreuser (2) notched goals for the Steel. In net, Breezy Point goalie Bronson Moore made 31 saves, and Nathan Siclovan made 25 stops for New Ulm.
Northeast Generals 4 vs. New England Stars 3 (OT) - Austin Braley scored early in overtime to give the Northeast Generals a 4-3 victory over the New England Stars. Derric Trudeau, Braley, and Kevin Perry scored in regulation for the Generals, and John Krapian, Ian Gately, and Brandon Hammner earned points for the Stars. Defensively, Peter Ciccarelli stopped 53 shots for Northeast, and Gage Moon made 21 stops for New England.
Evansville Thunderbolts 6 vs. Chicago Bulldogs 3 - The Evansville Thunderbolts maintained a consistent offensive presence on their way to a 6-3 win over the Chicago Bulldogs. Oliver Joensson, Kyle Gregory (2), Brandon Rozema, Kody Kifer and Jon Grimm scored for the Thunderbolts, and Cody Gottfreid, and Kyle Kowalski (2) earned points for the Bulldogs. In net, James Fry made 17 stops for Evansville, and Chicago's Brendan Barada made 55 saves.
Gillette Wild 5 vs. Helena Bighorns 2 - The Gillette Wild scored 3 goals in the second to pave the way to a 5-2 win over the Helena Bighorns. Cole Cirks (2), Brooks Mitzel, Dallas Paxton, and Riley Holwegner scored for the Wild, and John Heddle and Ben Kottmeier netted goals for the Bighorns. In net, Robbie Brennan stopped 24 shots for Gillette, and Nicholas Battaglia made 46 saves for Helena.
Bozeman Icedogs 5 vs. Billings Bulls 2 - A consistent offensive presence helped the Bozeman Icedogs climb to a 5-2 win over the Billings Bulls. Carmon Teel (2), Casey Gobel, Liam Millar, and Gabe Rankin netted goals for the Icedogs, and Gage Thompson and Austin Lange earned points for the Bulls. Between the pipes, Luke Olson made 33 saves for Bozeman, and Ethan Wiese stopped 37 shots for Billings.
Missoula Junior Bruins 10 vs. Glacier Nationals 2 - The Missoula Junior Bruins maintained an early lead to help them to a 10-2 victory over the Glacier Nationals. Parker Todd, Colby Birch (2), Christian Ward (2), Isaac Vincent, Justin Barnes, Jeremy Blondin, Joseph Porco, and Misha Akatnov earned points for the Junior Bruins, and Gavin Cline and William Wallace scored for the Nationals. In net, Joe Chekan made 12 saves for Missoula, and Will Langstaff and Brendan Schultz made 31 and 16 saves for Glacier.
Metro Jets 5 vs. Toledo Cherokee 0
-
Jake Gwillim made 20 saves to blank the Toledo Cherokee for a 5-0 win for the Metro Jets. Trevor Momot, Chas Distelrath, Cam Schwartz, and Graham Day (2) scored for the Jets. Toledo's Roman Malkov made 47 saves on the night.
West Michigan Wolves 4 vs. Pittsburgh Vengeance 1
-
The West Michigan Wolves established an early lead to help them to a 4-1 win over the Pittsburgh Vengeance. Bear Ross, Dakota Ulmer, Nathan Sudek, and Ryan Weaver scored for the Wolves, and Austin Martz earned one for the Vengeance. In net, West Michigan's Brian Thomas made 29 stops, and Joel De Simone stopped 28 shots for Pittsburgh.
Wooster Oilers 4 vs. Southern Tier Express 2
-
An early lead for the Wooster Oilers helped them skate to a 4-2 victory over the Southern Tier Express. Nicholas Stanko, Tyler Kallay, Trenton Mulnix, and Evan Tasker scored for the Oilers, and Cameron Trejchel and Bradley Delenko netted goals for Southern Tier. Wooster goaltender Michael Hubbard made 36 stops, and Harrison Vangellow stopped 30 shots for the Express.
Binghamton Junior Senators 7 vs. Syracuse Stampede 4
-
Dominik Bogdzuil and Ryan Reifler scored two goals each to help the Binghamton Junior Senators to a 7-4 victory over the Syracuse Stampede. Austin Bandura, Cameron Landrigan, and Brad Becker also scored for Binghamton, and Dennis Kohjada, Josh Wallace, and Hunter Soden (2) netted goals for Syracuse. Defensively, Steven Schmitt stopped 17 shots for the Junior Senators, and Steven Kozikoski made 48 saves for Syracuse.
Lockport Express 6 vs. Skylands Kings 2
-
The Lockport Express scored four unanswered goals to secure a 6-2 win over the Skylands Kings. Mitchell Thornton, Blake Bennett (3), Michael Sokol, and Pavel Kovtunov scored for the Express, and Steven Ford and Clayton Thomas each earned a point for the Kings. Between the pipes, Sam Fitzpatrick made 41 stops for Lockport, and Skylands' net minder Mathias Ytterng stopped 38 shots.