Saturday Scores: Binghamton wins 10th straight
January 15, 2017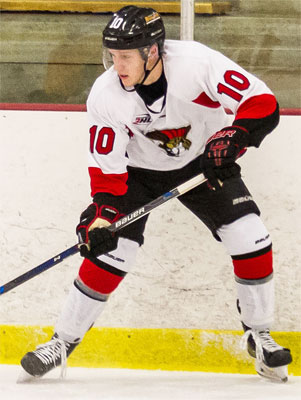 Binghamton Junior Senators 5 vs. Syracuse Stampede 2 - The Binghamton Junior Senators established an early lead to secure a 5-2 victory over the Syracuse Stampede. Jeremy Wilber, Conor Landrigan, Tyler Uravage, Brad Becker and Lucas Ethington each notched one for Binghamton, and Nate Walker and Armaan Thiara scored for the Stampede. In net, Sal Lauretta made 27 stops for the Junior Senators, and Martin Sten and Ryan Scheide had 33 and 28 saves respectively for Syracuse.
Pittsburgh Vengeance 6 vs. West Michigan Wolves 5 - A pair of goals from both Vincent Casale and Cam Williams helped the Pittsburgh Vengeance edge out the West Michigan Wolves, 6-5. Austin Martz and Dominick Glavach also scored for Pittsburgh, and Bear Ross, Brett Siewertsen, Andrew Michalowski, Dakota Ulmer, and Justin Bloomfield netted goals for the Wolves. Vengeance goalie Joel De Simone stopped 31 shots, while Sam Woznicki and Alex Wilder made 9 and 15 saves, respectively, for West Michigan.
Roc City Royals 4 vs. Northeast Generals 2 - Brandon Corey scored a hat trick to propel the Roc City Royals to a 4-2 win over the Northeast Generals. Henrik Toiviainen also scored for the Royals, while Derric Trudeau and Kevin Perry grabbed goals for the Generals. Roc City goaltender Freddy Peters made 36 saves, and Leo Lake stopped 50 shots for the Northeast.
Texas Jr Brahmas 4 vs. Louisiana Drillers 0 - Tyler Myers earned a shutout with 24 saves to carry the Texas Jr Brahmas to a 4-0 win over the Louisiana Drillers. Jacob Peterson, Melker Kroon, Hunter Bersani and Zak Albers each netted one for the Jr Brahmas. Louisiana net minder Kevin Lake made 51 saves on the night.
Atlanta Capitals 4 vs. Point Mallard Ducks 2 - Four separate scorers had a hand in the Atlanta Capitals' 4-2 win over the Point Mallard Ducks. Joseph Lajcaj, Grant Koehler, Dillion Steh, and Sascha Figi each scored once for the Capitals, and Elias Nilsson and Jake Cox each notched one for Point Mallard.
New England Stars 4 vs. Maine Wild 1 - The Maine Wild scored first, but four consecutive goals from the New England Stars pushed them to a 4-1 victory. Ryan Paul, Eric Glover, Ryan Gauvin, and Tyson Gudaitis scored for the Stars, and Derek Erbe notched one for the Wild. New England net minder Sage Broda made 22 stops, while Brandon Daigle made 25 saves for Maine.
Skylands Kings 5 vs. Lockport Express 3 - The Skylands Kings racked up an early lead on their way to a 5-3 victory over the Lockport Express. Jan Broz notched a hat trick for the Kings, and Steven Ford and Hunter Ledwith scored once as well. For the Express, Erick Santiago, Aaron Shahin, and Luca Mazzo earned points, while Adam Partridge and Sam Fitzpatrick made 17 and 11 saves, respectively. For Skylands, Evan Barghout stopped 29 shots.
Toledo Cherokee 5 vs. Wooster Oilers 2 - A pair of goals from Toledo Cherokee Brock Grandbois helped them edge out the Wooster Oilers for a 5-2 victory. Ricky Kwapich, Adam Felser, and EJ Gilbert also scored for Toledo, and Tyler Groth notched both Wooster goals. In net, Adrian Morales made 41 stops for the Cherokee, and Oiler's goaltender Michael Hubbard stopped 37 shots on the night.
La Crosse Freeze 3 vs. Rochester Ice Hawks 1 - Tied after one, the La Crosse Freeze scored twice in the second to gain a 3-1 victory over the Rochester Ice Hawks. Tyler Bailey, Lukas Motloch, and Hunter Dolan scored for the Freeze, and Charles Bill netted one for the Ice Hawks. In net, Will Graves made 24 saves for La Crosse, and Bailey Schmitz stopped 27 shots for Rochester.
Evansville Jr Thunderbolts 14 vs. Chicago Bulldogs 1 - A hat trick from Jon Grimm helped the Evansville Jr Thunderbolts cruise to a 14-1 victory over the Chicago Bulldogs. Kyle Gregory, Brandon Rozema, Mathieu Laforest (2), Rory Scott, Kody Kifer, Austin Cody, Zachary Faith, Matt McElroy, Oliver Johnson, and Austin Hayden also scored for the Jr Thunderbolts, and Collin Tripp notched one for the Bulldogs. In net, Bryson Linenburg made 23 stops for Evansville, and Brendan Barada and JT Smale made 26 and 12 saves respectively for Chicago.
Alexandria Blizzard 3 vs. Granite City Lumberjacks 2 (OT) - Connor Nilson scored 1:13 into overtime to secure the 3-2 OT win for the Alexandria Blizzard over the Granite City Lumberjacks. Nick Lucas and Brett Meister also scored for the Blizzard, and William Spring and Andrej Jamnicky earned points for the Lumberjacks. Alexandria goalie Brey Effertz made 29 saves, while Mac Berglove stopped 33 shots for Granite City.
New Ulm Steel 11 vs. Willmar WarHawks 2 - The New Ulm Steel established an early lead to secure an 11-2 victory over the Willmar WarHawks. Luc Kreuser (3), Stephan Hermkes, Sam Wenner (2), Fritz Belisle (2), Vincent Billing, Jacob Padley, and Mac Hankinson scored for the Steel, while Jacob Dobberstein notched both goals for the WarHawks. New Ulm goalies Nathan Siclovan and Brady Boudreau made 25 and 7 saves, and Alex Weissenborn and Alex Cathcart stopped 20 and 11 shots, respectively, for Willmar.
North Iowa Bulls 6 vs. Wisconsin Whalers 1 - A pair of goals from both Connor Clemons and Josh Arnold helped the North Iowa Bulls to a 6-1 win over the Wisconsin Whalers. Tyler Bump and Dayton Honkanen also scored for the Bulls, while Broddey Richards notched one for the Whalers. Defensively, Drew Scites made 15 saves for North Iowa, while Max McConnell stopped 28 shots for Wisconsin.
Peoria Mustangs 5 vs. Cincinnati Thunder 1 - The Peoria Mustangs scored early on, and maintained the lead to secure a 5-1 win over the Cincinnati Thunder. Peter Miller, Thomas Kolaz, Alec Mickel, Jordan Hillman, and Anthony Iacullo netted goals for the Mustangs, and Cameron Sangster scored once for the Thunder. Peoria net minder JT Kossakowski made 20 stops, while Ryan Kostelnik stopped 26 shots for Cincinnati.
Gillette Wild 5 vs. Helena Bighorns 2 - The Gillette Wild maintained a steady offensive presence on their way to a 5-2 win over the Helena Bighorns. Riley Holwegner, Cade Boreing, Jack Oberg, Tyler Tennant, and Kyle Truax grabbed points for the Wild, and Bradley Estrada notched both goals for the Bighorns. Gillette net minder Landon Anderson made 23 saves, while Nicholas Battaglia made 56 saves for Helena.
Jersey Shore Wildcats 3 vs. Long Beach Sharks 2 - The Jersey Shore Wildcats scored the lone third period goal to secure the 3-2 win over the Long Beach Sharks. Nathaniel Schwartz, Tim O'Connor, and Jake Beck scored for the Wildcats, and Carmine Taffo notched both goals for the Sharks. Jersey Shore net minder Rio Virgoe made 41 stops, while Kyle Van Wagner made 44 saves for Long Beach.
Bozeman Icedogs 9 vs. Billings Bulls 2 - The Bozeman Icedogs established an early lead to power them to a 9-2 victory over the Billings Bulls. Daniel Liberko (2), Steven Nisbet (2), Gabe Rankin, Casey Gobel, Austin Charnholm, Carmon Teel, and Nicholas DuLong scored for the Icedogs, while Bryan Miller and Gage Thompson each netted one for the Bulls. In net, Benjamin Sakaria made 35 saves for Bozeman, and Simo Huhtanen stopped 56 shots for Billings.
Great Falls Americans 2 vs. Yellowstone Quake 1 (SO) - After a seven round shootout, Adam Vandenbos scored for the Great Falls Americans to secure the 2-1 victory. Tegan Harrington also notched one in regulation for the Americans, and Ian Doner scored one for Yellowstone. Great Falls goalie Nick Nast made 30 saves on the night, and Nick Ottenbacher stopped 24 shots for the Quake.
Missoula Junior Bruins 6 vs. Glacier Nationals 2 - The Missoula Junior Bruins had a strong third period to propel them past the Glacier Nationals to a 6-2 win. Colby Birch (2), Zach Jaffe, Parker Todd, Justin Barnes, and Josh Chamberlain scored for the Junior Bruins, while Hayden Moistner and Lindros Beard each notched one for the Nationals. Between the pipes, Jonah Gower made 31 saves for Missoula, and Glacier goalie Brendan Schultz made 45 saves on the night.