Winning streak grows for Atlanta after sweep
January 16, 2017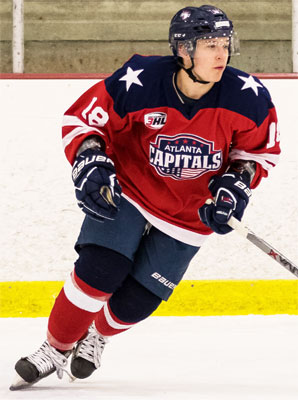 Atlanta Capitals 6 vs. Point Mallard Ducks 4 - Three early goals for the Atlanta Capitals set the pace for a 6-4 victory over the Point Mallard Ducks. Anton Minaev (2), Jesse Brown, Sascha Figi (2) and Dillon Sten scored for the Capitals, and Brandon Knopf, Michael Poe, Cameron Hamblett, and Andrew Doepp notched goals for the Ducks. In net, Wyatt Monear made 24 saves for Atlanta, and Joey Bernadini and Kevin Mackey made 8 and 18 stops for Point Mallard.
Texas Jr Brahmas 6 vs. Louisiana Drillers 3 - The Texas Jr Brahmas gained an early lead to cruise to a 6-3 win over the Louisiana Drillers. Dakota Davis (2), Melker Kroon, Vincent Dekumbis, Garrett Culps, and Bennett Weycker scored for the Jr Brahmas, and Josh Jorajuria, Brandon Vukasin, and Niki Raiskio each notched one for Louisiana. In net, Tyler Myers made 25 saves for Texas, and Drillers goalie Kevin Lake stopped 25 shots.
Skylands Kings 8 vs. Lockport Express 5 - The Skylands Kings executed a steady offense to cruise to an 8-5 win over the Lockport Express. Jan Broz (2), Craig Garrigan (2), Clayton Thomas, Eric Vanderhoff (2), and Trevor Smolsky scored for the Kings, and Blake Bennett (2), Brandon Schweickert, Michael Sokol, and Pavel Kovtunov notched goals for the Express. In net, Evan Barghout stopped 55 shots for Skylands, and Sam Fitzpatrick made 33 saves for Lockport.
Northeast Generals 5 vs. Roc City Royals 2 - The Northeast Generals scored three goals in the last three minutes of play to secure a 5-2 victory over the Roc City Royals. Cam Piorkowski, Stephen Toal, Dylan Figueroa, Zach Needham, and Derric Trudeau each earned a goal for the Generals, and Cameron Clark and Henrik Toiviainen notched one each for the Royals. Northeast goaltender Peter Ciccarelli made 17 saves on the night, while Freddy Peters made 38 stops for Roc City.
New England Stars 4 vs. L/A Fighting Spirit 3 (OT) - The New England Stars retaliated from a 3 goal deficit to score an OT win against the L/A Fighting Spirit. Alex Pilatsky, Ryan Paul, and Ian Gately scored in regulation for the Stars, while Cole Archambeault notched the OT winner. For the Fighting Spirit, Walker Hamilton, Matt Siegel, and Caleb Labrie earned points. Dom Lamanno made 25 stops for New England, while Lewiston/Auburn goaltenders Michael Eric and Tyler Friel made 1 and 9 saves on the night.
Cincinnati Thunder 5 vs. Peoria Mustangs 1 - The Peoria Mustangs scored first, but five unanswered goals from the Cincinnati Thunder helped them to a 5-1 victory. Mihali See, Bradley Begeman (2), Justin Bioni, and Trevor Veneklase scored for the Thunder, and Jack Power Wayvon notched one for the Mustangs. Cincinnati goalie Tyler Geloneck made 23 stops, while Jaden Gardner stopped 18 shots for Peoria.
Long Beach Sharks 7 vs. Jersey Shore Wildcats 3 - The Long Beach Sharks scored 4 goals in the third to edge out the Jersey Shore Wildcats. 7-3. Trace Pederson, Oskar Lindberg (2), Martins Vitolins (2), Alex Cerda, and Tomas Loeffelman scored for the Sharks,and Nathaniel Schwartz, David Vaysberg, and Tim O'Connor scored for the Wildcats. Defensively, Richard Ledek made 33 saves for Long Beach, while Zach Skop stopped 34 shots for Jersey Shore.
Rochester Ice Hawks 2 vs. La Crosse Freeze 0 - Rochester Ice Hawk Bailey Schmitz made 29 saves to earn a 2-0 shutout victory over the La Crosse Freeze. Matthew Bembenek and Skylar Watt scored for Rochester, and Jacob Silverstein made 16 saves for La Crosse.
Cape Cod Islanders 8 vs. East Coast Minutemen 0 - A busy second period helped the Cape Cod Islanders climb to an 8-0 victory over the East Coast Minutemen. Kevin Connors, Aaron Deady (3), Chris O'Donnell, James Brosnan, Tanner Little, and Chuck Costello scored for the Islanders, while goaltender Ryan Clifford made 31 saves for a shutout. East Coast goaltenders Nick Kent and Dom Montecalvo made 16 and 27 saves on the night.