Blizzard move into 2nd place with OT win over North Stars
January 19, 2017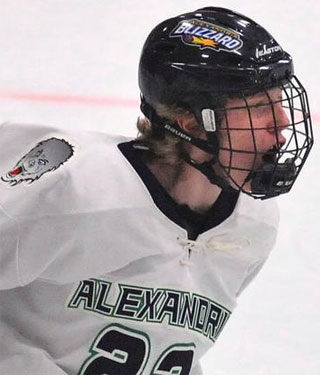 Breezy Point 3 @ Alexandria 4 (OT) - Josiah Roen was the hero Wednesday night at the Runestone Community Center, extending the winning streak to four games by scoring the Blizzard's game-winning goal 22 seconds into overtime goal to lift the Alexandria over the Breezy Point North Stars in the game and in the standings.
"We won the faceoff back, and then I crashed the net," Roen said of the play leading up to the goal. "The puck missed the net and came right to the other side and I just shot it in. It was just a rush of emotions. I was so happy."
The Blizzard (21-10-0) haven't lost since the turn of the calendar, snagging four division wins over Willmar (2), division-leading Granite City and Breezy Point.
"(This win) puts us in a very good position to move up in the standings and maybe even get in first later in the season," said Roen. "You can't lose division games, especially this late in the season. It's such a tough division. Every point counts."
Alexandria trailed the North Stars (20-11-2) by a 3-2 deficit through most of the third period, until Brenden Payne capitalized during a late power play opportunity and one-timed a Caleb Anderson pass into the net before Breezy Point goalie Bronson Moore could slide over and get his glove on it.
Josh Laven opened the game's scoring 1 minute, 6 seconds in to take a 1-0 North Stars lead, but Logan Norman was able to tie it at one goal apiece with 2:11 left in the period.
Emil Lindfors pulled the Blizzard ahead 2-1 in the second minute of the second period, tipping a point shot from Steven Gustafson into the net.
But Breezy Point tied it back up less than a minute later on a Steven Kukla goal, and then Christian Lenzmeier gave the North Stars a 3-2 lead with a goal at the 11:24 mark, where the score stayed until Payne tied it with his rocket in the third to set up Roen for the winning goal during the 3-on-3 overtime period.
Blizzard goalie Brey Effertz stopped 20 of the North Stars' 23 shots, while Moore allowed four goals out of 41 Blizzard shots.
The win vaults Alexandria over Breezy Point into second place in the West Division, with Granite City still sitting at the top with a record of 21-4-6.