Amarillo defenseman Solow makes NCAA DI commitment
January 19, 2017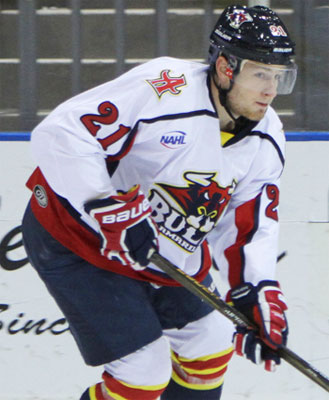 By Denis Puska, Amarillo Bulls
It's been an incredible and at times whirlwind calendar year for Jeff Solow.
The Naples, Florida native began last year with the NA3HL North Iowa Bulls before getting called up to the North American Hockey League's Amarillo Bulls, and now just a short time later could be playing in his first NCAA hockey game this weekend.
The Amarillo Bulls, proud members of the North American Hockey League, announced today that defenseman Jeff Solow has committed to play NCAA Dvision I hockey at Merrimack College (Hockey East) for 2016-17 season.
Due to injuries and roster movement, Solow will enroll in the school and join the team immediately. He will join goaltender Colin Delia and forward Hampus Gustafsson as former Bulls on the current Merrimack College roster. John Gustafsson also played for Merrimack and has since moved on to Pensacola of the Southern Professional Hockey League.
"It's crazy what has gone on this season and in the past, and I couldn't be more grateful," said Solow. "I was looking at my calendar and I got to Amarillo right around this time from the North Iowa Bulls and now I'm headed to play Division I hockey."
Solow, 20, has appeared in 33 games for the Amarillo Bulls of the NAHL this season, scoring seven goals and adding 20 assists for 27 points. Combined, he has 50 points in 97 career NAHL games and over the last two seasons, the Florida native has 41 points (10 goals, 31 assists) in 56 games.
Solow's addition comes after Merrimack learned that an injury to defenseman Aaron Titcomb would likely be long term, leaving the Warriors with just six healthy defenseman for the second half of this season after Ethan Spaxman left the team at the semester break.
Earlier this month, Solow was named the NAHL's Defenseman of the Month for December after he had 11 points (2 goals, 9 assists) in nine games. Solow said he was surprised to have gotten the call from Merrimack but is excited about the opportunity to step in right away.
"I've been through a lot in my junior career and played in six different states so this is a dream come true for me," he said. "My family has supported me throughout my career and they are thrilled for me. My mom had bought a ticket to actually come to Amarillo and I told her that she might want to cancel it and then I explained the situation."
Solow becomes the 67th member of the Amarillo Bulls in seven seasons to make NCAA College plans. He said he owes a lot to the Bulls organization for preparing him for the next level.
"Amarillo has been the biggest step in my junior hockey career," Solow said. "I couldn't have asked for a better group of guys and coaching staff. Coaches Matt (Nicholson) and Tony (Attanucci) have done their part by reaching out to schools and getting us prepared for the next level."
Jeff Solow will be seeing a lot of his Bulls teammate and fellow Floridian George Mika who will also play in Hockey East at UMASS-Amherst this fall. Solow said with both of them moving onto to Hockey East Schools that it says a lot for hockey in South Florida. "Hockey in Florida is growing at a rapid pace and now with me, George and my cousin Zac (Solow) committed to Northeastern, there are so many good hockey players coming out of all parts of the state," he said.
Jeff Solow joins George Mika (UMass-Amherst) and Steve Ipri (Mercyhurst) as members of the 2016-17 Amarillo Bulls to announce their NCAA College Commitments.