Friday Finals: Steel stay hot with another win
January 21, 2017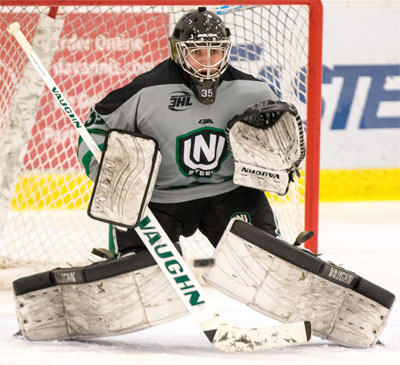 New Ulm Steel 6 vs. Alexandria Blizzard 2
-
A pair of goals from Alex Angel helped propel the New Ulm Steel to a 6-2 win over the Alexandria Blizzard. Dylan Leivermann, Nicholas Campbell, Orlando Scherz, and Sam Wenner also scored for the Steel, and Brendan Payne and David Carey notched one each for the Blizzard. Between the pipes, Jon Albers made 26 saves for New Ulm, and Brey Effertz and Michael Hughes made 6 and 23 saves, respectively, for Alexandria.
Metro Jets 4 vs. Southern Tier Express 0 - Andrew Kormos racked up 41 saves for a 4-0 shutout win for the Metro Jets over the Southern Tier Express. All Metro goals came in the third period, scored by Graham Day, Jake Gleason, Connor Inger, and Mathias Tellstrom. Ryan Pascarella made 53 saves for the Express.
Euless Jr Stars 5 vs. College Station Spirit 1 - A strong second period for the Euless Jr Stars powered them through to a 5-1 victory over the College Station Spirit. Tristan Wilson, Dalton Caesar, Chase Deacon, Blake Wood, and Jason Moore scored for the Jr Stars, and Cristian Speer notched one for the Spirit. In net, Maxwell Kerner made 23 stops for Euless, while College Station's Dalton Baker stopped 40 shots.
L/A Fighting Spirit 8 vs. East Coast Minutemen 1 - The L/A Fighting Spirit held a strong offensive presence, resulting in an 8-1 win over the East Coast Minutemen. Matt Siegel, Dylan Vrees (3), Denver Lundstrom, Jonathan Donaghey (2), and JP Chauvin scored for the Fighting Spirit, and Kami Kortelainen notched one for the Minutemen. In net, Lewiston/Auburn's Aaron Callan made 23 stops, and Dom Montecalvo and Nick Kent made 20 and 3 saves, respectively, for East Coast.
West Michigan Wolves 9 vs. Chicago Bulldogs 2 - A hat trick from West Michigan Wolves forward Dakota Ulmer helped them to a 9-2 victory over the Chicago Bulldogs. Brett Siewertsen, Collin Rewerts, Jacob Redman, Daniil Demidov, Bear Ross, and Nathan Sudek earned points for West Michigan, and Cody Gottfried and Jake Hermann scored for Chicago. Alex Wilder made 11 saves for the Wolves, while Niks Lukasuks and Brendan Barada made 27 and 21 stops for Chicago.
Atlanta Capitals 10 vs. Evansville Jr Thunderbolts 1 - A four goal game for Atlanta Capital Sascha Figi helped them to a 10-1 victory over the Evansville Jr Thunderbolts. Adam Vannelli, Christian Dale, Anton Minaev, Jesse Brown, Boomer Miller, and Vito Carlo also scored for the Capitals, and Sebastian Simoncello scored one for the Jr Thunderbolts. In net, Nolan Bivolcic made 19 stops for Atlanta.
Syracuse Stampede 3 vs. Jersey Shore Wildcats 1 - A strong 41 save game for Syracuse Stampede goaltender Ryan Scheide carried them to a 3-1 victory over the Jersey Shore Wildcats. Nate Walker, Nick Sanborn, and Hunter Soden scored for the Stampede, and Michael Gulawsky notched one for the Wildcats. Rio Virgoe made 29 saves for Jersey Shore.
Toledo Cherokee 3 vs. Wooster Oilers 2 - A late third period goal for the Toledo Cherokee secured a 3-2 victory over the Wooster Oilers. Ricky Kwapich, Nick Nappi, and Tristin Snyder scored for the Cherokee, and Michael Zenone notched both Oilers' goals. Toledo net minder Roman Malkov made 38 saves on the night, and Michael Hubbard stopped 27 shots for Wooster.
La Crosse Freeze 5 vs. Rochester Ice Hawks 0 - A hat trick from Tyler Bailey helped the La Crosse Freeze to a 5-0 win over the Rochester Ice Hawks. Dylan Goggin and Hunter Dolan also scored for the Freeze, and Will Graves made 13 saves for a shutout. For Rochester, Bailey Schmitz and Drew Schenkenberg made 18 and 24 saves each.
Breezy Point North Stars 3 vs. Willmar WarHawks 2 (SO) - Austin Langworthy and Ryan Higgins both scored in a shootout for the North Stars, handing them the 3-2 SO win over the Willmar WarHawks. Higgins and Alex Flicek scored in regulation for Breezy Point, and Alec Skar notched two for Willmar. Defensively, Bronson Moore made 40 stops for the North Stars, and Alex Cathcart made 31 stops for the WarHawks.
Long Beach Sharks 4 vs. Skylands Kings 3 (OT) - Martins Vitolins scored halfway through OT to give the 4-3 win to the Long Beach Sharks over the Skylands Kings. Gunther Stange (2) and Phil Garcia scored in regulation for the Sharks, and Eric Vanderhoff, Jan Broz, and Edward Klein netted one each for the Kings. Kris Augustine made 28 stops for Long Beach, and Mathias Yttereng stopped 26 shots for Skylands.
Lockport Express 7 vs. Roc City Royals 4 - Blake Bennett notched four goals to carry the Lockport Express to a 7-4 win over the Roc City Royals. Aaron Shahin, Brandon Schweickert, and Luca Mazzo also scored for the Express, and Zach Buchholz, Brandon Corey (2) and Henrik Toiviainen notched goals for the Royals. Sam Fitzpatrick made 33 saves for Lockport, and Ian Stahl and Freddy Peters made 22 and 17 saves, respectively, for Roc City.
Point Mallard Ducks 5 vs. Cincinnati Thunder 4 (OT) - Matt Goodman scored twice - including an OT winner - for the Point Mallard Ducks to secure a 5-4 OT win over the Cincinnati Thunder. Elias Milsson also scored twice for the Ducks, and Brandon Knopf notched one as well. For Cincinnati, Jacob Friedman, Justin Bioni (2), and Cobin Sanborn scored goals. In net, Gary Glassman made 30 saves for Point Mallard, and Tyler Geloneck stopped 40 shots for the Thunder.
Yellowstone Quake 5 vs. Helena Bighorns 3 - The Yellowstone Quake established an early lead on their way to a 5-3 win over the Helena Bighorns. Pablo Pantoja, Ian Doner, Tony Dahlberg (2), and Jesse Lawman scored for the Quake, and John Heddle (2) and Kyle Hayter notched goals for the Bighorns. Defensively, Nick Ottenbacher made 29 stops for Yellowstone, and Nicholas Battaglia stopped 62 shots for Helena.
Missoula Junior Bruins 7 vs. Billings Bulls 2 - The Missoula Junior Bruins scored seven in a row on their way to a 7-2 win over the Billings Bulls. Misha Akatnov, Colby Birch, Cameron Cunningham, Christian Ward (2), Elias Pukkila, and Justin Barnes each scored for Missoula, while Gage Thompson and Matt Newberger netted one each for the Bulls. In net, Tanner Loucks made 26 saves for Missoula, and Chayo Goodwin and Ethan Wiese stopped 3 and 44 shots for Billings.
Bozeman Icedogs 7 vs. Glacier Nationals 0 - Gabe Rankin scored four goals to help secure a 7-0 victory for the Bozeman Icedogs over the Glacier Nationals. Liam Millar, Steven Nisbet, and Carmon Teel also scored for the Icedogs. Defensively, Luke Olson made 23 saves for a shutout, and Brendan Schultz stopped 51 shots for the Nationals.
Great Falls Americans 2 vs. Gillette Wild 1 - Tegan Harrington and Ricards Bernhards each scored one for the Great Falls Americans to carry them to a 2-1 win over the Gillette Wild. Blake Kauth scored for the Wild. In net, Kyler Ayers made 11 saves for Great Falls, and Landon Anderson stopped 32 shots for Gillette.