Saturday Scores: Capitals clinch playoff spot with sweep
January 22, 2017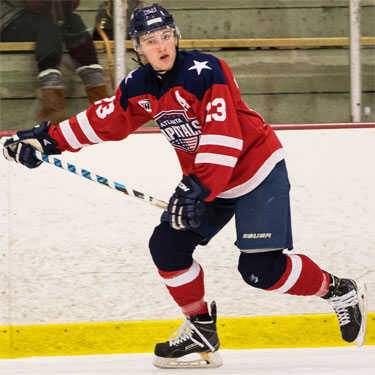 Atlanta Capitals 9 vs. Evansville Jr Thunderbolts 2
-
The Atlanta Capitals held a steady offensive presence on their way to a 9-2 win over the Evansville Jr Thunderbolts. Talon Medure (2), Dillon Sten, Nick Sleeper, Boomer Miller (2), Michael Klintworth, Christian Dale, and Anton Minaev scored for the Capitals, and Jon Grimm and Mathieu Laforest notched goals for the Jr Thunderbolts. In net, Wyatt Monear made 42 stops for Atlanta, and Jack Spaulding and Bryson Linenburg made 17 and 15 saves, respectively, for Evansville.
Cape Cod Islanders 4 vs. New England Stars 1-A pair from James Brosnan pushed the Cape Cod Islanders to a 4-1 win over the New England Stars. Thomas Tobey and Aaron Deady also notched one a piece for the Islanders, and Tim Paige scored once for the Stars. In net, Anton Zemba made 31 stops for Cape Cod, and New England netminder Sage Broda made 23 saves.
Syracuse Stampede 4 vs. Jersey Shore Wildcats 3-The Jersey Shore Wildcats scored 3 in the third, but it wasn't enough and the Syracuse Stampede secured a 4-3 win. Nate Walker (2), Rich Hart, and Brett Lowe netted goals for the Stampede, and Frederick Schaljo, Jake Beck, and Nikita Penzov scored for the Wildcats. Martin Sten made 42 stops for Syracuse, while Zach Skop stopped 29 shots for Jersey Shore.
Metro Jets 4 vs. Pittsburgh Vengeance 1-Graham Day netted a pair for the Metro Jets to help them to a 4-1 win over the Pittsburgh Vengeance. Cam Schwartz and Jason Newel also scored for the Jets, and Vincent Casale notched one for Pittsburgh. In net, Jake Gwillim stopped 15 shots for Metro, and Nikoloas Manousos made 30 saves for the Vengeance.
Toledo Cherokee 2 vs. Southern Tier Express 1-Two first period goals for the Toledo Cherokee helped them edge out the Southern Tier Express, 2-1. Brock Grandbois and Ricky Kwapich scored for the Cherokee, and Jacob Zwieg notched one for the Express. Defensively, Roman Malkov made 55 stops for Toledo, while Southern Tier's Harrison Vangellow stopped 31 shots.
Point Mallard Ducks 4 vs. Cincinnati Thunder 3 (SO)-A five round shootout resulted in a 4-3 SO win for the Point Mallard Ducks over the Cincinnati Thunder. Matt Goodman and Jake Cox each scored in the shootout for the Ducks, while Goodman, Michael Dlugach and Kevin LaPlante scored in regulation. For the Thunder, Cameron Sangster, Cobin Sanborn, and Marc Anthony earned points in the shootout, and Jake Ustorf notched one in the shootout. Point Mallard goaltender Kevin Mackey made 31 stops, while Ryan Kostelnik stopped 43 shots for Cincinnati.
East Coast Minutemen 7 vs. Maine Wild 3-The Maine Wild scored two early goals, but the East Coast Minutemen came back to earn a 7-3 victory. Shamus Lombard (2), Cam Crowley, Mike Lavoie, Joseph Brochu, Albert Wiggins, and Leevi Kervinen earned points for the Minutemen, and Connor Busch, Derek Erbe, and Chris Hoxie notched one each for the Wild. Nick Kent made 35 saves for East Coast, and Brayden McGary and Brandon Daigle made 12 and 19 saves for Maine.
Binghamton Junior Senators 4 vs. Skylands Kings 1-A pair from Jeremy Wilber helped the Binghamton Junior Senators to a 4-1 win over the Skylands Kings. Tyler Uravage and Dominik Bogdziul also scored for the Junior Senators, and Mike King notched one for the Kings. Between the pipes, Steven Schmitt made 20 saves for Binghamton, while Skylands' Evan Barghout made 46 stops.
Granite City Lumberjacks 3 vs. Peoria Mustangs 1-The Granite City Lumberjacks scored two early goals to power them to a 3-1 win over the Peoria Mustangs. Will Mix, Jordan Olson, and Brady Dahl scored for the Lumberjacks, and Brennen Begner netted one for the Mustangs. In net, David Mulligan made 18 saves for Granite City, while Peoria's JT Kossakowski stopped 21 shots.
St Louis Jr Blues 10 vs. Wisconsin Whalers 1-The St Louis Jr Blues put on a strong offensive presence to secure a 10-1 win over the Wisconsin Whalers. Jack Hatton (2), Brandon Bornkamp (4), Daniil Ovchinnikov, Alex Werdmuller, Ryan Reader, and Regnars Udris scored for the Jr Blues, and Carter Grobstick notched one for the Whalers. In net, Hunter Smith made 25 saves for St Louis, and Jason Hough and Max McConnell made 12 and 31 saves, respectively, for Wisconsin.
Northeast Generals 6 vs. Long Beach Sharks 3-Three consecutive goals from the Northeast Generals powered them to a 6-3 win over the Long Beach Sharks. Austin Braley (2), Derric Trudeau, Cam Piorkowski, Ryan Perry, and Conor Harrington scored for the Generals, and Oskar Lindberg, Trace Pederson, and Martins Vitolins each netted one for the Sharks.
Lockport Express 4 vs. Roc City Royals 3-Four separate skaters scored for the Lockport Express to carry them to a 4-3 win over the Roc City Royals. Andrew Logar, Brandon Schweickert, Michael Sokol, and Blake Bennett each earned a point for the Express, and Brandon Corey, Bryan Moscicki and Peter Izzo scored for the Royals. In net, Sam Fitzpatrick made 32 stops for Lockport, and Freddy Peters stopped 51 shots for Roc City.
Alexandria Blizzard 7 vs. New Ulm Steel 4-Six different skaters scored for the Alexandria Blizzard to push them to a 7-4 win over the New Ulm Steel. David Carey, Tosten Mann, Josiah Roen, Emil Lindfors (2), Brenden Payne, and Logan Nelson scored for the Blizzard. Vincent Billing and Jared Erickson each notched two goals for the Steel. In net, Alexandria's Michael Hughes made 36 saves, while Jon Albers stopped 32 shots for New Ulm.
Willmar WarHawks 3 vs.Breezy Point North Stars 2-Nick Blanchette scored twice for the Breezy Point North Stars, but it wasn't enough as the Willmar WarHawks cruised to a 3-2 victory. Kyle Wendorf, Braden Shea, and Kane Toriumi scored for Willmar. In net, Alex Weissenborn made 45 saves for the WarHawks, and Bronson Moore stopped 37 shots for Breezy Point.
Rochester Ice Hawks 8 vs. La Crosse Freeze 4-The Rochester Ice Hawks scored four unanswered goals on their way to an 8-4 victory over the La Crosse Freeze. Charles Bill (2), Ethan Sievek, Andrew Gates, Spencer Hadacek, Colby Decarlo, Austyn Renn, and Matthew Shupert notched goals for the Ice Hawks, and Sam Dabrowski, Tyler Briley, Lukas Motloch, and Donny Schultz notched goals for the Freeze. Rochester goalies Drew Schenkenberg and Bailey Schmitz made 13 and 12 stops, and Will Graves made 27 saves for La Crosse.
Yellowstone Quake 11 vs. Helena Bighorns 2-John Heddle notched both goals for the Helena Bighorns, but a variety of scorers for the Yellowstone Quake helped put them on top, 11-2. Max Doner, Cole Stewart, Carter Johnson (2), Jesse Lawman (2), Tony Dahlberg, Nick Ligocki, and Pablo Pantoja (3) notched goals for the Quake. In net, Brady Anderson made 29 saves for Yellowstone, and Alex Kruger and Nicholas Battaglia made 35 and 32 saves respectively for the Bighorns.
Missoula Junior Bruins 12 vs. Billings Bulls 4-The Missoula Junior Bruins held onto an early lead to secure a 12-4 victory over the Billings Bulls. Austin Dennison (2), Josh Chamberlain (2), Rhys Cottle, Bryce Dirscherl, Misha Akatnov, Justin Barnes, Colby Birch, Christian Ward, and Austin Azzinnaro (2) scored for the Junior Bruins. For the Bulls, Bryan Miller, Gage Thompson, Kyle Mueller, and Duncan Cameron earned points. In net, Missoula goalie Joe Chekan made 18 saves, while Ethan Wiese stopped 27 shots for Billings.
Bozeman Icedogs 10 vs. Glacier Nationals 2-The Bozeman Icedogs maintained a strong lead throughout the game to secure a 10-2 win over the Glacier Nationals. Liam Millar (2), Daniel Liberko (2), Kadin Ferguson, Sean Lake, Gabe Rankin, Nicholas DuLong, Steven Nisbet, and Casey Gobel scored for the Icedogs, and Gavin Cline and Matt Baerg notched goals for the Nationals. In net, Drew Pehrson made 22 saves for Bozeman, and Brendan Schultz and Will Langstaff made 26 and 10 stops for Glacier.
Great Falls Americans 3 vs. Gillette Wild 1-The Great Falls Americans gained an early lead to finish with a 3-1 win over the Gillette Wild. Ricards Bernhards, Malachi Bushey, and Payton McSharry scored for the Americans, and Cade Boreing notched one for the Wild. In net, Kyler Ayers made 42 stops for Great Falls, while Landon Anderson and Robbie Brennan each made 13 saves for Gillette.