Sunday Wrap-Up: Fighting Spirit stay hot with another win
January 23, 2017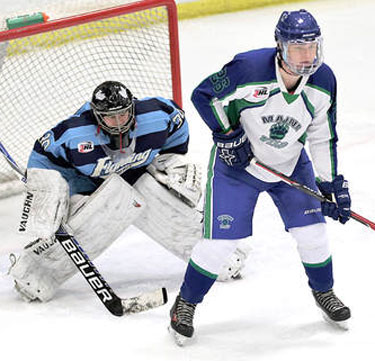 L/A Fighting Spirit 2 vs. Maine Wild 1-Two first period goals for the L/A Fighting Spirit propelled them to a 2-1 win over the Maine Wild. Jonathan Donaghey and JP Chauvin scored for the Fighting Spirit, and Cameron Campbell notched one for the Wild. Aaron Callan made 38 saves in net for Lewiston/Auburn, and Brandon Daigle stopped 27 shots for Maine.
Binghamton Junior Senators 13 vs. Skylands Kings 1-The Binghamton Junior Senators grabbed an early lead on their way to a 13-1 win over the Skylands Kings. Ryan Reifler (2), Zacharia Ouladelhadjahmed, Tyler Uravage (3), Conor Landrigan, Lucas Ethington, Brad Becker (2), Zach Satalino, and Jeremy Wilber (2) earned points for the Junior Senators, and Michal Sivek scored one for the Kings. In net, Sal Lauretta made 25 saves for Binghamton, while Mathias Yttereng and Evan Barghout each stopped 19 and 13 shots for Skylands.
Jersey Shore Wildcats 4 vs. Syracuse Stampede 2-A strong offensive second period helped the Jersey Shore Wildcats edge out the Syracuse Stampede, 4-2. Nikita Penzov, Gannen Erickson, Jake Beck, and Alexander Rowe each notched one for the Wildcats, and Hunter Soden and Nate Walker scored a pair for the Stampede. Zach Skop made 23 saves for Jersey Shore, and Steven Kozikoski made 45 stops for Syracuse.
West Michigan Wolves 4 vs. Chicago Bulldogs 2-A hat trick from Justin Bloomfield pushed the West Michigan Wolves to a 4-2 victory over the Chicago Bulldogs. Thomas Harrison also scored one for the Wolves, and Sean Sullivan and Cody Gottfried notched one for Chicago. Defensively, Brian Thomas made 10 stops for West Michigan, and Brendan Barada stopped 51 shots for Chicago.
Pittsburgh Vengeance 4 vs. Wooster Oilers 3-An early lead for the Pittsburgh Vengeance helped them to a 4-3 victory over the Wooster Oilers. Dominick Glavach, Austin Martz, Anthony Szurlej, and Justin Shepherd scored for Pittsburgh, and Tyler Groth, Nicholas Stanko, and Tyler Kallay each notched one for the Oilers. In net, Joel De Simone made 24 saves for the Vengeance, while Michael Hubbard stopped 22 shots for Wooster.
Cape Cod Islanders 5 vs. New England Stars 4-The New England Stars scored twice in the third, but it was too little too late and the Cape Cod Islanders walked away with a 5-4 victory. Chuck Costello scored twice and James Brosnan notched a hat trick for the Islanders, and Ian Gately, Peter Menzies, Tyson Gudaitis, and John Krapian each scored one for New England. Between the pipes, Anton Zemba made 31 saves for Cape Cod, while Stars' goaltender Dom Lamanno stopped 26 shots on the night.
St Louis Jr Blues 5 vs. Wisconsin Whalers 2-The St Louis Jr Blues scored three goals in the first to cement a 5-2 victory over the Wisconsin Whalers. Samuel Maddox, Nick Balestra (2), and Brandon Bornkamp (2) scored for St Louis, and Nate Kuta and Austin Lewis each notched one for the Whalers. In net, Jr Blues' goalie Sawyer Schmidt made 35 saves, and Alex Hufford made 45 stops for Wisconsin.
Peoria Mustangs 5 vs. Granite City Lumberjacks 3-The Peoria Mustangs grabbed a close lead to carry them to a 5-3 win over the Granite City Lumberjacks. Jordan Hillman, Braden Stewart, Aaron Siegrist, Andrej Buchko, and Thomas Kolaz each netted one for Peoria, while Keenan Lund (2) and Jordan Olson earned points for the the Lumberjacks. Mustang goaltender JT Kossakowski made 22 saves, while Mac Berglove stopped 19 shots for Granite City.
Northeast Generals 6 vs. East Coast Minutemen 5 (OT)-William Nillson scored one in overtime for the Northeast Generals to give them the 6-5 OT victory over the East Coast Minutemen. Derric Trudeau, Austin Braley, Ryan Perry (2), and Cam Piorkowski scored for the Generals, and Tre Pridgen, Shamus Lombard, Albert Wiggins, Leevi Kervinen, and Mike Lavoie notched goals for the Minutemen. Defensively, Leo Lake and Peter Ciccarelli made 25 and 16 saves for Northeast, while Dom Montecalvo stopped 46 shots for East Coast.
Roc City Royals 4 vs. Southern Tier Express 3 (OT)-A pair of goals from Brandon Corey helped the Roc City Royals to a 4-3 OT win over the Southern Tier Express. Zach Buchholz and Peter Izzo (OT) also scored for Roc City, while Tristan Mock, Matthew Crosby, and Hunter Kepple scored for the Express. Between the pipes, Nicholas Sesock made 46 saves for the Royals, while Southern Tier goalie Ryan Pascarella made 32 stops.
Euless Jr Stars 5 vs. College Station Spirit 1-Nick Sheridan notched a pair of goals to help the Euless Jr Stars edge out the College Station Spirit, 5-1. Matt Greco, Axel Olson, and William Rooney earned points for the Jr Stars as well, and Blake Elliot scored once for the Spirit. In net, Nick Hart made 41 saves for Euless, and Ryan O'Toole stopped 31 shots for College Station.